If you are a dog lover, then you always want to get the very best for your canine friend. Like people, dogs too differ from one another.
Some are overtly social and always get excited whereas others prefer to be alone.
Some even suffer from social anxiety making it quite difficult to take them from one place to another. Here is where dog strollers come in to help.
Dog Strollers, Reviews
---
#10

HPZ Pet Rover Heavy Duty Stroller with Convertible Section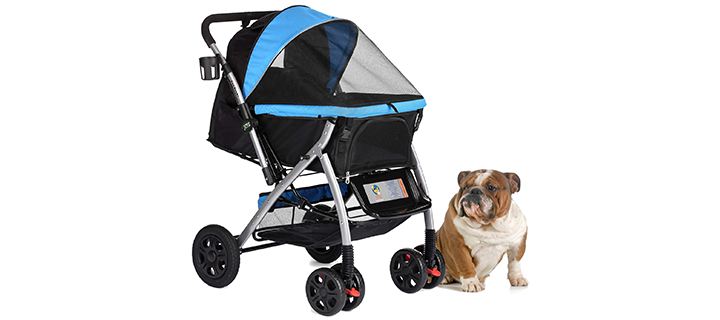 HPZ pet rover is a durable stroller that comes with customizable compartments and a zip free entry to help your dog travel in comfort and convenience. Although it comes down to personal preference, a zipless design is often better for your dog. This one also comes with an anti-vibration system and 360-degree rotating front wheels to give your dog a comfortable ride.
The frame is made up of heavy duty stainless steel which makes it very durable but it's quite light weight as well. It is also weather proof as the mesh top cover is made up of a UV reflective material that can shield your dog from the harsh sunlight and rain.
Pros: You can change the size of the internal compartment making it ideal for dogs of different sizes.
Cons: It is quite expensive than other strollers with similar features.
---
#9

Paws and Pals 3-Wheeler Dog Stroller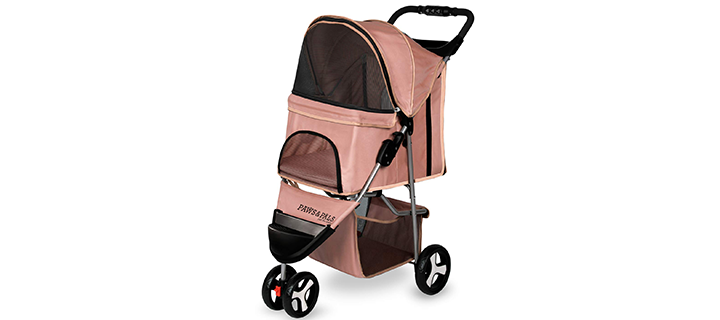 The Paws and Pals dog stroller is a great affordable stroller for medium sized dogs and young puppies. It comes with 3 different entry points making it very easy for your beloved pet to get in and out.
With a single press of a button, you can fold it into a more compact form. The retractable mesh top cover protects your dog from sunlight as well as bugs and insects. It comes in 7 different color options too.
You also get cup holders, a large undercarriage and plenty of space for additional supplies and accessories. With shock absorption on the front wheel and rear lock brakes, your dog will have a comfortable and safe ride.
Pros: You get value for money when it comes to the features such as its foldable mechanism, extra space, cushioned mattress and triple entry points.
Cons: It's designed for medium sized dogs and small puppies so you can't use it for larger dogs.
---
#8

Pet Gear Ultra Lite No-Zip Stroller for Dogs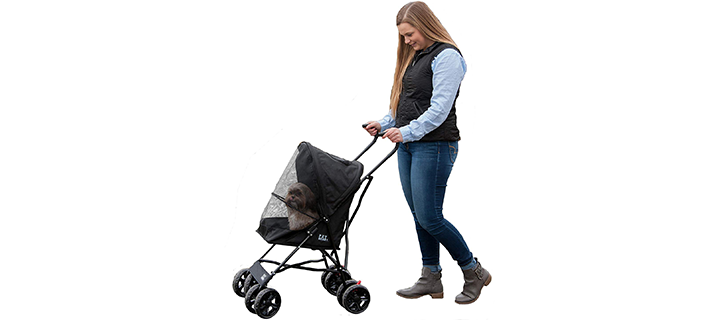 It comes with large 6 inch wheels for easier movement, lightweight portable frame, foldable design and plenty of other convenient features. It is available in 3 different color options. What makes it stand out from its competitors is its zipless design. With an easy locking latch, you can get access to your pet easily without any hassles.
This stroller is more suited for small dogs as the weight capacity is only around 15 pounds. It doesn't have the same amount of storage space as some of the other strollers but no other stroller comes at such an affordable price either.
Pros: It offers tremendous value due to its highly affordable price point. It comes with Air Ride tire type which gives you the ability to lock the front wheels for better ride stability.
Cons: It's not suitable for medium or large sized dogs. Moreover, the steering can be quite difficult at times.
---
#7

Pet Gear Zipperless Boysenberry Expedition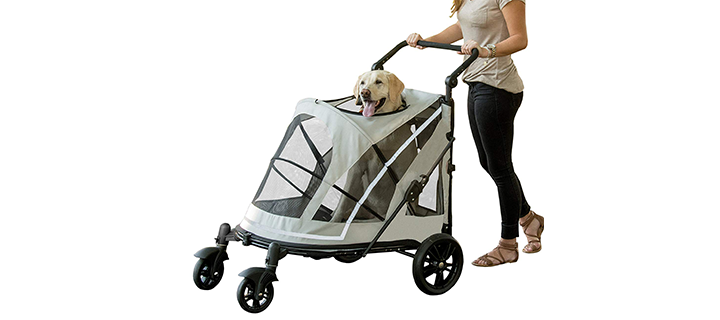 Finding a high quality stroller for large dogs is quite difficult as there aren't that many options in the market today. This dog stroller does a great job of providing luxurious space as well as a comfortable riding experience.
It comes with a zipless design and dual entry points making it easy for your large pet to get in and out easily. This also adds a lot of convenience for carrying injured pets.
One of the best aspects of this stroller is the large amount of space you get. You can even carry around multiple pets easily with plenty of space to spare. Like other strollers, it can also fold into a more compact size in a matter of seconds.
Pros: It's one of the best strollers for a large or multiple medium sized dogs and offers an easy access push button entry.
Cons: It's very expensive as it costs more than $200.
---
#6

BestPet Pet Stroller 4 Wheels Posh Folding Waterproof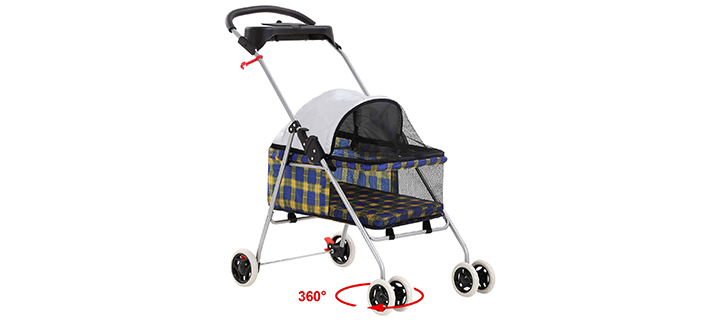 This stroller offers good airflow, visibility, bug protection and a waterproof cloth. The large 6.3 inch wheels make it possible to give a comfortable ride on both smooth and rough terrains. You can also rotate the wheels 360 degrees for better maneuverability.
You also get a convenience cup holder near the handle in case you or your pet gets thirsty on the way. Hygiene is of course of paramount importance in pet strollers and luckily you get a removable mat with this one which you can take out and wash at any time.
Pros: It can support up to 30 lbs and it comes with a waterproof top making it one of the best budget strollers in the market today for small and medium sized pets.
Cons: It doesn't come with any storage space under the stroller making it difficult for you to carry extra supplies and accessories for your pet.
---
#5

Dogger Stroller for Small Sized Dogs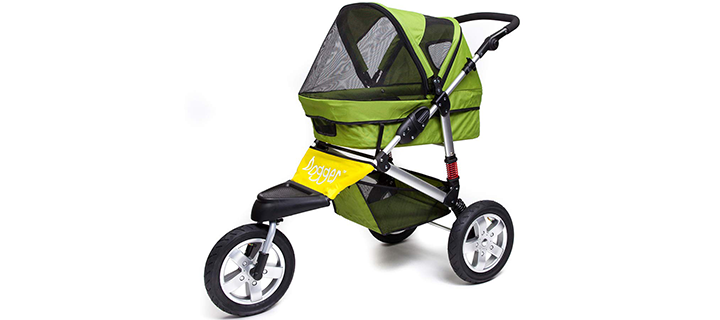 This one is pretty unique from the rest of the dog strollers in the market. It comes with gigantic 12 inch wheels for better stability and adjustable handle bars for better comfort.
You also get rear suspension which helps you maneuver through bumps and cracks on the road. The wheels also have safety lights making it safer to use the stroller after dark.
Other useful accessories include a mini pump, a drink holder and a compact storage space at the bottom for your supplies. The mini pump is especially useful in situations where you find the wheels to be short on air. You also get a 2 year warranty on all the parts related to the frame.
Pros: It comes with various useful accessories such as wheel safety lights, basket pad and a mini pump.
Cons: It's only suitable for smaller dogs.
---
#4

Pet Gear NV Dog Stroller with Air Tires and Plush Pad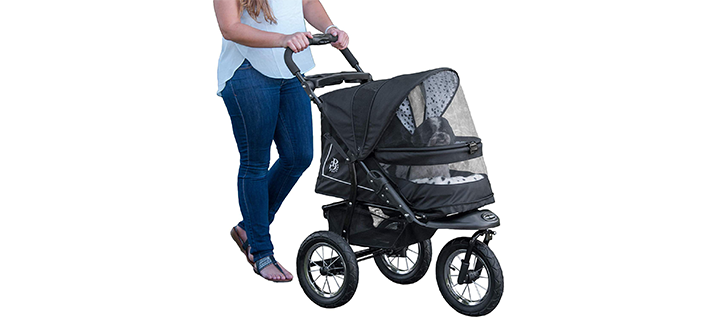 If you are looking for a zipper-less dog stroller for your favorite canine friend, then this one might be the one for you. It's quite spacious and can support a dog weighing up to a whopping 70 pounds which is more than enough even for a large sized dog.
The canopy locks in 3 different positions and is made up of a 600 Denver water resistant material that can effectively protect your dog from rain.
Your dog can also get a great panoramic view from inside. The 12 inch air ride tires offer good stability and maneuverability and the rear wheels come with both safety brakes and shock absorbers.
Pros: The 3 position canopy, the weather resistant top, sturdy frame and 12 inch tires all make for an excellent high quality stroller.
Cons: It's expensive and quite large in size even when its folded.
---
#3

All Terrain Extra Wide Dog Stroller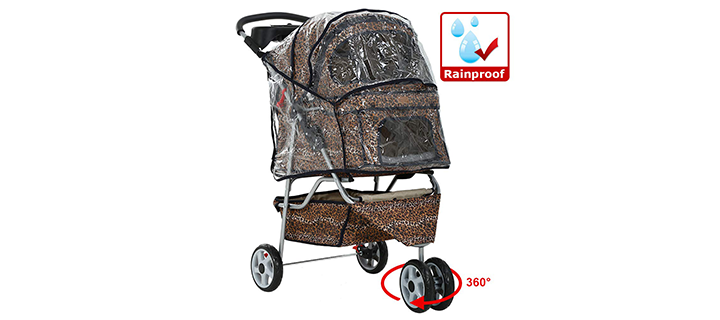 This one is made for both smooth and rough terrain and it does a great job of handling both. It has a breathable mesh for protection against bugs, sunlight and rain, thanks to the handy rain cover that comes with it. You get extra-large storage at the bottom and two cup holders near the handle.
The aluminum alloy frame is both lightweight and sturdy making it an absolute joy to carry your dog in. Visually its quite unique too as it comes with a brown leopard print all over. The pad inside is really soft and washable too. The 6.3 inch wheels also come with rear brakes and a safety tether making the ride both comfortable and safe.
Pros: You get plenty of storage space and a wide compartment for fitting two dogs comfortably. It's also excellent when it comes to traversing over different types of terrain ranging from gravel, snow and even ice.
Cons: Although it's an all-terrain stroller, it doesn't come with shock absorbers or air filled tires.
---
#2

2 in 1 Dog Stroller with Reflectors and Safety Flag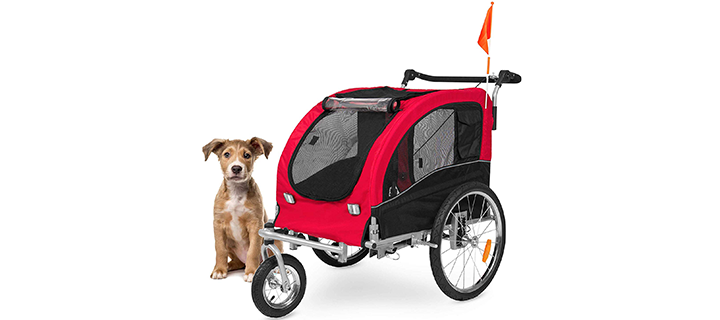 This is an excellent 2 in 1 dog stroller that allows you to either use it as a normal walking stroller or you can take off the front wheel and use it as a mini trailer of sorts by pulling it with your bike. The handlebars are adjustable as well and you can set it to your preferred height with a push of a single button.
You also get weather resistant mesh panels, safety flags, wheel reflectors and a hand lock braking system for extra safety. The trailer hitch can be hidden away when you want to use it as a normal stroller. It's also very spacious and very well built when it comes to the quality of the frame.
Pros: It comes with a very large cabin, excellent build quality and great versatility thanks, to its 2 in 1 modular design.
Cons: The front tires don't do that well on rough terrains and it's also quite expensive.
---
#1

Paws & Pals Twin Carriage Dog Stroller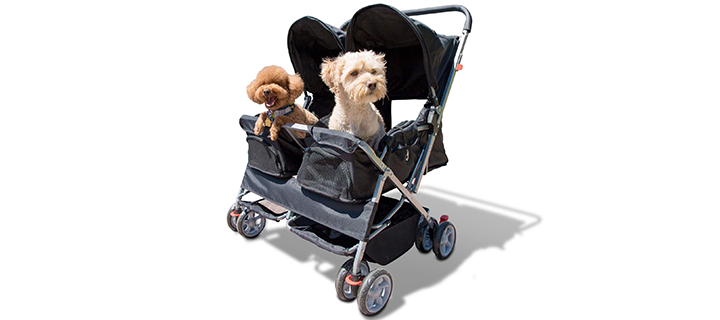 If you have multiple pets, then you can either put both of them in a large stroller or you can get a double stroller to keep them within individual compartments.
The dual compartments allow your dogs to stay comfortably in their own private spaces and allow both to have a wider panoramic view. The zipper-less multiple entry points make it easy for your dogs to get in and out too.
Front wheels come with parking brakes and shock absorbers too, which is always useful. One unique aspect about this stroller is that, along with the 2 compartments for your pets, you also get 2 undercarriages for carrying supplies and accessories.
Pros: It comes with 2 spacious compartments for multiple dogs and ride safety features such as a seat belt leash attachments.
Cons: The 4 wheel setup won't be as stable as a 3 wheeler so you need to be careful about the stroller tipping over.
---
Why Does Your Dog Need a Stroller?
There are plenty of reasons why a dog would need a stroller. Some dogs have social anxiety or start acting up when they are on a leash. Some dogs might have bad joints or may be recovering from an injury.
Having a stroller will help both you and your dog to go outside and get refreshed. Having your dog cooped up in your home might lead to a lot of problems down the line when it comes to its health. It's also an excellent way to pamper your pet.
What Size Should the Stroller Be?
This mainly depends on the size and weight of your dog as well as the number of dogs you have. Almost every dog stroller in the market today will have information pertaining to its maximum weight capacity. If you have a puppy, you will also need to know what size or weight it can hit when it becomes an adult.
If you don't estimate this correctly, you might end up wasting your money on a dog stroller because your dog might become too big to fit in. If you have multiple pets, then you can go for an extra wide double compartment stroller or a wide single compartment one as per your dog's needs and preferences.
What are some of the Key Features to Look For?
The main aspects to look for when buying a dog stroller are size, roof type, foldable design and wheel type. Size is an important factor to look for and requires no explanation. The type of roof is also something you need to consider when you buy a stroller.
Your dog needs adequate protection from sunlight, rain and snow. The side panels also need to have the right amount of ventilation and breathability. Most strollers are foldable but some of them can be folded down into very compact forms. The smaller they can be folded into, the easier it will be to travel with.
The last important factor to look into is the type of wheel. Each wheel type has its own advantages and disadvantages. You need to choose the one that best suits your personal preferences and needs.
Importance of a Suspension System for Jogging Strollers
If you love jogging and spending time with your beloved pet, then it's important to look for a stroller with a good suspension system. It's not only easier for you to push a stroller with a suspension system but it's also a lot more comfortable for your canine friend.
What are the Different Types of Wheels Found in Dog Strollers?
Plastic/EVA, rubber and air ride are the most common types of wheels found on dog strollers. Plastic/EVA ones are both durable and lightweight but they can easily get stuck. However, they don't have much traction and so are easier to push.
Rubber wheels offer more traction and are perfect for trailer type strollers but they regularly need to be checked for air pressure. The best types of wheels are air ride ones as they provide great comfort and stability and can handle different terrains.