As a cat lover, one of the primary factors that you must keep in mind is to ensure its healthy weight gain. Underweight or low weight cats tend to face several problems.
Apart from medications, you can opt for high calorie cat food that will help your feline regain its weight. Here are a few such food choices to ease your transition process.
Best High Calorie Cat Food, Reviews
---
#10

Purina ONE Tender Selects Blend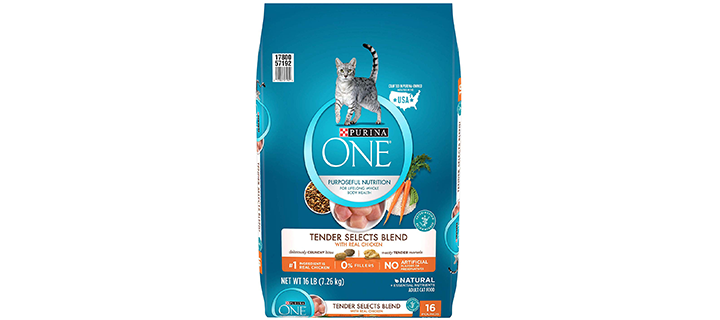 The Purina ONE cat food contains protein as its primary ingredient to strengthen the muscles of your cat. The high calorie food also has a reasonable amount of fat content. It is packed with several minerals and vitamins to enhance the pet's nutrition. The omega-6 fatty acids give your cat's coat a natural and healthy luster.
The dry cat food is free of artificial preservatives and flavors as well as fillers. However, it contains corn gluten meal and soybean meal in its list of ingredients. The food comes in kibble form as soft and meaty morsels.
The kibbles help to retain the whiteness of your adult cat's teeth and lessen the accumulation of plaque. This cat food is available in two protein variants of chicken and salmon. It is available in sizes of 3.5lbs, 7lbs, 16lbs and 22lbs.
Pros: Assists in keeping both the body and teeth of your adult cat healthy and gives a healthy look to the cat's coat.
Cons: Not suitable for kittens and may cause a problem for cats with allergies because of the soybean and corn gluten content.
---
#9

Royal Canin Feline Health Nutrition Sensitive Digestion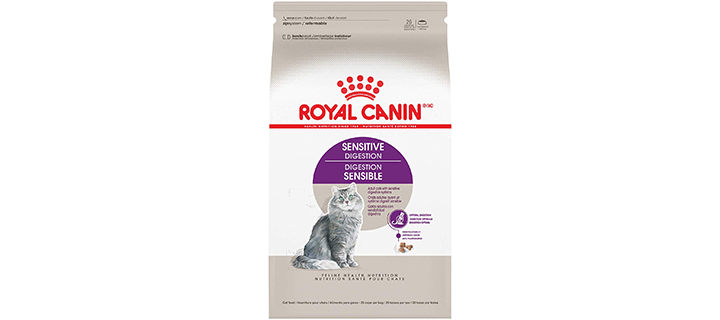 The Royal Canin cat food features chicken meal and chicken fat as its protein source along with prebiotics and other digestible proteins. The digestible proteins and prebiotics ensure that the food is not hard on the intestinal tract and the feline feeds comfortably.
This high calorie dry cat food also features sources of wheat, gluten and corn apart from Vitamin B12 supplement, folic acid, sources of Vitamins A, E, B1 and D3, dried beet pulp, fish and vegetable oils and rosemary extracts.
The dry cat food offers 469 kilo calories per cup. The food is suitable for adult cats that have digestive tract sensitivities. The high nutrient concentration supports healthy digestion with small servings. The three differently shaped kibbles enhance the feline's appetite with their appealing shapes, savory aroma and satisfying texture.
Pros: Easily digestible, thereby making it a good choice for cats with digestive tract sensibilities; Available in different sizes.
Cons: Contains food sources that may cause allergy in some cats.
---
#8

Iams Proactive Health Kitten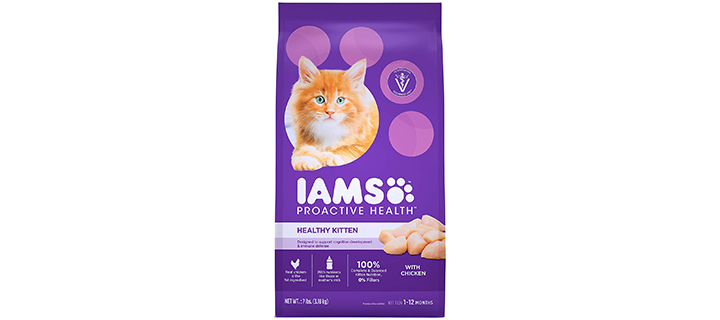 The Iams cat food features chicken as the primary ingredient that makes it rich in protein. The feline food is also enriched with nutrients similar to those present in mother's milk such as Vitamin E that build your pet's immunity and strong defense mechanism. The omega-3 DHA assists in brain development while the omega-6 gives the cat a glossy coat and healthy skin.
The dry high calorie cat food offers balanced and complete nutrition for the young cat without any fillers. The taurine in the food assists in developing healthy eyes and good vision. The food is free of wheat, synthetic dyes and artificial preservatives. The small size kibbles are just the right size for small mouths to pick them up and chew very easily without any problem.
Pros: Helps in hairball and weight control, promotes healthy digestion and urinary tract health.
Cons: Intended for only young kittens that do not have mother's milk for nourishment and not for older cats.
---
#7

ORIJEN Cat & Kitten High-Protein Grain-Free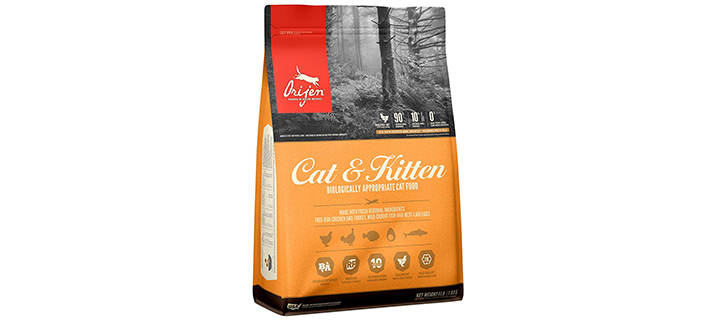 The Orijen high calorie cat food has 90% high quality whole and fresh animal ingredients that include cage-free eggs, wild-caught fish and free-run turkey and chicken. The fish sources include mackerel, herring and flounder. The remaining 10% of the dry food has fruits, botanicals and vegetables. It includes bone, cartilage and organs apart from meat in whole prey ratio.
The cat food offers nourishment according to the biological needs with 40% protein. The high calorie cat food offers a little over 463 kilo calories with one cup. The cat food offers nourishment according to biological needs. The fruits and vegetables are sourced from orchards and farms in Kentucky. The food also includes essential minerals as well as omega-3 and omega-6 fatty acids.
Pros: Made from completely natural sources, free of grains, suitable for kittens and cats alike.
Cons: Completely dry and does not have moisture that may make chewing slightly difficult for old cats.
---
#6

WELLNESS CORE Natural Grain Free Dry Cat Food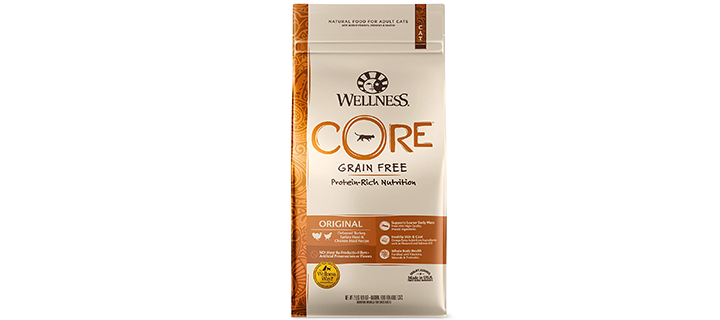 The WELLNESS CORE high calorie grain-free cat food features deboned turkey and chicken as the primary ingredients. The balanced mineral levels ensure that the feline's urinary tract is in good health while the naturally occurring micro-organisms promote a healthy digestive tract. The flaxseeds and salmon oil take care of the requirements of your pet's coat and skin.
The dry food gives your cat 497 kilo calories with each cup of serving. The food also includes essential minerals, folic acid, herbal extracts, omega fatty acids, probiotics, antioxidants and vitamin supplements for healthy gums, teeth and eyes.
The antioxidants enhance the overall nutrition of the cat. It does not include meat by-products, preservatives, corn, artificial colors or flavors and soy that could harm your pet.
Pros: No meat by-products, completely gluten free, ensures all-round healthy development of your cat.
Cons: Suitable for only non-reproducing adult cats over one year of age and may not benefit kittens or nursing and pregnant cats.
---
#5

Natural Balance Limited Ingredient Diets, Grain Free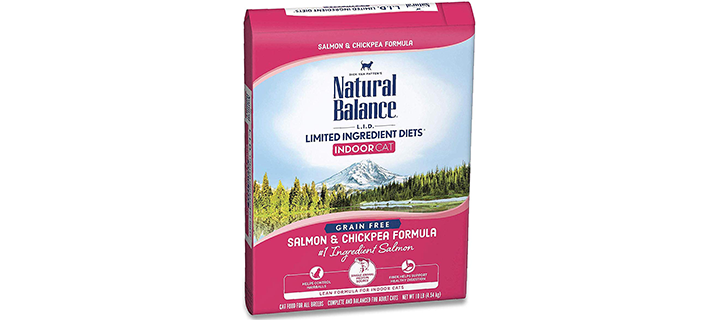 The Natural Balance high calorie grain-free cat food offers assurance that you do not have to feed your cat anything that could upset it or trigger an allergy. The cat food contains salmon as its key ingredient and the only source of animal protein and amino acids.
The food also has chickpeas to account for vegetarian protein. The salmon gives your pet strong muscles along with a healthy coat and skin with its omega fatty acids while the chickpeas are loaded with prebiotics for healthy digestion.
The cat food does not have any artificial colors or flavors, soy, wheat or corn that can affect your cat. It is enriched with vitamin supplements, minerals, dried beet pulp, potatoes and other ingredients that are needed to keep your cat healthy and active with a control over hairballs. One cup of this cat food gives your feline an intake of 329 kilo calories.
Pros: Can be digested easily because of the prebiotic fibers and facilitates easy cleanup of the litter-box.
Cons: Slightly big size kibbles, suitable for only adult cats and not recommended for seniors or kittens.
---
#4

Hill's Science Diet Easy to Digest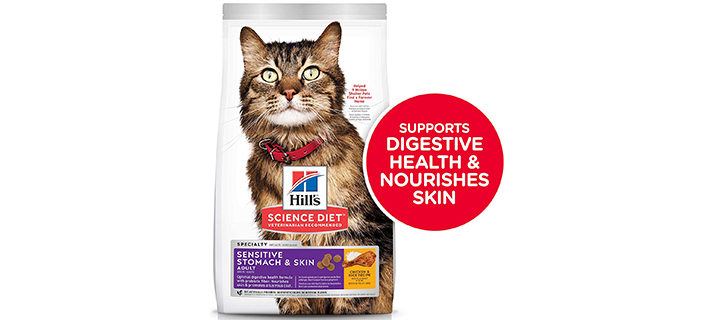 The Hill's Science Diet high calorie cat food features chicken and rice formulation. The dry food can be digested easily and helps in facilitating the optimal absorption of nutrients. The chicken and egg products offer the required protein for healthy bones while rice provides ample calories. The chicken liver flavor is sure to increase the appetite of the cat.
The dry food is also enriched with Vitamin A, Vitamin B12, niacin and Vitamin E supplements, oat fiber, whole grain corn, soybean oil, natural flavors, amino acids, essential minerals and taurine as other vital ingredients. The cat food gives your pet a healthy fur coat. There are no artificial colors or flavors. It is available in three sizes of 3lbs, 7lbs and 15.5lbs.
Pros: Easy to digest, making it a good choice for adult cats with sensitive stomachs and free of meat by-products and artificial agents.
Cons: Contains whole grain corn and soybean oil.
---
#3

Purina ONE Indoor Advantage Adult Cat Food


The Purina ONE high calorie cat food caters to the nutritional requirements of indoor cats. The wet cat food contains real whitefish and brown rice as the primary and secondary ingredients respectively. The food is also loaded with a high protein formula that helps to strengthen the furry friend's muscles. It also includes pork lungs, chicken liver and fish broth as its other meat based ingredients.
The natural cat food also has several vitamins, nutrients and minerals that are essential for the all round development of your cat. The food gives your pet a shiny coat, healthy gums and teeth as well as bright eyes in less than a month. The cat food is enriched with 100% nutrition oriented content and no fillers at all. It is completely free of potatoes, wheat, corn and soy.
Pros: Stimulates healthy hydration of the cat; soft wet texture makes the food easy to chew for any cat.
Cons: May be an expensive deal if you have a large number of cats; not easy to take it with you while traveling, unlike dry food.
---
#2

Evolution Diet Completely Vegan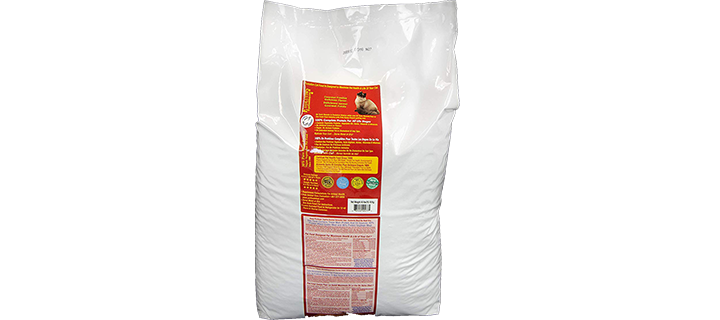 The Evolution Diet high calorie cat food is completely vegan with vegetable proteins, whole grain, herbs, minerals, vitamins, vegetable oil and taurine. This keeps the food free of not only artificial colors and flavors but also unhealthy preservatives, antibiotic residues, saturated animal fat and slaughterhouse waste.
The vegetarian ingredients include wholegrain oatmeal, high protein soybean and maize gluten meal, potato flakes, pea protein and molasses.
The dry cat food also includes mineral oil and several minerals, various vitamin supplements and extracts of herbs like rosemary. It also has the required amount of crude fiber, crude fat and moisture content.
The taurine promotes healthy teeth while the vitamin supplements offer assurance of overall health. The product has a really good shelf life.
Pros: Fully natural that makes it suitable for cats of all ages for their overall health.
Cons: Does not contain meat or meat products that all cats generally love, especially fish and mice taste.
---
#1

Blue Buffalo Indoor Hairball & Weight Control Natural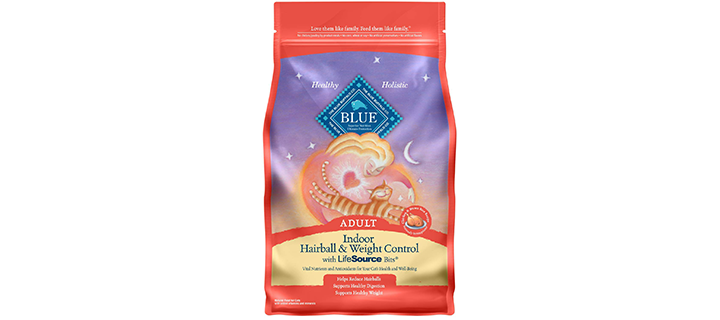 The Blue Buffalo high calorie cat food has deboned chicken as the key ingredient to provide the necessary protein for your cat's strong muscles. The dry cat food also includes whole grains in the form of brown rice as well as garden fresh vegetables and fruits like cranberries, peas, carrots, blueberries and potatoes.
The natural sources of fiber like psyllium seed husks and cellulose help to control the feline's hairball problem. The cat food also has the right blend of minerals, vitamins and antioxidants that boost a healthy immune system in your pet.
The omega-3 and omega-6 fatty acids in the flax keep your pet's skin healthy and give it a shiny coat. There is absolutely no meat by-product in the food.
Pros: Helps in maintaining a healthy weight gain in your cat, reduces hairball problems and builds immunity.
Cons: Contains whole grain that may not be suitable for cats with stomach problems; intended for only adult cats.
---
High Calorie Cat Food Guide
Beneficial supplements
High calorie cat food often has several supplements apart from protein. For example, probiotics help in easing the digestion process. On the other hand, antioxidants give the cats a healthy skin and a shiny coat. Vitamin supplements help in boosting the cat's immunity and vision. Many cat food products also contain taurine to promote healthy teeth.
Signs of weight loss in cats
Senior cats tend to lose weight more often than adult cats or kittens. This is because of their age. Neutered cats also have weight loss problems because of low calorie intake and less metabolism. If your cat has health related problems like diabetes or those relating to heart, liver or kidney, it may start losing weight. Anxiety and stress are some other causes.
Choice of food for weight gain
For weight gain in felines, choose protein-rich food over other types of food. There are various cat foods in the market that have a high content of protein. However, the other ingredients must also be analyzed to ensure that none of them cause allergy to the pet.
Advantages of dry food over wet food
Dry food has several advantages over wet food. One key advantage is for those who travel with their cats as they may not be able to feed the wet cat food. Also, the quantity of one tin of wet food is usually lesser than the smallest bag of dry food.
Therefore, buying wet food can be an expensive proposition for people with a lot of cats. However, a mix of both foods whenever possible ensures that cats get both high calories and the needed moisture for hydration.
Simple tips to increase weight in cats
Pet owners must take steps to ensure that their cats are physically active. Keeping them sedentary makes them dull and lethargic while physical activities can stimulate the desired appetite in your cats.
Play with your cat often so that it does a lot of moving around through jumps and runs. This will make them hungry and ready to enjoy their meal. You can also use toys for cats to offer them the required stimulation. Physically active cats are also less prone to health problems.
Monitor the cat's food intake
Some cats may be allergic to certain ingredients in food like wheat, corn, soy or gluten. If you are buying packaged food, watch for any change in your cat for a few days. Cats with allergy may vomit what they eat or show other symptoms like rashes.
Make the transition to the new food gradually and replace the old food wholly with the new one only if you are absolutely sure. Another thing you must check is to see that the food packet is not old stock.