Raw food can be quite beneficial to dogs due to their untouched nutritional value but they can cause a few negative consequences as well. This is where dehydrated dog foods come in as they provide the same nutritional benefit without most of its drawbacks.
It's also easier to store and prepare which makes it very convenient for the owner too. Here are some of the best dehydrated dog food ideas for you.
Dehydrated Dog Foods, Reviews
---
#10

The Honest Kitchen Organic Dog Food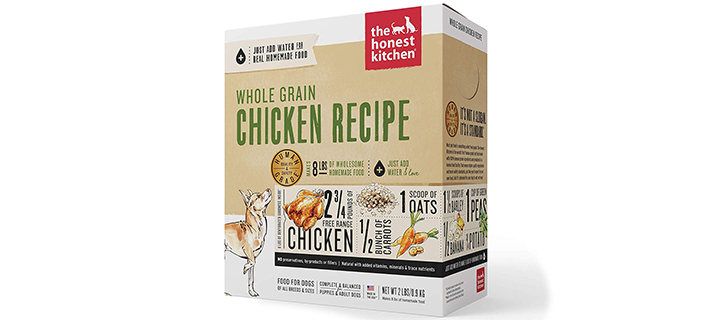 It comes in 3 different flavors namely cage free turkey, free range chicken and ranch raised beef. You also get to choose from 4 different quantities as per your dog's needs. Out of all the 4, the 10 pound pack provides the most value as it can make around 40 pounds of fresh food once water is added.
It's one of the healthiest high quality dehydrated dog foods available today and offers a high amount of protein and calories. It's all natural and contains no preservatives, GMO ingredients or by-products of any kind and is therefore ideal for both adult dogs as well as puppies.
Pros: It comes with a healthy dose of protein, fiber and mineral. It's also ideal for dogs with special food requirements and is easily digestible.
Cons: The smell can be quite off-putting for owners.
---
#9

Raw Dinner Patties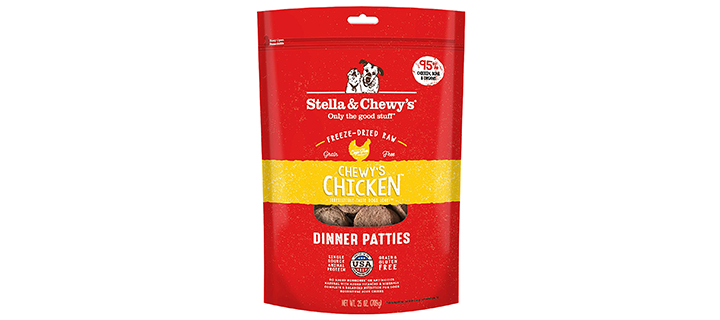 When it comes to the sheer amount of flavors, Stella & Chewy's raw dinner patties is the best. It is available in as many as 13 flavors. From beef, chicken, pork and venison to duck, rabbit and more, this one offers a lot of choices when compared to other reputable brands. It also comes in 6 different quantities ranging from 5.5 ounces to 25 oz.
It comes with 85 percent of meat, organs and bones and uses only responsibly sourced ingredients. The probiotics and antioxidants in it also help in better digestion and improved immune system. The chewy food also helps the dog to keep their teeth and gums healthy.
Pros: It offers relief from allergies, improves appetite and digestion. It also helps to give the dog a healthier coat, stronger teeth and gums as well.
Cons: You may get hard bone fragments in it which may not be suitable for all dogs, especially those with sensitive teeth
---
#8

Dr. Harvey's Canine Health Miracle Dog Food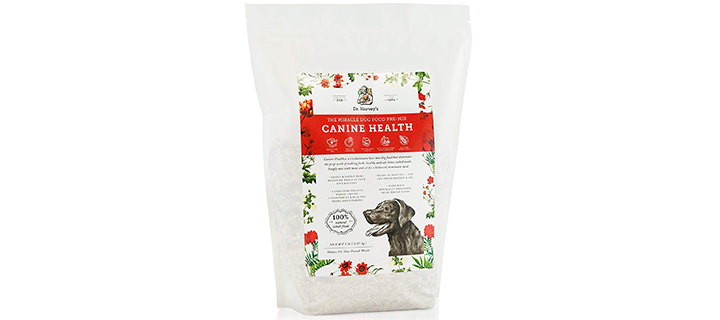 This dog food from Dr. Harvey's comes in 3 different quantities (6.5 oz, 5 pounds and 10 pounds). The 6.5 oz pack is a trial pack that you can buy to see if your dog will like it or not. The 5 pound pack can make up to 33 one pound finished meals, which is decent value.
It comes with 9 dehydrated vegetables, crushed eggshells and 6 organic grains with zero preservatives, dyes or chemicals. You can add other ingredients to it and create a balanced meal for your dog. As it comes with mostly vegetables, it provides health benefits such as increased energy, shinier coat of fur and even less smelly stools.
Pros: It's ideal for dogs with kidney diseases and helps in digestion. It also makes preparing dog food an easy task.
Cons: If you have a large dog, it might become a bit expensive in the long run.
---
#7

Wellness Core Dry Dog Food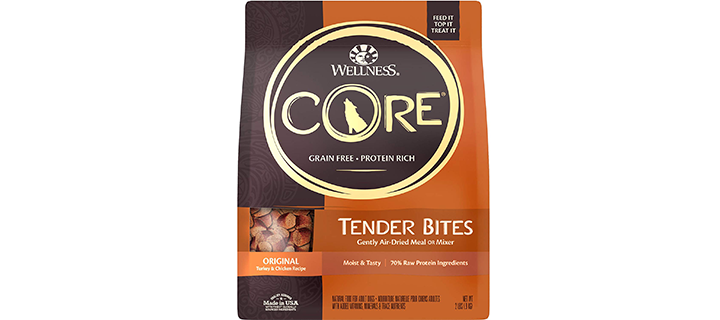 It is 100 percent all natural dry dog food catered towards adult dogs. It comes in 3 different quantities namely 4 lb, 12 lb and 26 lb. It features turkey and chicken along with real greens such as spinach, broccoli and kale, all rolled into scrumptious dried nuggets. It comes with the only premium all natural ingredients with no wheat, soy, meat by-products, wheat-gluten or preservatives.
Wellness provides a host of different dog food items that you can mix and customize to get the healthiest and tastiest meal for your canine friend. It's also beneficial for your dog's hips and joints and comes with optimum fat and calorie levels as well as real nutrients like probiotics.
Pros: It's quite delicious for dogs and comes with plenty of vitamins, probiotics and minerals.
Cons: It comes with flaxseed which may be a problem for dog breeders.
---
#6

The Honest Kitchen Grain Free Veggie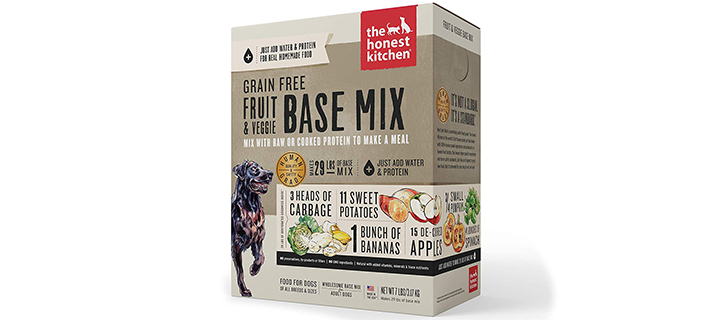 This dog food from The Honest Kitchen comes in 2 different flavors – a fruit and veggie base mix and a nut and seed base mix. Both are grain free and come in 2 different quantities (3 lb and 7 lb). You get to make a perfectly balanced meal for your canine friend based on their protein requirements or preferences.
The best aspect is that you can customize your dog's diet as per its special requirements and it allows you to be creative by mixing it with other ingredients such as ground chicken, turkey, beef and so on.
It is catered towards adult dogs of all breeds and sizes that require a more nutritious and balanced diet. Similar to other products from Honest Kitchen, this one also comes with zero preservatives and GMO ingredients.
Pros: It allows you to add the protein of your choice to better suit the needs of your dog and it is packed with vitamins.
Cons: Not all dogs may like this food so it's advisable to try out the smaller pack first.
---
#5

Spot Farms Dehydrated Grain Free Dog Food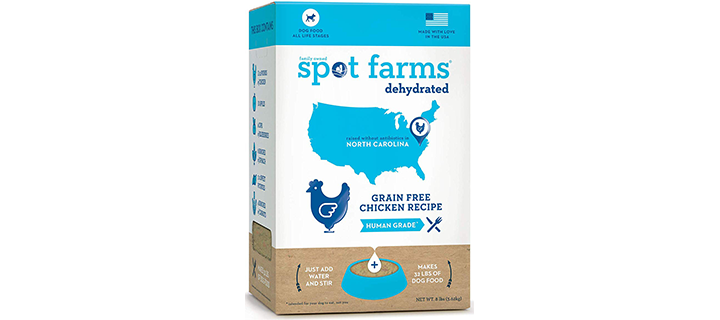 This one comes in 6 different flavors and 3 different quantities (1.25 lb, 3.5 lb and 8 lb). What makes it unique is that it is human grade and so is fit for human consumption. It is grain free and made with probiotics for better digestion and utilizes only real meat with no preservatives, artificial flavors or colors.
You can either feed it to your lovely canine buddy as a complete diet or use it as a topper or mix it with other foods for some variety. Another unique aspect is that it doesn't use any animal meal so you get up to 4-7x the amount of real meat. It's also good for dogs that suffer from mega-esophagus due to its consistency.
Pros: It's very tasty for most dogs and acts as an amazing topper for balanced and healthy meals.
Cons: It has a tendency to absorb moisture and thicken a lot so you have to add more water sometimes.
---
#4

Dr. Harvey's Raw Vibrance Dog Food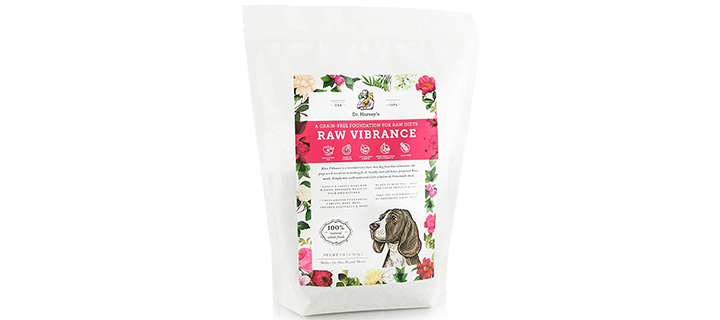 This dog food from Dr. Harvey's is another human grade dehydrated dog food which is grain free and a marvelous blend of 24 whole foods ranging from raw goat's milk, green lipped mussels to eggshell membranes. It comes in 3 different quantities (3 pounds, 6 pounds and a trial pack of 5.5 oz).
It's made with 9 dehydrated vegetables, bone meal, crushed eggshells, 2 antioxidant fruits and various other super foods to provide a holistic and balanced meal for your dog. With the 3 pound pack, you can make up to 28 one pound finished meals. It's also great for digestion especially for senior dogs that may not be able to eat other types of food.
Pros: It's a great option for senior dogs as it contains lots of healthy vegetables and some fruits too.
Cons: It's quite expensive compared to other dehydrated dog foods in the market.
---
#3

Sojo Mix-A-Meal Veggie Dog Food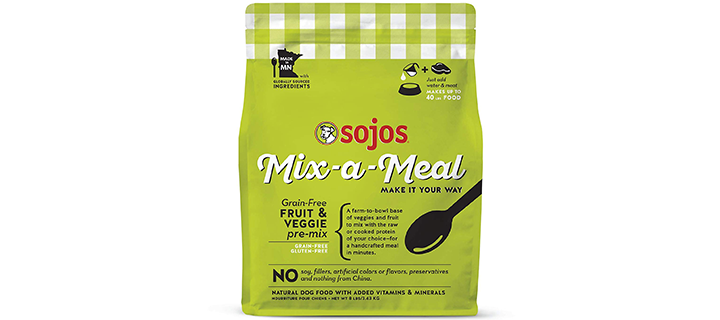 It comes in different pre-mix variants such as grain free pre-mix, original pre-mix and the new formulation allowing the owner to cater to their dog's specific needs. It is also available in a wide range of quantities ranging from 2.5 lbs to a whopping 40 lbs.
By utilizing a grain free blend of various superfoods such as carrots, apples, cranberries and other nutritious ingredients like dried kelp and basil, your dog will be able to have a delicious and balanced meal. As it is a pre-mix formulation, you can change the meal by topping it up with different food items such as meat or poultry to keep things interesting and delicious for your adorable dog.
Pros: It often comes with solid pieces of vegetables and fruits and has a nice consistency when mixed with water. It also looks good visually.
Cons: Several healthy components such as broccoli, flax seed meal and celery are no longer used in the creation of this product.
---
#2

Only Natural Pet EasyRaw Human Grade Dehydrated Food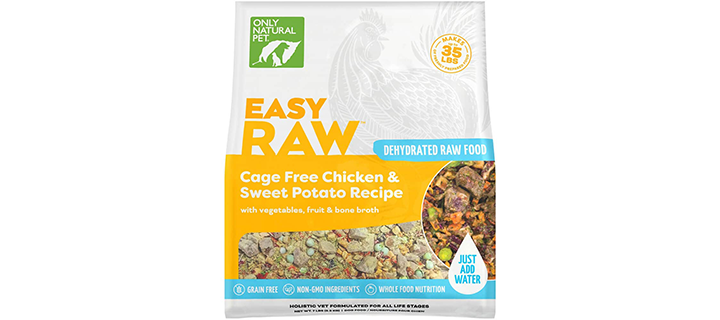 It comes in a variety of different flavors such as chicken & sweet potato, lamb & sweet potato, beef & sweet potato and turkey & sweet potato. When it comes to quantity, you can either choose the 2 lb pack or the 7 lb one. With the 7 lb pack, you can make up to 40 lbs of fresh dog food which gives it a lot of value when it comes to money.
It's also 100 percent human grade as dehydrated fruits and vegetables are gently cooked at 115 degrees in the creation of this product. By adding more or less water, you can change the texture of the food according to your dog's preferences.
Pros: It's good for puppies and has a customizable food texture which helps a lot if your dog is a picky eater.
Cons: It takes about 15 minutes to rehydrate and might come with large pieces of fruits and vegetables that might be hard for some dogs to digest.
---
#1

Dr. Harvey's Paradigm Green Superfood Dog Food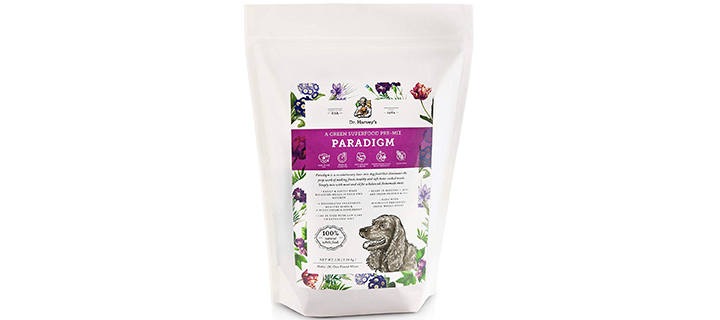 It comes in 3 different quantities of 5.5 oz (trial pack), 3 lbs and 6 lbs. It's quite pricey but the 3 lb pack can provide up to 28 one pound meals which is pretty decent when it comes to value. It's made with all natural ingredients and dehydrated vegetables with zero dyes, preservatives fillers, wheat or corn.
One of its best aspects is that it is not only ideal for weight management but it also helps dogs that suffer from diabetes and allergies. As it uses glycemic vegetables, your dog will be able to digest it easily while preventing any spikes in glucose levels and it comes with low carbs too.
Pros: It helps in weight management and is very good for dogs suffering from diabetes and allergies.
Cons: Dogs that are used to human grade food might find it a little difficult to adjust to it initially. It's also a bit expensive.
---
What are dehydrated dog foods?
Dehydration, when it comes to dog food, is a process which helps to significantly reduce the cost of manufacturing and preserve it for longer periods of time. This allows the manufacturer to focus more on the quality of the ingredients. Moreover, this method also locks in more nutrients than other processes.
How does the dehydration process work?
This process involves raw ingredients being heated over a long period of time to draw the moisture out of the food. The heat has to be low in intensity as it shouldn't be high enough to cook the food. So while dehydrated dog food isn't technically raw, it isn't cooked either.
What is the main ingredient in dehydrated dog foods?
Similar to other high quality foods, the primary ingredient in dehydrated food should be a meat protein source. As there are no fillers in dehydrated foods, there are no meat by-products and therefore there is no requirement for grains such as corn or wheat to be there. The chances of dehydrated dog food causing digestive issues are quite less.
Benefits of dehydrated dog foods
Dehydrated dog foods don't require preservatives to be added into them which makes it healthier than some of the alternative products. It's also necessary to rehydrate it before serving it to your dog which keeps your dog hydrated as well. One of the best benefits of dehydrated foods is taste.
Once your dog finds a food that it really loves, you can keep providing the same taste every day at mealtime. This is especially helpful for dogs that are picky eaters. It's not only dogs that benefit from them but owners too, as it takes up less space than dry foods and doesn't require a lot of time to prepare.
Difference between dehydrated, air dried and freeze dried dog foods
While dehydrated dog food is subjected to low heat for a long period of time, freeze dried food is first frozen and then exposed to low pressure to make the water in the food evaporate fully.
Similarly, air dried food also uses low temperature but the process takes longer than freeze dried food. This allows the possibility of spoilage to happen due to oxidation. This is not to say that all air dried food isn't good for consumption but theoretically it is possible for some to get spoiled.
How to buy by brand and price?
Similar to other pet products, it's always better to buy from a reputable brand than a lesser known one. This is not to say that only big brands can offer quality products but dehydrated dog foods made by reputed brands are more likely to offer an all-natural product than others.
When it comes to price, you need to be prepared to spend a decent amount of money on premium high quality products. You also get a ton of affordable options as well, which may not be as good as the expensive ones but they still offer plenty of value.