One common challenge for most dog owners is to prevent their dogs from gaining too much weight. However, there may be a one-off case when you would actually want your canine to show a weight gain.
Ordinary dog food may not be much helpful in this case. This is when you can consider checking out some of the high calorie dog foods listed below.
High Calorie Dog Food, Reviews
---
#10

Bully Max High Performance Super Premium Dog Food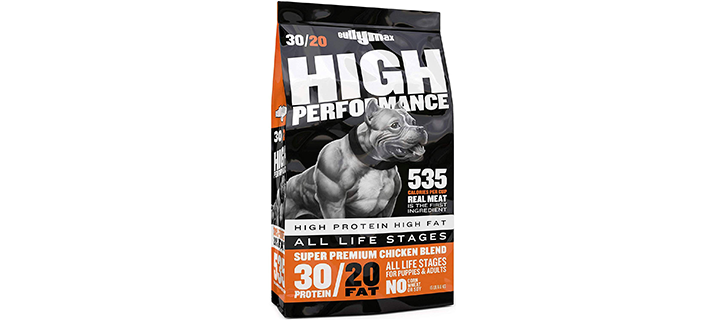 The Bully Max dog food has a completely meat-based formula and is enriched with protein. The chicken-based dog food is free of vegetarian protein sources like wheat, soy or corn. It also has 20% extra fat and is rich in amino acids.
One cup of the dog food provides your dog 535 calories to keep it fit and active all day. This ensures that you will have to give your pet 50% less food and do not have to worry about overfeeding it.
The kibble is ideal for puppies and dogs of all breeds. The natural ingredients based formula can also be fed to nursing and pregnant dogs. The high calorie food can be given along with any diet. When combined with the right activity and hydration, this dog food offers you the assurance of a healthy dog.
Pros: Free of allergen causing foods that can pose to be a hazard for some pets and can be fed to any breed. This also means you don't have to look out for separate alternatives for big and small dogs.
Cons: Not advisable for feeding to newborn puppies and puppies less than a month old.
---
#9

Purina Pro Plan SPORT Formula Dry Dog Food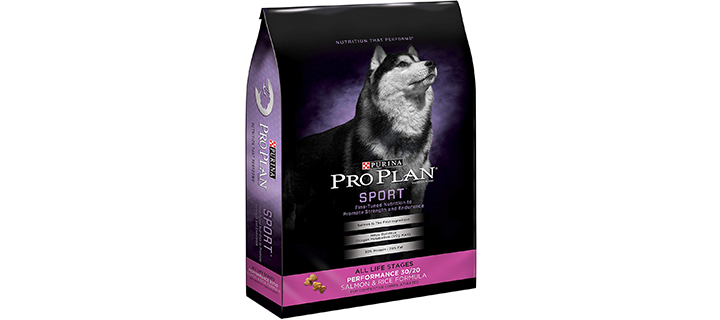 The Purina Pro Plan dog food is a dry food for canines with high protein content. The 30% protein in the dog food is derived from salmon while the 20% fat is due to rice. The high calorie food helps in meeting the metabolic needs of puppies, adult dogs and senior dogs. One cup of this dry food gives your pet 496 calories.
The 30/20 proportion of salmon and rice helps your dog to remain lean with strong muscles. The glucosamine and EPA enhance the mobility and joint health that ease the pet's ability to jump and run around.
The amino acids add strength to the muscles, which is especially important after strenuous activities such as exercise. Other key ingredients in this dog food include dried egg product, Vitamin A and Vitamin B12 supplements, corn gluten meal, whole grain corn and folic acid to mention a few.
Pros: This is an excellent choice for highly active canines used for sporting or hunting like activity and ensures healthy skin due to the fish and fish oil.
Cons: Contains ingredients like corn and gluten that may not suit dogs with sensitive digestive systems.
---
#8

Earthborn Holistic Venture Grain Free Dry Dog Food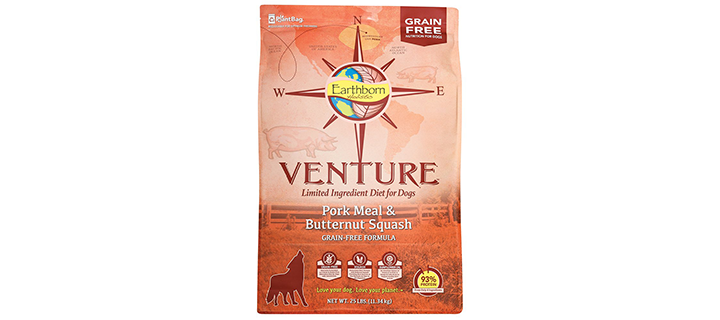 The Earthborn Holistic Venture dog food contains pork as its primary source of protein. The dry dog food also has protein from other vegetarian food sources. It is also loaded with butternut squash to ensure that your pet gets its fair share of fiber, Vitamins A, C and E, antioxidants, magnesium, potassium and manganese.
The canine food is free of gluten, artificial preservatives, by-products, fillers and colors. The dog food does not contain eggs, potato or grains.
One cup gives your furry friend a huge calorie intake of 350 kilocalories. The pork is outsourced from pigs raised in multi-generation farms owned by pork farmers of North America. The dog food comes in different variants such as squid, duck, turkey, rabbit and more as alternatives to pork. It comes packed in a recyclable BPA-free pack.
Pros: Less messy because of its dry texture and makes it easy for you to carry it with you wherever you take your dog.
Cons: Your dog may become hyperactive or hyper energetic due to the excessively high calorie intake with one cup resulting in having to cut down on the intake.
---
#7

Eukanuba High Calorie Dog Food with Denta-Defense System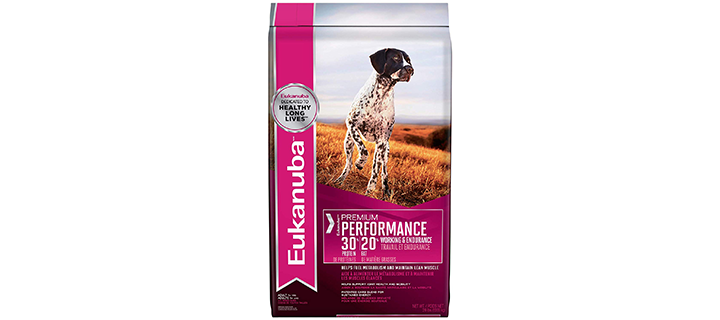 The Eukanuba dog food offers a balanced diet for your canine with its 30/20 protein-fat proportion. The dry dog food offers the dog 380 calories with just one cup of kibbles. It ensures that your dog is not overweight by promoting lean muscles while providing the required energy at the same time.
The dog food is also powered with calcium to keep your dog's bones strong, especially if it helps you with sporting or such activities that need a lot of action. The 3D denta-defense system takes care of your dog's teeth and prevents the formation of tartar.
The fillers-free dog food is also a good source of amino acids, chondroitin and glucosamine apart from omega 3 and 6 fatty acids. The fatty acids help to keep your pet's coat healthy and shiny.
Pros: Suitable for dogs of all breeds and ideal for providing the required nourishment to exercising muscles.
Cons: Not ideal for puppies and senior dogs, slightly more expensive than other dog foods of the same quantity.
---
#6

Blue Buffalo Lamb and Brown Rice Recipe Dog Food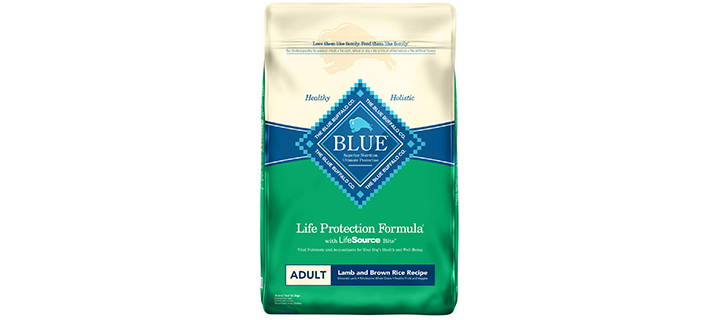 The Blue Buffalo dog food contains real deboned lamb and brown rice as its primary ingredients. The protein from the lamb ensures that your dog has healthy muscles always.
The dog food is also a very good source of garden-grown vegetables and fruits such as sweet potatoes, peas, carrots, cranberries and blueberries that enhance your pet's immunity. The calcium content ensures strong teeth.
The dry dog food is also formulated with flaxseeds that are enriched with omega-3 and omega-6 fatty acids that will keep your fur baby's skin shiny and healthy along with an oxidative balance.
The food is completely natural with no preservatives, artificial colors, soy, corn, wheat or by-products. The cold-formed process used to prepare the kibbles ensures their potency for a long time. The dry food meets the nutritional requirements of adult dogs.
Pros: It's available in three different capacities to suit varying needs and helps in all-round development of the dog.
Cons: Not suitable for dogs less than one year old or over seven years of age.
---
#5

Purina ONE SmartBlend True Instinct Adult Wet Dog Food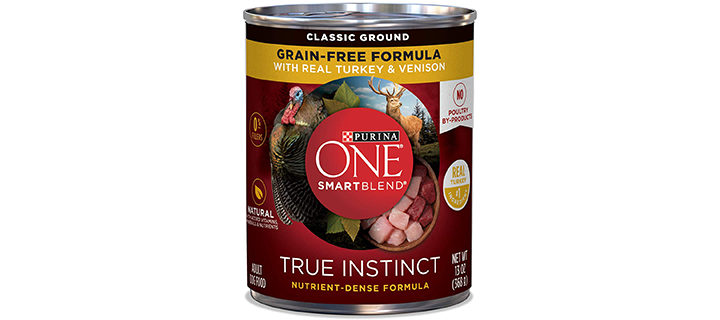 The Purina ONE dog food has real turkey and venison as its key ingredients. The wet dog food does not feature any grains or poultry by-products. It also does not include any preservatives, flavors or artificial colors.
The antioxidants from four different sources help to boost the immunity of your canine. The added minerals and vitamins complete the dog's nutritional requirements while glucosamine promotes healthy joints.
The meaty morsels feature tender cuts in a ground form. The high calorie dog food not only keeps your pet energetic but also gifts it with strong teeth and gums, a shiny coat and bright eyes.
The food is ideal for adult dogs of any breed and/or size. It comes packed in a 13-ounce sealed can. A gravy style option of the dog food is also available.
Pros: Easy to eat for dogs with chewing problems; minimum chance of allergies because of grain-free nature.
Cons: Must be immediately transferred to another container once opened. Can be messy if you want to take it when traveling because of its wet nature.
---
#4

Gorilla Max 31/25 Ultra Performance Dog Food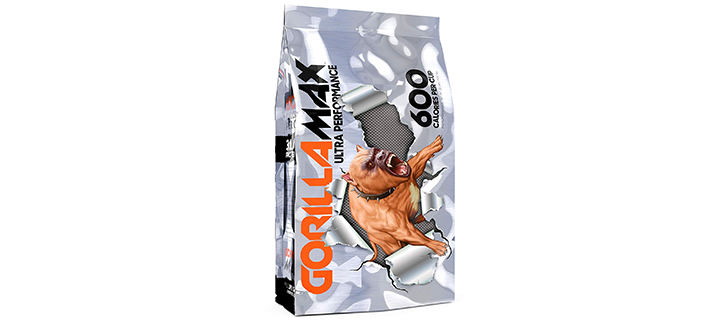 The Gorilla Max dry dog food features a 31/25 formula with its 31% protein and 25% fat. Your dog will get an intake of 600 calories with just one cup of this dog food. It is made of completely natural ingredients with absolutely no fillers or artificial stuff and is also loaded with minerals and vitamins.
The dry food helps to trigger the physique and growth of puppies to the maximum extent possible. It also aids in the muscle development of active dogs and gives them the required energy to recover after an exercise or perform their best at peak levels.
The dog food is a great option for dogs of all ages, breeds and sizes. The high calorie food can also be fed to nursing and pregnant dogs to keep them healthy.
Pros: Lasts longer because the high calorie content ensures that you need to feed your dog lesser.
Cons: May tend to increase the hyperactivity of already very active dogs.
---
#3

ACANA Dog Protein Rich, Real Meat, Grain Free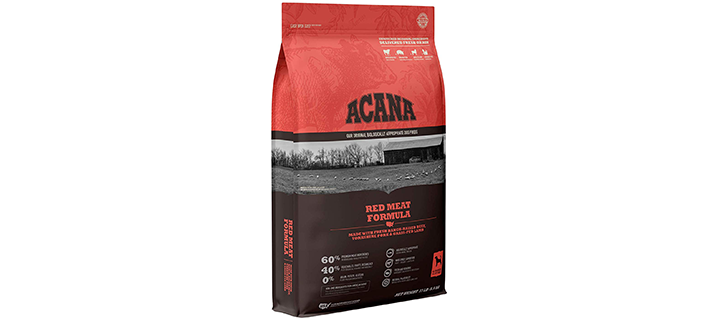 The ACANA dog food comprises fresh and raw high quality ingredients. The high calorie dog food encompasses animal based ingredients and plant based ingredients in the proportion of 60:40. The fresh ingredients in the dry dog food are sourced from regional farms, waters and ranches. The dog food is free of gluten, grains, tapiocas and potatoes.
The animal ingredients in the food ensure a diet that is appropriate to your dog's biological and natural needs. These include a perfect balance of meat, cartilage, bones and organs in a whole prey ratio.
The inclusion of freeze-dried liver ensures that the taste of the food is enhanced so that even fussy canines will enjoy every morsel of the cup that you feed them.
Pros: Suitable for dogs of any breed or age; packed with nutrients to keep canines healthy and active always.
Cons: Difficult to bite for dogs with chewing problems because of the dry texture of the kibbles that may make them hard.
---
#2

Miracle Vet Fast Weight Gain High Calorie Dog Food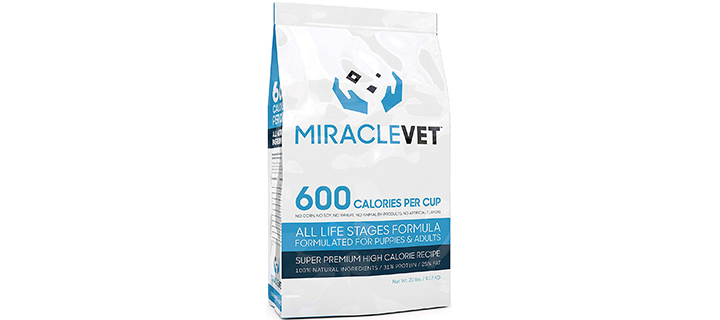 The Miracle Vet dog food comprises 31% protein and 25% fat that help meet your canine's daily requirements with just half the quantity that is usually required.
This dog food is made of completely natural ingredients like chicken fat, white fish meal, dried beet pulp, folic acid, flaxseed and tapioca starch to mention just a few. It also includes various minerals and vitamins for your canine's growth and development.
The high calorie content ensures that one pack of dog food will last longer than usual because the pet will need only half the quantity to meet its daily needs.
Your pet will get 600 calories with one cup of this dry food. With no fillers or artificial ingredients, you can ensure that your dog gets a completely healthy meal each time.
Pros: Easy for your pet to digest because of the fiber content as well as the probiotics and prebiotics included; less chance of allergy because there is no allergy causing food.
Cons: May make your pet put on weight very fast and hence not a good option for already overweight dogs.
---
#1

Royal Canin High Calorie Dog Food with Optimum DHA and EPA Levels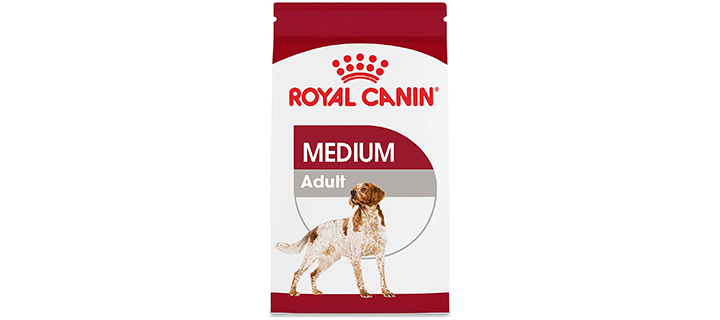 The Royal Canin dog food is a combination of dry food and wet food to provide the right brushing effect and healthy hydration. The kibbles feature easy-to-digest proteins and balanced fibers for healthy digestion and absorption of nutrients. The right blend of prebiotics and antioxidants provide your dog the strength and immunity it needs.
The high calorie dog food specifically caters to the high-energy lifestyle of your pet by offering 315 kilo calories per cup. The dog food is formulated to meet the unique requirements of your pet like dental care, optimal weight and joint support.
The food is intended for adult dogs between one year and seven years of age weighing between 23 pounds and 35 pounds. The kibble design matches the jaw shape of the dog for easy chewing. The food packet is available in three sizes of 6 pounds, 17 pounds and 30 pounds.
Pros: Helps the pet to retain its immunity and natural defenses due to the antioxidants and prebiotics.
Cons: Not suitable for puppies or dogs less than a year old as well as senior dogs more than seven years old.
---
Dogs that need high calorie food and things you should know.
Symptoms of weight loss in dogs
Dogs that have their ribs and bones protruding and clearly visible need to consume more calories than other dogs. These are two key signs of weight loss. Canines tend to lose weight because of problems with their organs like thyroid, pancreas and liver. They may also have improper bowel movements or worms in their digestive tract.
 High calorie dog food for canines that are not underweight
Your dog may be of the right weight but that is not the only reason you might want to consider checking out a high calorie dog food. If you have a dog that is dull and not active like how it used to be, this food can help to make your dog energetic and lively. You won't have to give the pet lesser food than usual when you opt for high calorie food.
Breeds that need high protein and calorie food
There is no restriction on which dog breeds must be fed with high calorie food. However, it is definitely a good choice for outdoor dogs that you take with you to assist you in activities like hunting. Choose foods that have natural animal meat or vegetable protein and keep off from those that have very little amino acids or meat by-products.
High calorie dog food for a dog that is allergic to gluten and soy
Allergy prone dogs can most definitely be fed with high calorie dog food. Read the list of ingredients that is printed on the packet of the dog food that you plan to buy for your fur baby. This can help you make an informed buying decision. You can then buy appropriate dog food that does not contain any allergy causing ingredient.
Right age to feed your pet with high calorie dog food
There is no specific age to start giving calorie-packed food to your dog. While some high calorie dog foods are suitable for dogs of all ages, some of them are for specific age groups.
Benefits other than weight gain
High calorie dog foods undoubtedly help dogs regain their lost weight. However, they also have other noteworthy advantages. For example, the antioxidants keep the canines' skin and coat healthy while vitamins enhance their vision and immunity. Some dog foods also have special ingredients that address the dental needs of the dog.
Introducing new food to your dog
Quality takes precedence over quantity. When making a change from the dog's existing food, it is advisable to choose a new food that helps in building body mass. Such foods often contain both high calories and high proteins. However, make the transition slowly by introducing the new food in small quantities. Increase the quantity gradually over a period of few days and finally shift over to high calorie dog food completely in a week.