Exercise is an essential part of every dog's daily routine. In today's busy life, it's getting difficult for dog owners to ensure their pets are getting enough of it. Sometimes, due to adverse weather conditions, you may not be able to take your dog for a walk. A dog treadmill will be very useful in such situations.
With several types of dog treadmills available, it might be a daunting task for pet owners to pick the right one. If you know what your dog wants and a few basic features that the treadmill should have, it would be easy to make a choice. Here is a list of the top 10 dog treadmills available in the market.
Here Are the Best Dog Treadmill Reviews
---
#10

PETSITE Dog Treadmill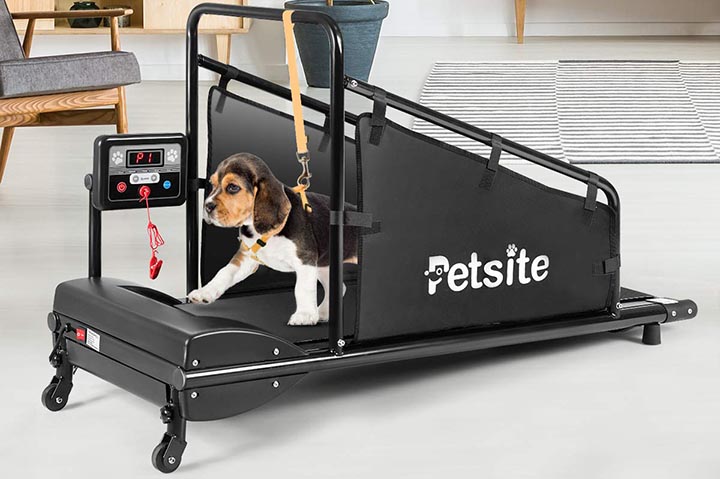 This is a professional dog treadmill that helps your dog exercise, lose weight and stay healthy. If you have an obese dog that is pretty lazy without doing any exercise, then this is the treadmill it needs. It's suitable for both medium and small dogs.
There is a safety key attached to the machine and if your dog pulls it out, then the treadmill will stop working. You can also stop the machine with the help of the emergency button on the wireless remote control.
The treadmill has a display that shows the time, distance covered, speed and calories burned. It offers as many as 12 different modes and you can set multiple speed levels. The device is made up of premium quality material that includes iron pipes and 600D oxford cloth.
The cloth blocks the pet's view and helps maintain focus. It is very easy to assemble this treadmill and it can be setup in about 20 minutes. All you need to do is read the instructions manual that comes with it.
Pros: The height of the base can be adjusted to suit different sized dogs.
Cons: This is not foldable and it will occupy some space in your home.
---
#9

GoPet Treadmill for Big Dogs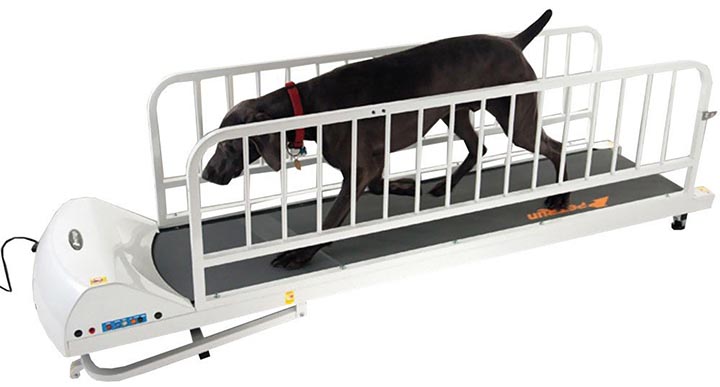 A regular treadmill might not work for your dog if it is large. You can consider purchasing GoPet large treadmill if you have a giant pooch. This one is exclusively built for large dogs and has a few unique features.
You can adjust the speed of the treadmill using the buttons provided on the machine. You may also control the speed with the help of wireless remote control. The adjustable speed allows the dogs to run as well as walk casually.
It can accommodate dogs weighing up to 176 pounds. The treadmill has dolly wheels and this makes it easy to move the treadmill to various parts of the house if needed. It also has metal gates on the sides that ensure 100% safety for your pet. Get this treadmill for your overweight dog and see how energetic it gets while working out.
Pros: The treadmill is designed for giant dogs and has metal gates for safety.
Cons: It's expensive and might take up a lot of space due to its large size.
---
#8

dogPACER Dog Treadmill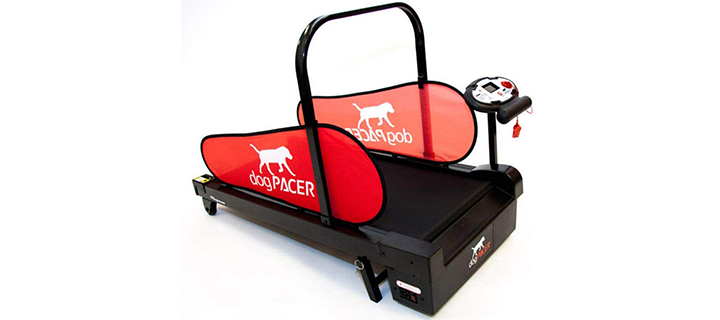 If your dog is small and needs a perfect machine that accommodates it easily, you can buy the MiniPacer Treadmill. It has a compact, foldable design and you don't have to worry about storage space.
The speed controlling feature ensures that it does not bring any discomfort for your pet during workouts. Your little one will never feel worried while using this treadmill due to its safety stop feature. You can adjust the speed of the treadmill in increments of 0.1 mph and the speed can be set from 0.5 mph to 7.5 mph.
It has exercise programs to optimize the dog's health. It comes with a low running area of 38" L X 16" W which is perfect even for a medium-sized dog. It is suitable for dogs up to 55 pounds. The treadmill weighs 48 pounds.
Pros: It is portable and affordable at the same time. It has been built with strong carbon steel which provides 100% safety to the pet.
Cons: It may not be useful if your dog starts growing bigger in size.
---
#7

Dog Runner Treadmill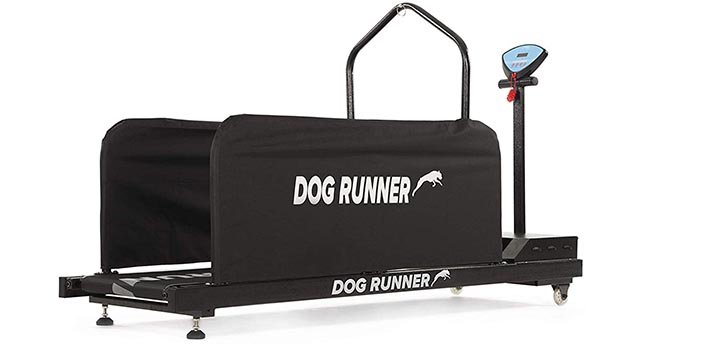 The Dog Runner treadmill is a good choice for large and overweight dogs. It is sturdy, heavy and can accommodate dogs that weigh as much as 242 pounds. The 5.5 horsepower motor with 0.62 to 7.5 mph speed adjustability makes it a good choice for large dogs.
It also has a metal bar at the front and a vertical bar consisting of the digital meter that has ON/OFF buttons and speed adjustment control.
This is a large treadmill and your dog will feel comfortable while working out because of the extra running space. The ring present in the metal bar can be used to tie the favorite treat for your dog. This will keep it motivated to exercise and lose weight. The treadmill comes with a warranty period of 2 years.
Pros: The Dog Runner treadmill has a powerful motor and extra space for workout.
Cons: It is quite big and heavy and cannot be easily moved around.
---
#6

DogTread Premium Small Dog Treadmill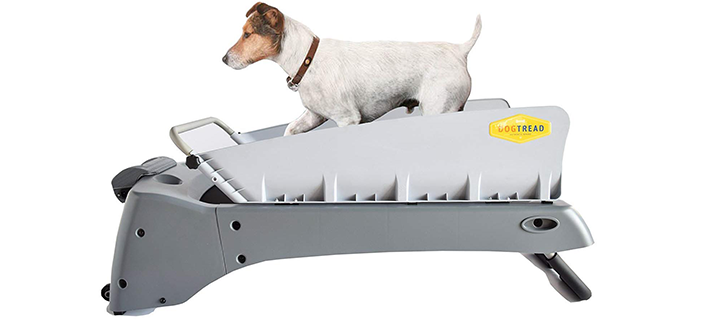 There are many advanced features in this treadmill from DogTread. It has an LCD Console that allows you to manage speed, time and distance to cover during the workout. There is a Red Safety Start and Stop button in the console.
It also comes with remote control. The treadmill also has a recessed treat holder using which you can give treats to the pooch at the start of the training.
The sturdy, attractive and friendly design without holes or meshes will keep the paws of your pet safe. With a whisper-quiet motor and an option to manually incline, the machine is quite good for training your dog. The space-saving portable design with transportable wheels makes it easy to move the treadmill from one place to another.
Pros: The LCD console is the unique feature of this treadmill.
Cons: It's difficult to assemble and takes more than an hour.
---
#5

DogPACER Treadmill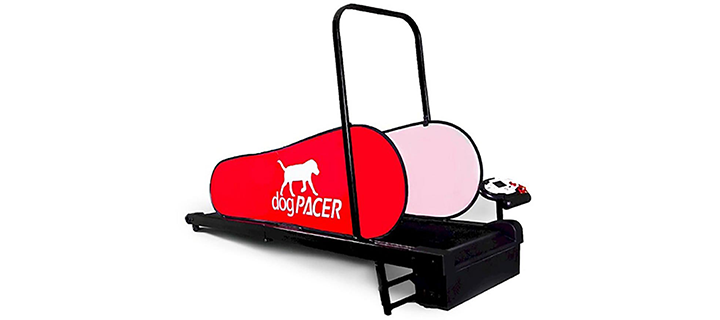 If you are tight on your budget and looking for an affordable treadmill for your pet, the DogPACER 3.1 foldable treadmill would be the best one. With a number of outstanding features, this machine ensures that your dog loses weight and remains active for long.
The sturdy design ensures that the treadmill is capable of accommodating dogs weighing up to 180 pounds. DogPACER treadmill makes use of an ultra-efficient power motor.
With the unique feature of pre-programmed workouts, it is easier to schedule the activity for your pet. Such workout modes allow you to train your furry friend in a better and systematic way. The lightweight and compact design of this treadmill make it the number one choice for all pet owners.
Pros: It comes with unique preset exercise modes. You can also create a new exercise program for your dog.
Cons: It is not very comfortable for obese or large dogs.
---
#4

GoPet PR72OF Small/Medium Treadmill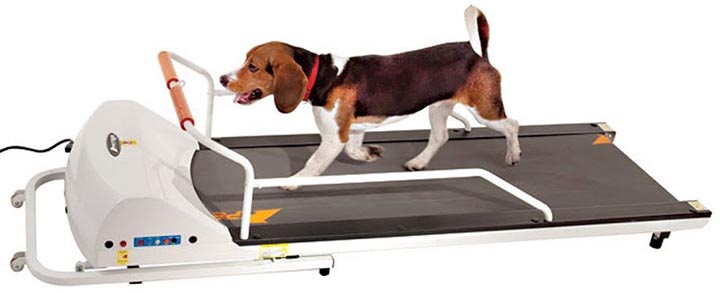 The GoPet PR72OF treadmill is suitable for dogs that weigh less than 132 pounds. With a tread running area of 52 inches by 16 inches, your medium-sized dog will find it quite big. It has a 1 horsepower motor and comes in six different sizes.
You can control the speed with the help of the buttons present on this treadmill. You won't face any difficulty while using it. Your furry friend will never be in danger as GoPet treadmill has the Safety Stop feature.
Pros: The machine is suitable for both small and medium-sized pets.
Cons: The large size of the machine makes it difficult to move around.
---
#3

GoPet Treadwheel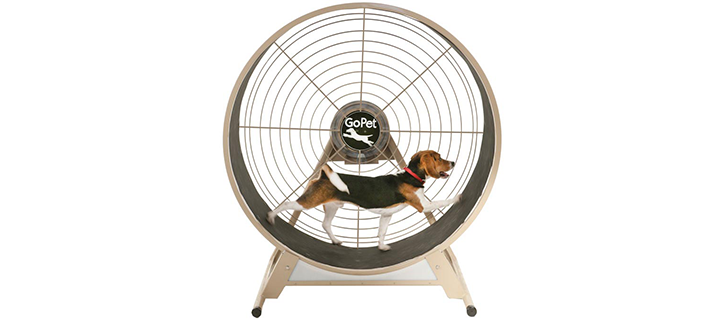 As the name indicates, this is a wheel-type exercise machine. The best part of TreadWheel is that it does not consume any electricity as it is powered by your little friend's legs. It is available in two sizes.
The smaller Treadwheel named ToySmall accommodates small dogs weighing up to 25 pounds whereas the large-sized Treadwheel can easily accommodate dogs weighing up to 150 pounds.
The optional brake in the Treadwheel offers resistance to the wheels and makes it safer for the dogs. Your furry friend enjoys utmost comfort with cushioned surface inside the machine which protects the dog's paws.
Pros: The machine has a non-electric wheel and it's available in two sizes to suit all dogs.
Cons: As it is non-electric, there is no remote control or emergency button available.
---
#2

Go Pet Petrun Pr700 Dog Treadmill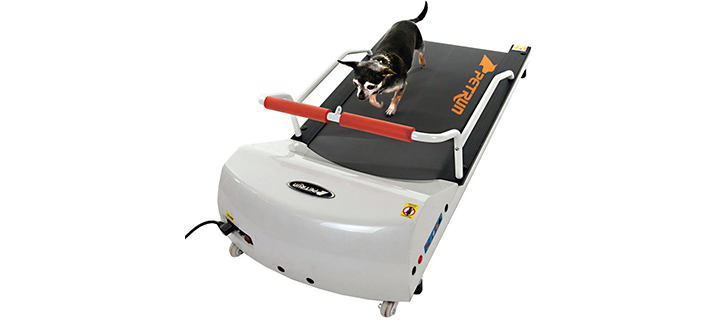 This treadmill can accommodate dogs that weigh up to 44 pounds. If you have a small or medium-sized dog, then Petrun Pr700 treadmill from Gopet would be the perfect fit. With a low running platform, it provides excellent comfort for your pooch. You can use the wireless remote to control the speed of the treadmill.
Your dog will never feel scared and anxious as you have the emergency safety button. You can stop the machine if you notice that your pet is at risk. You can also tie your dog's leash with the chain holder available on the machine.
Speed can be adjusted from 0.6 mph to 7.4 mph which is quite good to make your dog lose those extra pounds. You can enable the silent driving system for noise-free operation.
Pros: This is the best dog treadmill for indoor exercise and comes with a safety lock system.
Cons: The machine is not suitable for large dogs.
---
#1

Shelandy Motorized Treadmill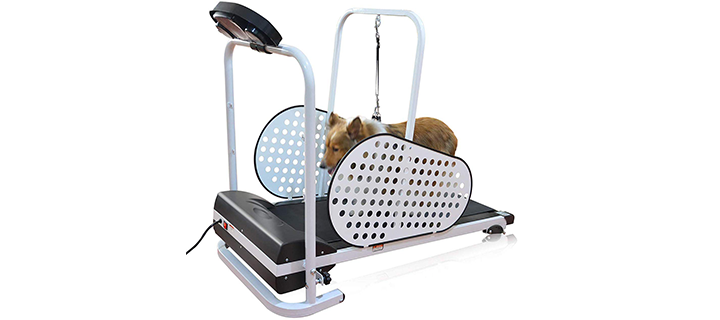 This is a treadmill for small and medium-sized dogs that are no more than 25 inches long. This is a small device with a running area of 40 inches in length x 17 inches in width. The running speed can be set between 0.5 mph to 7.5 mph.
The machine can be inclined between 5 to 9 degrees. The motor has a power of 3/4 HP and the safety system in the treadmill switches the device off automatically after every half hour of activity.
The device has a metal frame in the front which has a digital meter showing speed, pulse, distance, time, and calories. There is a dotted metal plate fixed on either side of the treadmill to protect the dog. Connected to each metal plate is a horizontal rod that joins together at the center.
Pros: Offers good value for money and comes with straps to hold the dog.
Cons: Though it is easy to assemble the treadmill, it is quite heavy.
---
Why Do Dogs Need Treadmills?
Just like human beings, even dogs tend to gain weight easily if they don't indulge in any physical activity. Signs of overweight and obesity are common among dogs of all ages and sizes. Dogs that are obese are at a greater risk of diseases like arthritis, ACL, heart and breathing problems and more.
This can even reduce their lifespan. As a pet owner, if you can't take your dog for a daily walk, then it is important to train your dog to use treadmills for exercising and shedding those extra fats.
How to Choose the Right Treadmill?
Selecting the right treadmill is very important. Several factors are involved in the process and you have to consider points like size and weight of the dog, weighing capacity, speed limit and safety features.
Also check the noise levels of the treadmill, whether it can be inclined, whether it is portable and the warranty that comes with it. The pet owner should make sure the dog does not get uncomfortable while using the machine. Every single feature should be checked and verified before deciding to buy a dog treadmill.
Benefits of Using Dog Treadmill
There are several benefits of using a dog treadmill. It's not only an effective way to help your pet lose weight but it also has other advantages to offer. Treadmill exercises for dogs help in increasing the dog's endurance, tone muscles, relieve stress and anxiety, ensure high energy and more.
How to Train Your Dog to Use a Treadmill?
As a pet owner, you should follow a number of steps while training your dog to use a treadmill. It is important to introduce them to the machine while it is turned off. Praising your dog while it's on the treadmill is very important.
If your dog is scared and doesn't want to step on to the treadmill, try giving a few treats. You should monitor every activity of your dog when it is working out.
How to Monitor Their Weight?
The journey of losing weight will not be easy for a dog. You might have to make certain changes in their diet along with the workout plans. You should keep track of your dog's weight by checking it at regular intervals.
If you find that the dog is not losing weight even after several weeks of workout, you can consult with a vet if required.