Leaving your beloved cat home while you are out on an adventure is not what you would like to do. Sadly, many owners do not know there are so many options available that can make it possible for their little furry friend to join them.
Cats are curious and they love to join their owners on adventure trips. So what can you do? Here is a list of best cat carrier backpacks to help you go on a trip together!
Cat Backpack Carriers, Reviews
---
#10

Scurrty Xpect Bubble Backpack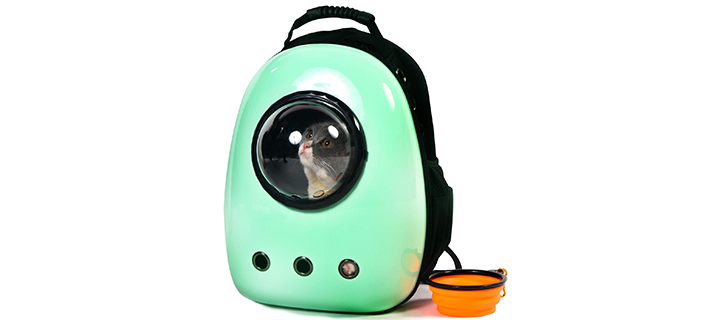 Scurrty is a well-known name in the pet supplies industry. They have come up with this beautiful backpack that looks like a space capsule for your cute little pet. It has ample space and is well suited for cats as large as 13 pounds.
The construction of the bag is durable and breathable. The nine-hole design ensures better airflow. It is made out of Oxford cloth that ensures your pet enjoys a cool environment while riding on your back.
The clear bubble dome on the bag provides you with easy access to the cat and you can make sure it is doing well in the bag. There is a hook for the cat's leash on the bag as well, to reduce the chances of any runaway while you are taking your cat out of the bag.
Pros: It is a budget-friendly and well-ventilated carrier bag that is ideal for cats weighing up to 13 pounds.
Cons: There is only one entry point for loading and unloading. It is not suitable for cats that have a habit of tearing cloth or mesh.
---
#9

Petsfit Comfort Cat Backpack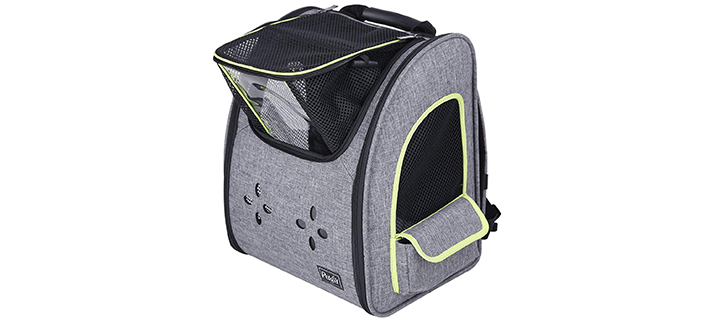 This backpack is one of the best choices for carrying cats. It is an airline-approved bag and can easily carry a cat weighing up to 15 pounds. This model is made out of premium quality PU leather and has eco-friendly EVA material that makes the backpack durable and sturdy. It is ideal for those cats that often get agitated when confined in small spaces. The bag liner is easy to remove for cleaning.
To make your pet comfortable, there is ample space for it to sit properly. The bag is well ventilated and as the entry point is made out of mesh, it acts as a window. For your comfort, it has well-passed shoulder straps along with chest and waist straps.
Pros: It is an airline approved backpack that can accommodate cats weighing up to 15 pounds. The padded straps and waist straps ensure your comfort.
Cons: There are only two color options available and the harness attachment can be better.
---
#8

LEMONDA Waterproof Space Capsule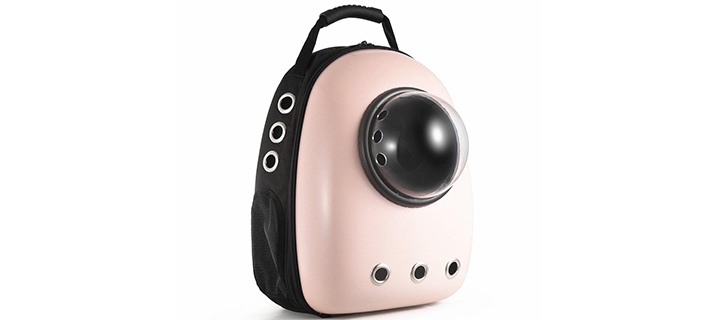 Lemonda is best known for its innovative pet products. This space capsule bag has a lightweight design yet it is highly durable and long-lasting. It comes with a transparent window that allows your cat to enjoy the sunshine and scenery while traveling. The high-density acrylic material and canvas cloth make it easier for the cat to breathe during the journey.
The bag comes with an inbuilt locking mechanism that ensures your cat will not run away and get lost when you open the bag for unloading. It is best suited for cats up to 14 pounds.
It is ideal for use as a backpack or carrier bag and you can also pick it as single-hand carrying if required. For the pet owners who love to get close to nature, this bag is one of the best options to include pets in the adventure.
Pros: Though it is a lightweight bag, the construction is highly durable, waterproof and long-lasting.
Cons: It has only one entry point which may make it difficult while loading or unloading if the cat gets anxious.
---
#7

Texsens Bubble Backpack for Cats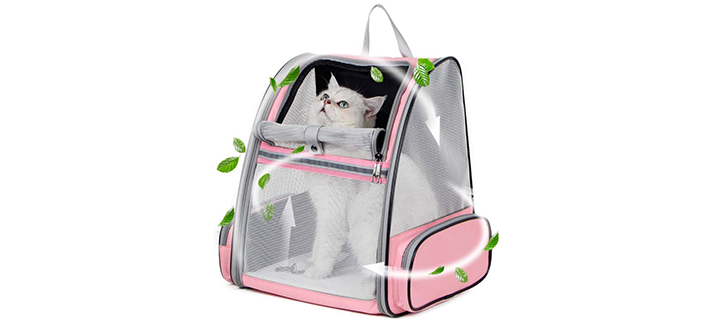 Texsens is among the most trusted brands for pet supplies and the company has been in the business for more than a decade. They were the first to pioneer the bubble backpack design. This innovative bubble backpack is among its bestselling products. It is perfect for cats weighing anywhere between 10 pounds to 12 pounds.
There is a cute dome in the center of the backpack that allows the cat to enjoy the surroundings and interact with the outer world. There is ample space in the bag that makes it easier for the cat to sit or stand while traveling. The mesh windows are made out of PVC net. The soft padded straps make it easier to carry the bag for long durations.
Pros: The best aspect of this bag is that you can interchange the bubble dome with a mesh window. It is a highly secure bag and the chances of runaway are very slim.
Cons: Though the mesh windows are made of PVC plastic, there is a slight chance that an anxious and aggressive cat can tear them or hurt itself. Please make sure your pet is calm during the journey.
---
#6

PetAmi Deluxe Backpack with Ventilation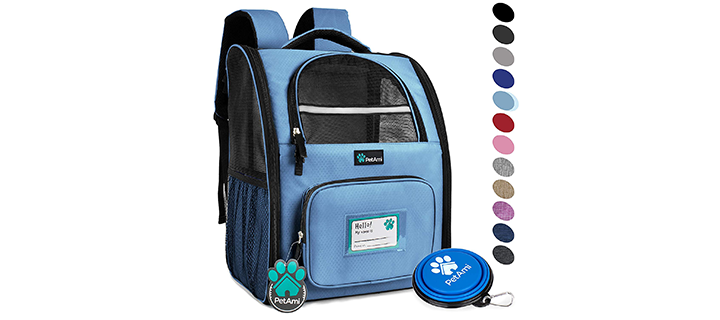 Hundreds of pet owners adore PetAmi backpack. While keeping safety in mind, the backpack features a non-collapsible structure. As it does not crinkle, your pet will remain safe all the time. There is a front pocket along with the pouches on each side where you can put some essentials.
Though there is enough space for light and air, you can open the mesh window if you want to provide additional head space and visibility to the cat. It is best suited for a cat that weighs up to 13 pounds. You will get a water bowl as an accessory with this bag. The back and shoulder straps have thick padding that will ensure you don't get tired during the trip.
Pros: It is an airline approved bag made out of polyester material that provides a comfortable and breathable space for the cat.
Cons: The mesh window is not as strong as it should be and an anxious cat can damage it.
---
#5

Blitzwolf Space Capsule Backpack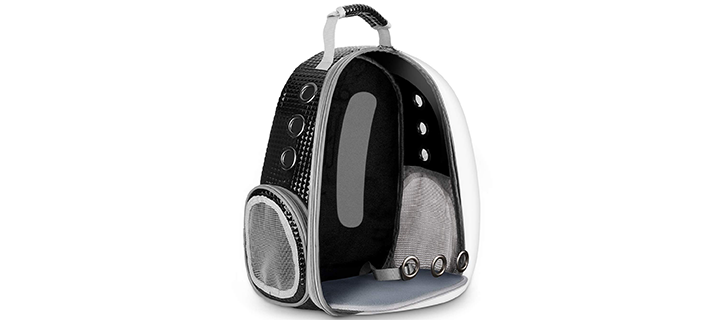 It comes with an acrylic full-transparent design that makes it easy to check your pet at any time. It is one of the best options for those cats that do not like to stay in confined and dark places.
The shoulder strap of the bag comes with a layer of transparent material that reduces any chances of deformability. The bag has multiple ventilation holes that ensure ample airflow for the cat.
It is best suited for small or medium-size cats up to 10 pounds in weight. You can also use this bag to carry other small animals. It comes with a hook where you can attach the leash while unloading the cat.
Pros: It comes with a full-transparent design that offers a comfortable view of the outer world for your cat.
Cons: The harness attachment on the bag has some room for improvement.
---
#4

Texsens Super Breathable Mesh Cat Backpack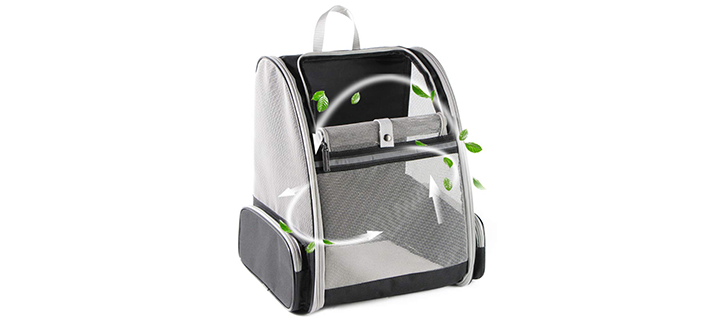 This is another fine product by Texsens. It is a slightly bigger bag best suited for up to 15-pound cats. The bag is lightweight and weighs only 2.7 points. While you are driving, it is easier to secure the bag with a seat belt. Also, the chest buckles of the bag ensure that it stays in its place. There are pockets on each side for some treats and essentials.
The bag has been constructed while keeping the cat's comfort in mind. There is enough room for the pet to breathe in the presence of four mesh windows. The cat also gets ample view of the surrounds and can interact with the outer world. The PVC construction ensures that the sharp claws of the cat cannot damage it.
Pros: The bag comes with a wide mesh entrance that makes it comfortable to load and unload the cat.
Cons: There is no protective cover to save the cat from rainfall.
---
#3

Lollimeow Backpack for Outdoor Use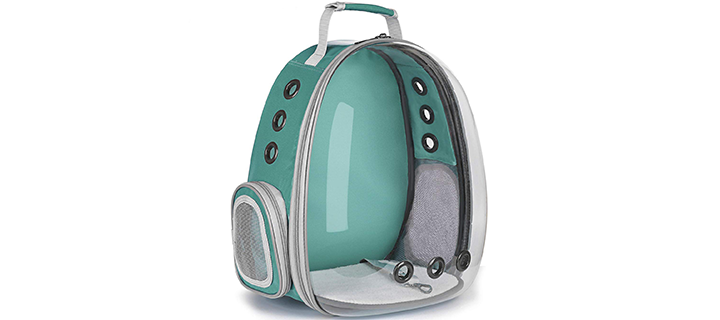 If you are looking for a backpack that can provide a 180-degree view for your cat, this is the best choice. The shell of the bag is made out of polycarbonate that ensures it is scratch resistant. It also helps in reducing any chances of overheating. It is ideal for cats up to 12 pounds in weight.
The nine ventilation holes on the bag along with two mesh windows ensure there is ample airflow. There is a built-in locking mechanism that ensures your cat stays put while traveling. It is an airline approved bag and you can take it as carry-on luggage in pet-friendly flights.
Pros: It comes with an in-built locking mechanism for maximum security.
Cons: The padded floor in the bad is not secured to the bottom.
---
#9

Xpect Waterproof Kitty Capsule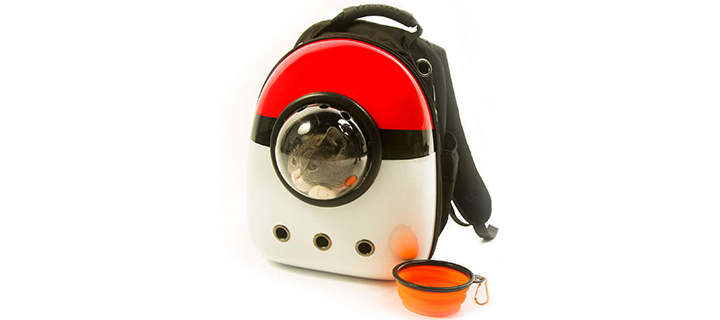 This is another amazing backpack by Xpect. It comes with a large semi-sphere window. It is made up of Oxford fabric and heavy-duty ABS plastic that ensures durability and security. It is best suited for cats up to 13 pounds in weight. The velvet mat provides comfort to the pet while traveling.
This airline-approved bag is famous among travelers who like to take their cats on long journeys. It comes with an additional protective film that protects against bumps and scratches. The bubble dome is interchangeable with the mesh window that will provide additional airflow on hot days.
Pros: This backpack comes with a mesh window for better airflow. The side pockets have enough space for treats and essentials.
Cons: There is some room for improvement in terms of ventilation while using bubble dome.
---
#10

Lollimeow Backpack for Large Cats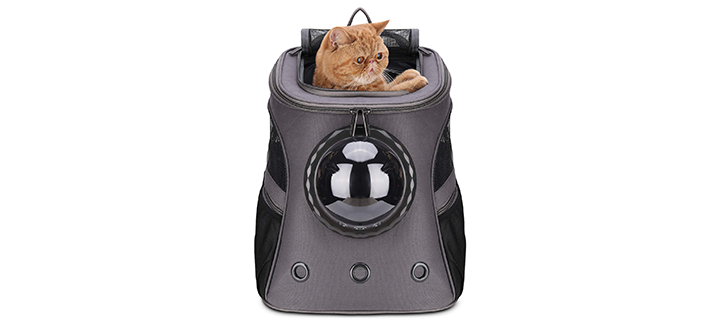 Best suited for large cats, this backpack can support cats that weigh up to 26 pounds. There is ample space for the pets to sit comfortably during the travel. You may need to check with the airline if you want to take it as a carry-on bag. The bubble window provides an easy view to your pet on-the-go that makes it easier for them to interact with the outer world.
The small mesh opening on the top allows your cat to hang out and that will make travel more fun. It comes with a security hook where you can secure the leash while loading and unloading your cat. It is a highly durable bag that comes with a scratch-resistant coating. It is waterproof and very easy to clean.
Pros: It has two mesh windows and ventilation holes for great airflow. It is ideal for large as well as fat cats.
Cons: You may not be able to take it as a carry-on bag on the flight.
---
Factors to consider while choosing a cat carrier backpack
Consider the size of your cat
The first thing you need to keep in mind is that there should be ample space in the bag for your cat to move around a little bit. It should be able to move its limbs at least so that it does not feel anxious while traveling.
You have to make sure it is not too large as well; otherwise, it will not be able to see outside, which may again make it cranky. A regular size cat weighs around 12 pounds. Choose the bag accordingly.
Comfort is very important for the cat
There should be enough airflow in the backpack for two reasons. First, the cat should be able to breathe properly, and secondly, the inner room of the bag should be cool enough so that your cat does not feel any discomfort due to high temperatures. Make sure there is a comfortable base pad.
Your comfort is equally important
You are going to carry weight on your back for a long duration. It must not put unnecessary pressure on your shoulders. There should be padding on the shoulder straps and the waist strap should not have any rough edges. Padded straps ensure that you do not feel any discomfort or extra weight on your shoulders while traveling.
Functionality and features
Make sure to buy a bag that has additional storage space. You would not want to keep treats for the journey in a separate bag. It will be better if your cat can see the world outside. It will help it in staying calm. If you are taking your cat with you on a hike, there should be a waterproof sheet that can cover the bag in case of rainfall.
The durability of the bag
Make sure to buy a bag that is made out of comfortable yet strong material. Cats have a habit of scratching things when they are anxious. Anything of low-quality will wear-off in no time. A bag made out of Oxford cloth with durable PVC material will be ideal for cats. Make sure that the acrylic sheet used for the dome is strong enough.
Security of your cat
Cats are known for their escape skills. The bag should have additional safety features like a leash hook and in-build locking mechanism. Use the hook to secure the leash while loading and unloading the cat and in-build locking mechanism will prevent the cat from opening the bag while you are traveling.
Ease of cleaning
The bag should be easy to clean and maintain. If it is washable, there is nothing better. The base pad inside the bag must be secure, but there should be a way to detach it while cleaning. Keep in mind that most of the bags are handwash-friendly.