Cats are adorable but the mess they leave behind can sometimes make us pull our hair out in frustration. Cleaning its litter day in and day out can be quite frustrating with an ordinary litter box.
Top entry litter boxes can significantly reduce your effort and make your cat's life a lot easier. Let's take a look at some of the best top entry litter boxes available in the market.
Top Entry Litter Boxes, Reviews
---
#10

PetSafe Ultra Automatic Litter Box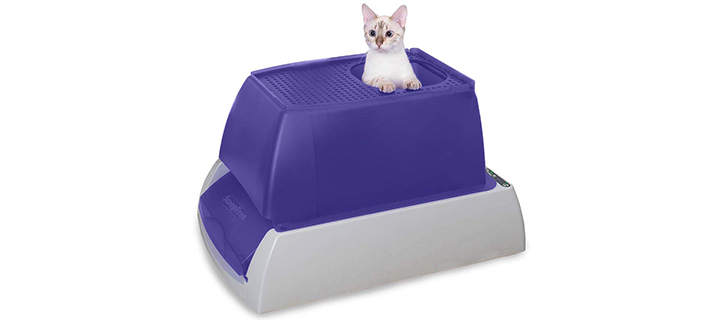 If it's a feature-packed litter box you are looking for, then this one might pick your fancy. It comes with an automatic waste disposal system, odor control feature, grated lid and even motion sensors to keep track of your cat.
The waste disposal system gets triggered automatically once the cat leaves the litter box and it crystallizes the solid waste into fragranced crystals. All you have to do is open the lid and throw away the waste. The cleaning cycle can be set to begin 5, 10 or 20 minutes after your cat leaves according to your preference.
Pros: It comes with all sorts of bells and whistles and is packed with unique features for disposing waste. It also gets rid of odor more effectively than most litter boxes.
Cons: It's expensive and needs to be plugged in for it to work.
---
#9

Modkat Litter Box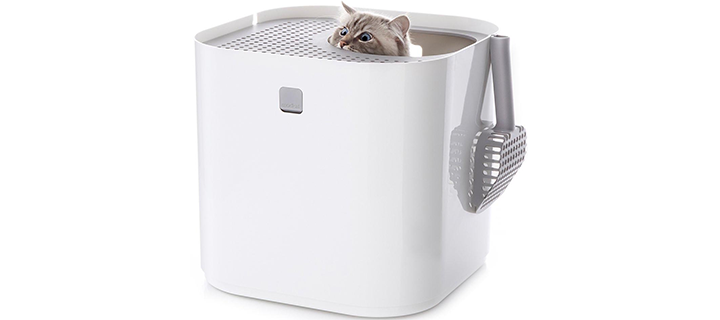 It comes with a swivel lid, free scoop, and a reusable liner and also features an award-winning design that will complement any room. It's not only good looking but also features intelligent design aspects.
The box measures 16 x 16 x 15 inches in dimensions and comes with a 9-inch diameter entry point at the top. The perforated roof helps to keep the litter from getting all over your floor. The reusable liner is rip-resistant and can last up to 3 months.
Pros: It looks stunning and features smart design choices that will help you keep the litter off the floor.
Cons: The liner isn't waterproof at the seams which may cause urine to trickle down to the bottom of the box.
---
#8

Iris Litter Box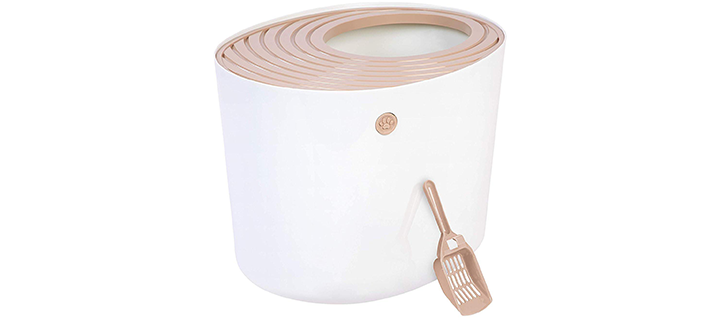 This one comes with a unique design, round corners, litter scoop, BPA-free materials, and a large top entry hole for easier access. It is available in a variety of different color options to compliment the room you want to keep it in.
The large variant measures 20.47 x 16.14 x 14.56 inches whereas the medium one is 17.32 x 13.39 x 12.20 inches. The top entry hole is 9 x 10.5 inches in size which is more than enough for small, medium, and large cats. The grooved lid helps to remove litter from the cat's paws effectively.
Pros: It comes with a uniquely designed roof, multiple color options and provides great value for money.
Cons: The grooves on the top of this litter box help in keeping the litter off the floor but require regular cleaning.
---
#7

Petmate Litter Box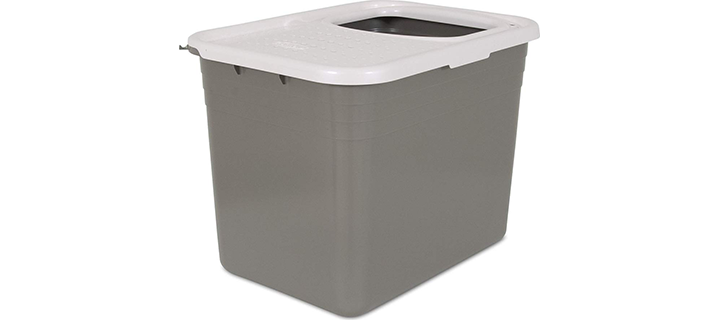 The Petmate Litter Box comes with a grated lid, high walls, built in hook for hanging litter scoop and is made with pre-consumer recycled plastic. Its price point is easily its best aspect and makes it accessible for anyone with a cat. The extra tall walls provide more privacy for the cat and keeps away small dogs.
Big dogs, on the other hand, can easily put their head in through the top entry hole and make a mess out of it. It measures 20.3 x 15.1 x 15.2 inches and can be used by multiple cats. The grated lid isn't as efficient as a lid with ridges but is incredibly easy to clean.
Pros: It comes at a really affordable price and is extremely easy to clean.
Cons: Visually, it doesn't look very appealing and it isn't dog-proof either.
---
#6

AmazonBasics Litter Box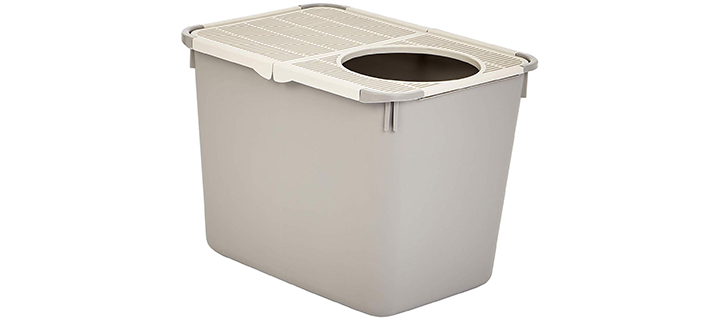 The AmazonBasics Litter Box is an affordable top entry litter box that comes with a perforated roof, a large entry hole, removable lid and is made of heavy duty, non-porous plastic. The lid comes with a snap-on construction and can be attached and detached whenever you want to clean it.
This also makes it very easy for you to change the liner which is paramount when it comes to maintaining the hygiene of the litter box. Measuring 20.1 x 15.4 x 15 inches in dimensions, it can accommodate cats of all sizes. The best feature is, of course, the textured roof as it not only traps litter from the cat's paws but it also makes the collected litter fall back into the box.
Pros: It provides good value for money and is pretty adequate for cats of all sizes.
Cons: The build quality isn't as good as you want it to be and it isn't dog proof.
---
#5

Clevercat Litter Box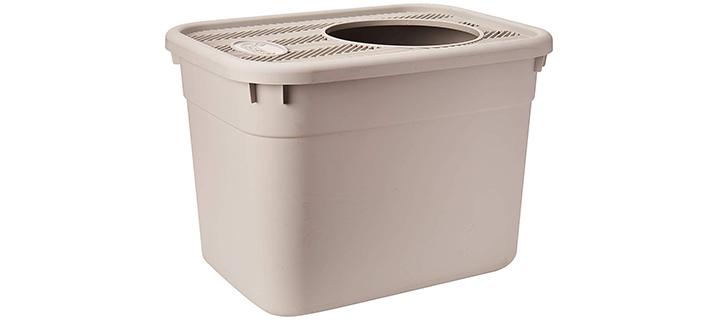 This one comes with a large top entry hole, ridged roof, and an award-winning design. It has a 9-inch diameter entry point at the top and fits medium-sized cats but it isn't big enough for very large cats. The build quality is quite good and you don't have to worry about any leakage.
The size of this litter box is 20 x 15 x 15 inches and it efficiently eliminates tracking while reducing odor to a minimum level. It doesn't have a perforated roof and the trapped litter won't fall back into the box. However, it does trap litter from the cat's paws quite effectively.
Pros: It's quite large and ideal for those who have multiple medium or small sized cats.
Cons: It's quite expensive compared to its competitors.
---
#4

Modkat XL Litter Box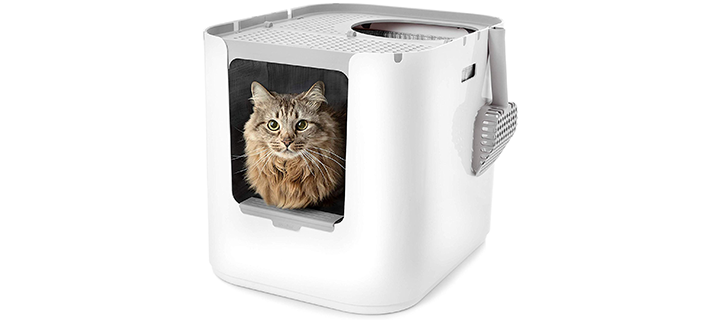 This one is a hybrid litter box that comes with both a front entry point as well as a top one. You can either set it up as a top one or a front one as per your cat's needs. This functionality is very useful if you have a senior cat and a younger one too, as old cats find it difficult to use top entry litter boxes.
It measures 21 x 16.5 x 17 inches in size and can fit large cats pretty easily. The liners can be snapped on to the inner walls and this makes it convenient for cleaning. The perforated lid can be swiveled to dump any trapped litter directly into the box too which is a handy feature to have.
Pros: It features dual entry points (top and front) and can be configured as per your cat's preferences. It also comes with reusable liners for both top entry and front entry usage.
Cons: It's very expensive and the lid can feel a bit wonky at times.
---
#3

Nature's Miracle Litter Box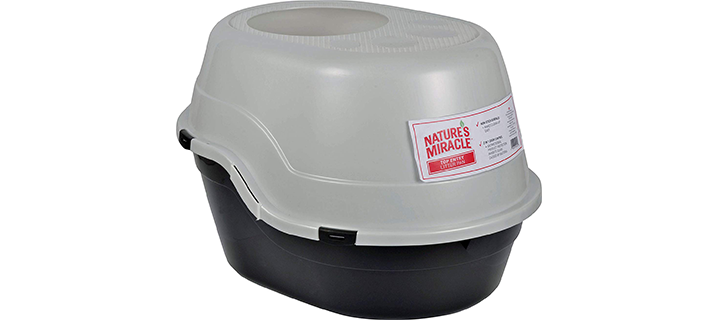 If you have a dog and a cat at home, then this one might be a great option for you, thanks to its enclosed design. Dogs have a really hard time trying to get in and usually give up. It's not ideal for multiple cats but is perfect for single young cats.
It measures 25.5 x 8.8 x 20 inches in size and is large enough for big cats too. It also significantly reduces odors and litter from spilling out, thanks to the textured lid. The size and design of this litter box make it difficult for kids to reach in and play with the litter.
Pros: The enclosed design effectively keeps dogs away from trying to get inside and snack on the cat's waste.
Cons: It's not for senior cats or multiple cats.
---
#2

DADYPET Litter Box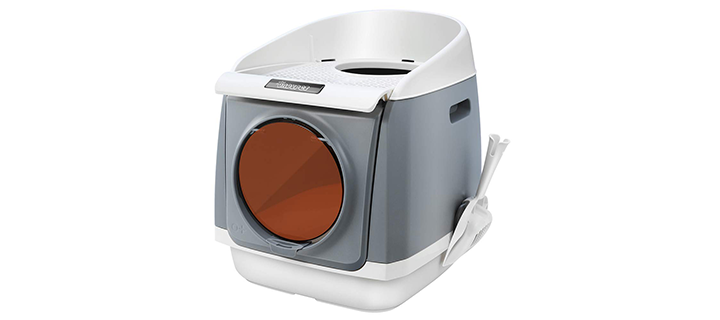 This litter box comes with dual entry points (top and front) and a unique double door design. It has detachable parts for easier cleaning and activated charcoal felts for reducing unpleasant odors. One of its most useful features is that it comes with 4 activated carbon filters which really help to keep the bad smell from filling the room.
It measures 21.6 x 18 x 19.3 inches in size and comes with a perforated lid that keeps the litter from spilling out. The design is quite attractive too and fits in any type of room. It's very easy to assemble too.
Pros: It comes with dual entry points, folding doors for better convenience and activated charcoal felts to reduce odors.
Cons: It doesn't feel sturdy enough and is quite overpriced despite the extra features.
---
#1

Favorite Litter Box
This is pretty similar to the traditional litter boxes used by cats but with an open top. The opening is very large and it's easy to open, fold and clean the litter box. The top of the box has a rough surface which is non-slippery.
The clever design considerably reduces the bad odor and is ideal for use in a house with multiple small cats. The inner surface of the litter box is made up of non-sticky material. This prevents the waste from sticking and makes it really easy to clean the bottom surface.
Pros: This litter box is sturdy and provides vast private space to cats. The opening is very big and can be used for multiple cats.
Cons: It is available only in one color variant of black and white.
---
What is a Top Entry Litter Box?
A top entry litter box is a tall box that comes with an entry hole at the top instead of the front as seen in traditional litter boxes. Due to its top entry point, the chances of litter getting spread all over the floor are significantly reduced.
In traditional front entry litter boxes, a cat can do its business and then walk all over the floor and spread its litter around. In a top entry litter box, the lid is either perforated or has ridges that allow most of the litter stuck to the cat's paws to get trapped or thrown back into the box.
How do Top Entry Litter Boxes Work?
They enclose the litter within the box in such a way that it cannot be spilled out onto the floor. As the name suggests, it opens from the top as opposed to the front entry boxes. Once the cat has done its business, it has to climb up to the top and get on the grated roof before it can touch the floor.
The grated roof collects most of the litter dust stuck in the cat's paws and makes it fall down into the box. This helps significantly in keeping the floor around the litter box clean and neat.
Do Cats Prefer Top Entry Litter Boxes?
Initially, when you transition from a normal front entry litter box into a top entry one, you might find the cat to be somewhat wary about the new box.
Once the initial suspicious phase is over, you will find that the cat actually loves top entry litter boxes more than the traditional ones.
The main reason for this is privacy. The enclosed nature of these boxes allows them to be more happy and relaxed when they go about their business.
How to Make Your Cat Used to Top Entry Litter Boxes?
While some cats can easily adjust to new litter boxes, there will always be those that don't. One way to make them adapt to a top entry litter box is to keep both the traditional one and the new one side by side to let the cat know that the new box is also a safe environment.
You can also pick up the cat and drop it into the top entry box to show that it is filled with litter. Whatever the trick may be, always remember to only use high quality litter to make your cat as comfortable as possible.
What are some of the Benefits of Using a Top Entry Litter Box?
The most important benefit is, of course, a lesser mess to handle, thanks to the perforated design of the roof. Since there is more litter in the box, your cat can cover it up fully which leads to less smell.
It is more visually pleasing to look at too as they don't look like traditional litter boxes. It's also incredibly easy to clean as all you have to do is tilt the top up and scoop the litter out. There is no need to use mats on the floor as well since most of the litter end up falling back into the box rather than on the floor.