Older cats can be either adult felines or senior felines. The nutrition requirements for these cats are different from kittens. Protein forms a major part of these cats' diets.
This is why cat food manufacturers often have separate food for older cats in both dry and wet forms. The following list mentions some good cat food worth checking out for your elder feline.
Best Cat Food for Older Cats, Reviews
---
#10

Hill's Science Diet Natural Ingredients Based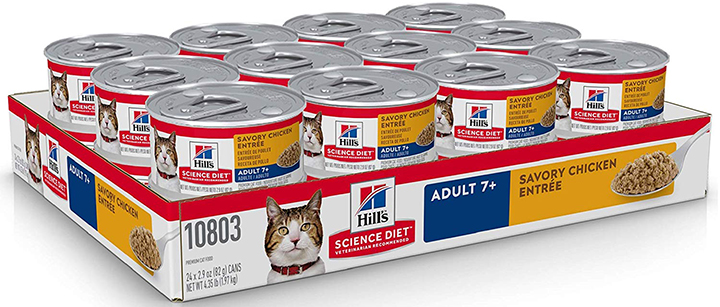 The Hill's Science Diet wet cat food is exclusively formulated for senior cats. The cat food is enriched with high-quality protein for your feline's lean muscles. The all-natural formula makes it completely safe for your pet and easy on your cat's stomach and gets digested easily without any problem.
The canned food also has various proteins, amino acids, antioxidants, minerals and vitamins apart from taurine, wheat flour, fish oil, soybean, corn gluten meals and rice. The quantity given must be lesser than usual if it is given along with dry food. There are no artificial preservatives, flavors and colors. The food is available in two meat flavors of savory chicken and savory turkey.
Pros: Succulent texture for easy chewing, healthy coat and teeth due to the inclusion of antioxidants and taurine.
Cons: Must be refrigerated soon after opening and hence may not be suitable when traveling with your pet.
---
#9

Blue Buffalo Mature, Healthy Aging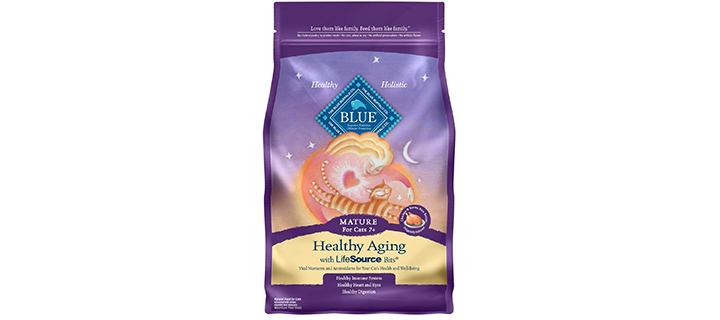 The Blue Buffalo dry cat food for seniors contains high-quality protein sourced from real chicken as its primary ingredient for the cat's strong muscles. The natural cat food also includes garden vegetables and fruits as well as wholegrain.
It does not include any form of artificial preservatives or flavors, soy, corn, wheat or poultry by-products. The mix of proteins and carbohydrates give the cat the required energy to stay active.
The dry food additionally contains brown rice, oatmeal, barley, flaxseeds and fish oil as other key ingredients. The Lifesource Bits offer a perfect blend of minerals, vitamins and antioxidants for building the feline's immunity and maintaining a healthy oxidative balance. The taurine supports the eyes and heart health of your mature cat.
Pros: No possible allergy causing food such as wheat, corn and soy present in it.
Cons: May be difficult for senior felines to chew because of the grains.
---
#8

Purina Pro Plan Focus, Salmon & Tuna


The Purina Pro Plan wet cat food has been prepared keeping your senior feline in mind with protein as its core ingredient. The cat food encompasses an easily digestible formula and optimum fat levels. Apart from protein, the food contents include crude fiber, crude fat and several vitamin supplements.
The cat food offers extra care and nutrition for your cat to have an active and healthy life with 25 minerals and vitamins apart from taurine and guar gum in each serving. It is also loaded with minerals like potassium chloride, manganese sulfate, ferrous sulfate, potassium iodide and copper sulfate. The cat food is available as 3oz. cans in four variants of chicken & beef, ocean whitefish & salmon, salmon & tuna and turkey & giblets.
Pros: Easy on the stomach and digests without any problem because of the highly digestive formula.
Cons: Contains added colors, meat by-products and artificial flavors and is not recommended for cats below seven years of age.
---
#7

Nutro Core Wholesome Essentials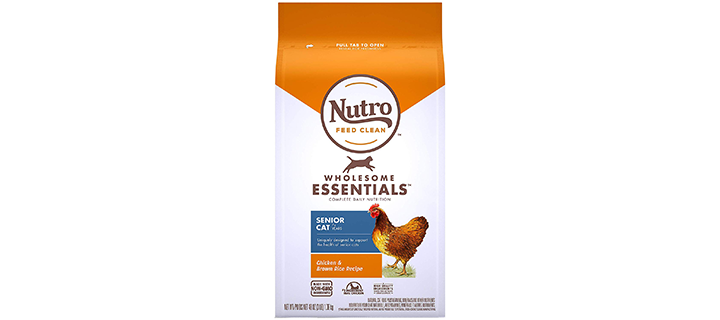 The Nutro Core dry cat food is made using non-GMO ingredients and contains chicken protein as its key ingredient. It also has natural fiber to assist in proper digestion. The Omega-6 fatty acids give your mature feline a lustrous coat and healthy skin.
The cat food includes whole brown rice, brewers rice, wholegrain oatmeal, pea and potato proteins, plain dried beet pulp and fish oil. The food also consists of amino acids, vitamin extracts, flaxseeds, minerals, antioxidants, rosemary extract and natural flavors.
It is free of artificial colors, preservatives and flavors as well as chicken by-products, wheat, corn and soy protein. The dry food can be given along with wet food by reducing its quantity appropriately.
Pros: Suitable for mature cats with a sensitive stomach, has no meat by-products.
Cons: Must be stored in a dry and cool place after sealing the bag tightly to retain freshness.
---
#6

Iams Proactive Health, Healthy Senior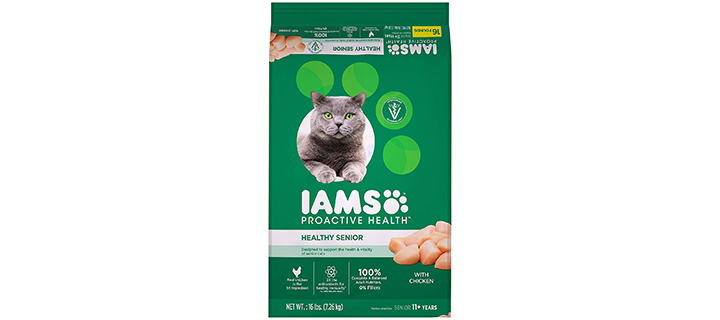 The Iams dry cat food contains chicken as its major source of protein for your senior cat. This keeps the cat energetic while ensuring that its muscles remain strong at the same time. The optimum fiber blend of beet pulp and prebiotics in the cat food support the pet's digestion. The L carnitine fortified kibbles help the feline maintain a healthy weight.
The cat food also contains essential nutrients such as potassium and calcium. The texture of the kibbles prevents the accumulation of plaque. The food is free of wheat, synthetic dyes and artificial preservatives.
The antioxidants and Vitamin E help to build the cat's immunity with a lustrous coat and healthy skin. The cat food meets specialized needs such as urinary tract health and hairball control.
Pros: Helps senior cats retain ideal weight with healthy joints and strong bones; enhances the feline's overall immunity.
Cons: Not suitable for kittens or adult cats as it contains traces of corn gluten.
---
#5

Instinct Raw Boost, Kibble + Raw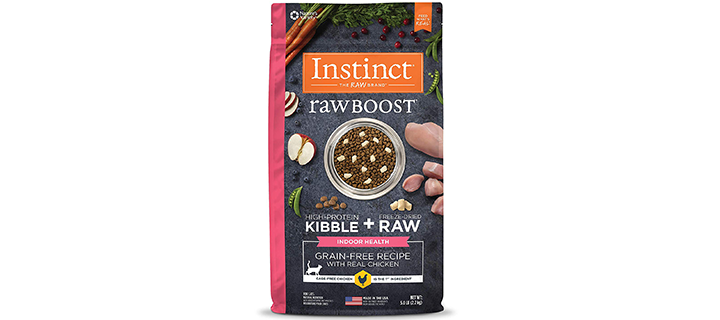 The Instinct dry cat food has high protein from raw freeze dried cage-free chicken. The cat food is free of grains and has whole food ingredients with minimal processing. It is also enriched with salmon and menhaden fish meals, freeze dried chicken heart and liver, chicken fat, taurine, minerals and vitamin supplements.
This cat food also includes non-GMO fruits and vegetables like tapioca, pumpkin seeds, dried tomato pomace, cranberry, apple, blueberry, dried chicory root, kelp and carrot. It is also loaded with omega fatty acids and probiotics to enhance the immunity of your pet along with multiple vitamin supplements and folic acid. The food does not contain potato, meat by-products, soy, wheat and corn as well as artificial colors and preservatives.
Pros: Suitable for cats of all ages, helps in stool odor control, promotes healthy coat and skin.
Cons: Contains chicken to a major extent that may not suit all cats.
---
#4

Royal Canin Aging

The Royal Canin cat food is mainly intended for cats that are over 12 years old. This cat food has a perfect ratio of proteins, carbohydrates and fats. It has thin slices of chicken, chicken liver and pork soaked in a thick gravy. The food satisfies the appetite of even very picky felines.
The cat food helps in maintaining the health of your cat's kidneys with its controlled phosphorous levels. The proteins in the food can be easily digested by the pet while the moisture content ensures its healthy hydration.
This food can be given as a meal or in a combination with the manufacturer's dry cat food. It comes in a 3oz. can and is available as a case of 6, 12 and 24 pull-open cans.
Pros: Keeps kidneys healthy with the right phosphorous levels, easy to chew because of the wet texture.
Cons: Cannot be retained in the same can once opened, has a strong smell that lingers for a long time.
---
#3

Meow Mix Tender Centers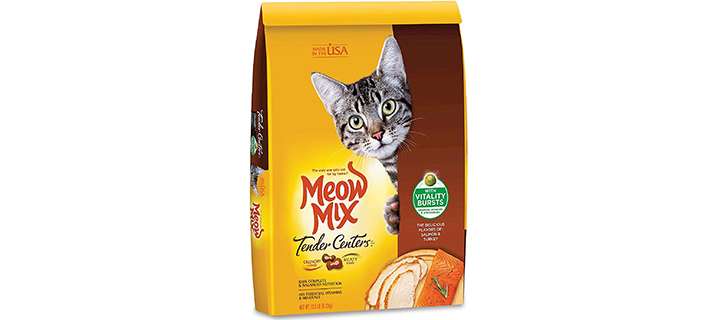 The Meow Mix dry cat food offers complete and balanced nutrition without any fillers. The cat food contains animal protein as its core ingredient. The food also offers the senior cat with all the required minerals and vitamins along with taurine. The kibbles feature an outer crunchy layer and a tender center.
The cat food includes chicken by-product, whole ground corn, corn gluten meal, animal fat, soybean meal and whole wheat along with carrageenan as well as celery and rosemary extracts. It also contains several minerals and vitamin supplements. The cat food must be given along with fresh drinking water.
The transition from the present food should be made gradually over a period of seven to ten days. It is available in four options of salmon & turkey, tuna & whitefish, salmon & chicken as well as chicken & tuna.
Pros: Keeps teeth and bones strong while ensuring the pet's immunity along with a healthy coat and skin.
Cons: May need a little moistening to help the senior cat chew the kibbles easily.
---
#2

Wellness Complete Health Grain Free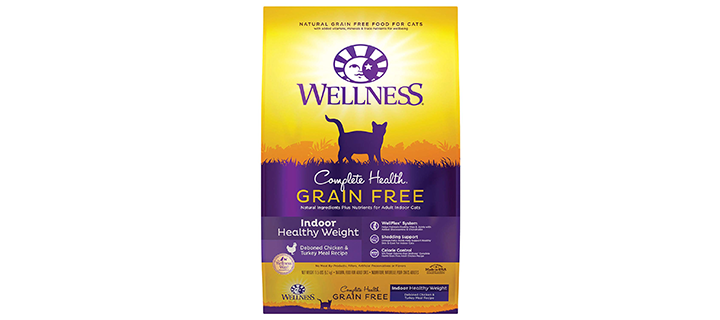 The Wellness dry cat food is completely grain-free and has a balanced and nutritious blend of high-quality proteins, carbohydrates and select fats. This cat food adopts an indoor healthy weight formula.
This ensures a reduced calorie diet with increased fiber that will help the feline maintain a healthy weight while satisfying its hunger at the same time. The food does not contain meat by-products as well as artificial colors, preservatives and colors.
The cat food is available in two options of salmon and chicken as the meat source. It also includes potatoes, tomato pomace, pea fiber, taurine, L-carnitine, cranberries, dried kelp, ground flaxseed, rosemary and chicory root extracts.
The food is additionally enriched with several minerals and vitamin supplements. The cat food is available in five variants in different sized bags.
Pros: Maintains healthy joints and hip with weight control, prevents harmful bacteria from entering the urinary tract.
Cons: May not suit cats with sensitive stomach because of the chicken content.
---
#1

TIKI CAT Senior Mousse, Chicken, Grain Free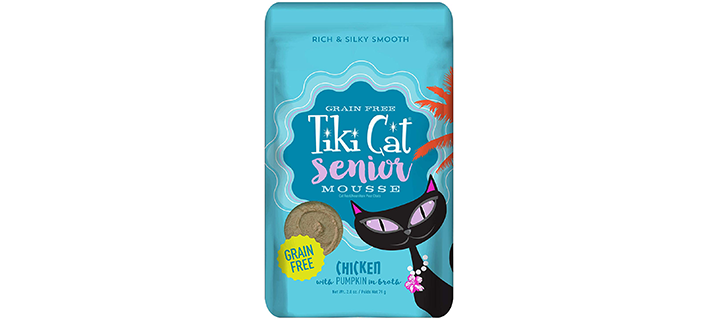 The TIKI PETS wet cat food offers the assurance of grain-free nutrition with its tender meat formulation as the primary ingredient. The meat is either chicken or fish or a combination of both the ingredients.
The cat food is formulated keeping in mind that cats are carnivorous in nature. It also includes an easily digestible egg and has a smooth and silky texture.
The cat food also includes crude fat and crude fiber apart from crude protein. The food additionally has more than 50% moisture content and offers balanced nutrition with antioxidants and essential fatty acids.
There are no processed plant proteins, wheat, rice, corn or potatoes. This cat food does not make use of any fillers, artificial flavors, preservatives or colors and meat by-products.
Pros: Ensures hydration of cats with maximum moisture content, easy to eat for cats with swallowing problems.
Cons: May not be affordable if you have many cats as one packet is for just one feed.
---
Key ingredients in senior cat food
There are two main aspects that you should check for in senior cat food.
1) The ingredients in the food must be easily digestible.
2) The food must have taurine as much as possible. This ingredient is very important to ensure the best health for your feline's heart. Taurine is found in most cat food enriched with proteins like fish, beef and poultry.
Food for dental health
Dental disease is a common problem faced by senior cats. You might consider senior cat food with special oral care formulation that helps to avoid gum disease and lessen the chances of accumulation of plaque. Purina One, Hill's Science and Royal Canin are some popular brands that you can check out for cat foods that specifically help cats with dental health issues.
Protein and fat content
The amount of proteins and fats in your senior feline's food varies based on whether you are serving it wet food or dry food. Whichever option you choose, ensure that it has maximum protein content. Protein helps in keeping the bones and muscles of your cat strong and healthy. These tend to degenerate over time due to old age.
If you are feeding the cat with wet food, ensure that it has at least 8% protein and 4% fat. On the other hand, if you opt for dry food, make sure it contains 28% protein and 10% fat.
Quantity to feed your cat
There is no fixed quantity of senior cat food that suits all felines alike. Each cat has its own intake requirements. However, you must remember to keep the meal portions and timings consistent. This will help you decide if your cat needs to be fed more or less. If you are making the switch from one brand to another, do the transition gradually.
Wet food or dry food?
Dry food may not suit cats with health problems such as dental or gum issues as they can be difficult to chew and digest. The less water content makes the chewing process difficult for such cats.
Wet cat food is more suitable for such senior cats. However, you might prefer dry food if you want to opt for free-choice feeding so that your cat can nibble on its food whenever it wants in the course of the day.
Some cat owners prefer offering a combination of both dry food and wet food so that the cat gets the best of both food types.
You might have to check out different flavors to decide which one appeals the most to your feline's taste buds. If you are still in doubt, consider talking to your vet and taking his/her help to decide if you should buy wet food or dry food.