Chinchillas are possibly one of the cutest rodents on the planet and there are many who keep them as pets. They aren't considered to be good pets for children but they can be very friendly animals if they are properly acclimated to human beings when they are babies.
There are different types of cages with unique features to help them have a comfortable and safe life. Here are some of them.
Chinchilla Cages, Reviews
---
#10

Living World's Deluxe Habitat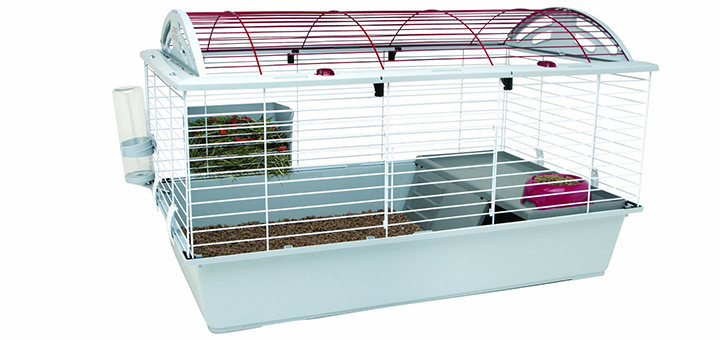 Deluxe Habitat is a spacious cage designed for 2 to 4 chinchillas and is one of the best and easy-to-clean cages available in the market. It comes in 3 different sizes: large, x-large and standard. The large one has dimensions of 37.8 x 22.4 x 22 inches and is quite spacious for multiple chinchillas.
It comes in easy-to-assemble parts and can be put together in a few minutes with your bare hands. What makes it unique is that it comes with a raised balcony where your beloved pet can see the world around the cage in its full splendor. It can also snuggle under the raised balcony if it ever needs some peace and quiet. You also get a food bowl that comes attached to the floor of the balcony.
Pros: It is very easy to configure and comes with a removable and easy-to-clean bottom. It also comes with a tip-proof water bowl and hay guard.
Cons: The free water bottle that comes with it is quite frail.
---
#9

Prevue Hendryx Black Cage for Chinchillas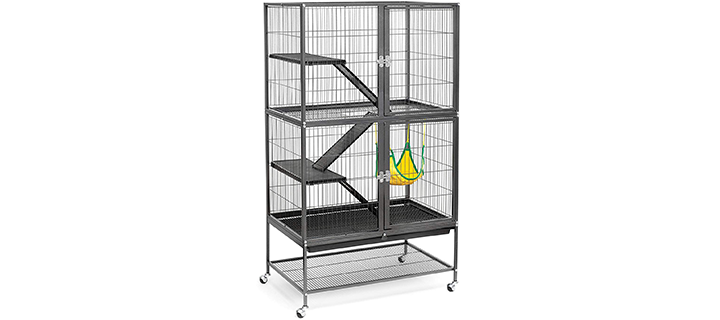 It comes with 2 plastic platforms, 3 plastic ramps, 1 hammock and 4 spacious levels to make even the most energetic chinchilla happy. It measures 31 x 20 x 54 inches in dimensions and comes with a 7/8 inch wire spacing making it quite luxurious when it comes to space.
One unique aspect of this cage is that you can create 2 separate compartments out of it and have the females and males separated. You can clean this cage very easily too, thanks to the large doors. It even comes with casters so you can move it whenever you want and clean the floor under the cage if it gets messy.
Pros: It comes with 4 different levels, double doors and can be separated into two compartments making it a perfect cage
Cons: It will need multiple people to assemble it and the mid-level platform is a wired grate which might cause your chinchilla's feet to get stuck.
---
#8

Homey Pet 3-Tier Cage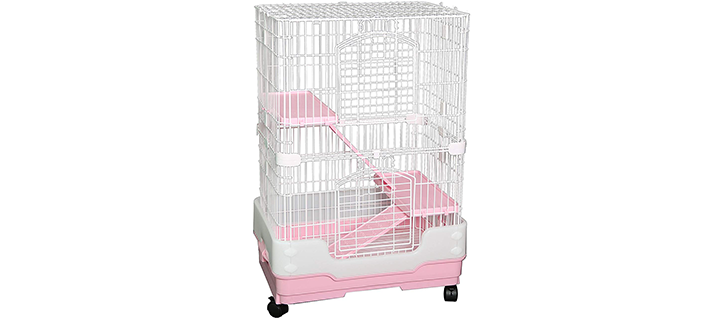 The Homey Pet cage comes with the option of a single tier or 3 tier cages. The 3 tier cage comes with a non-toxic powder coated surface and is resistant to rust and corrosion. It measures 26 x 17 x 38 inches in dimensions and comes with a pull out tray for easy cleaning.
You also get casters with this cage making it easy to move whenever you want. It also comes with a urine guard that prevents any spillage on the floor. It is very easy to assemble too as it comes with handy clips and buckles to hold the frame securely. Even though it is quite spacious, it is best suited for a maximum of 2-3 chinchillas, ensuring that each one gets plenty of space to play around.
Pros: It comes with a urine guard and non-toxic materials along with 3 levels to explore.
Cons: The plastic parts aren't chew-proof and end up getting damaged in the long run.
---
#7

Critter Nation Cage from Midwest Deluxe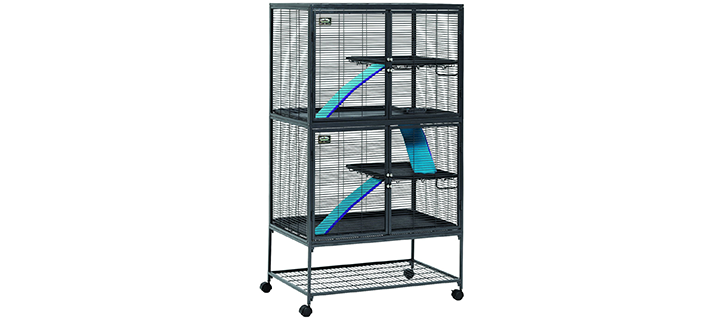 This is one of the best durable cages out there and comes with 2 adjustable shelves, 3 plastic ramps, 2 pans and a host of useful features. It measures 36 x 25 x 63 inches in dimensions and comes with a 1 year manufacturer's warranty.
It even comes with ramp covers and 1/2 inch horizontal wire spacing to provide a safe but playful environment for your dear pets. The lockable casters allow you to keep the cage in place securely when you don't need to move it. The best feature of this cage is that you can add one more level to it if you start adopting more chinchillas in the future.
Pros: It's made up of heavy duty, non-toxic materials and comes with height adjustable shelves, lockable casters and is expandable as per needs.
Cons: It's quite pricey and a little complicated to assemble.
---
#6

Prevue Chinchilla Cage 495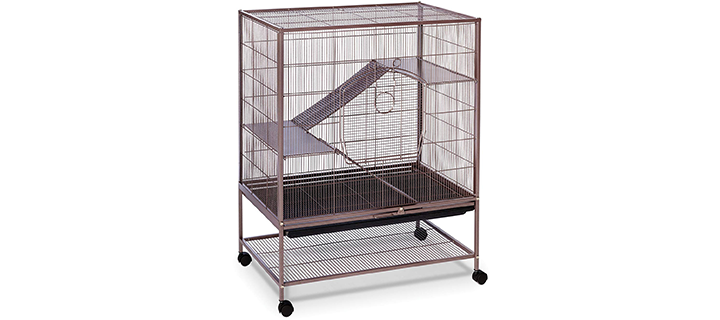 This one comes with solid metal ramps, a wind bell lock and 2 shelves where you can store your pet's accessories and toys. With dimensions of 31 x 20.5 x 40 inches, it's spacious enough for 3-4 chinchillas to play around and have fun.
The ramps are chew proof and you also get casters for easier cleaning. However, it is recommended that you cover the ramp with fabric to make it safer for your chinchilla. It's made up of powder coated steel which makes it quite durable. The best feature is that the bottom tray and the debris tray are connected by a wind bell lock and they can be easily removed whenever you want to clean them.
Pros: It comes with a solid ground base and a pull out waste tray. The wire spacing is also less which reduces the chances of your chinchilla's tiny feet getting stuck.
Cons: It's not rust proof and the door is quite small when compared to other cages.
---
#5

Mcage 3 Level Cage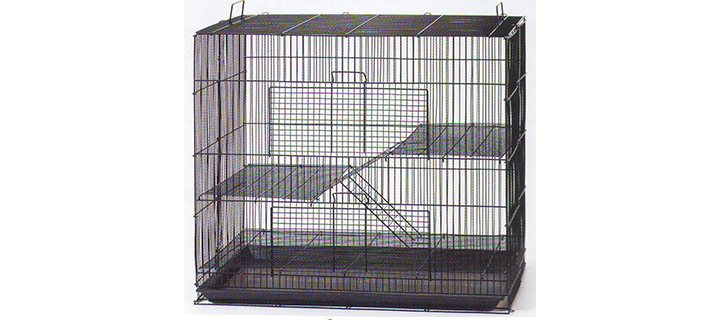 The Mcage 3 level chinchilla cage is one of the best affordable cages but it does come with a few flaws. It comes with tight 3/8 inch wire spacing, 3 levels, 2 front doors, a pull-out tray and is quite easy to carry around due to its compact nature. It measures 24 x 16 x 24 inches in dimensions and is best suited for a maximum of 2 chinchillas.
The removable wire grate floor and bottom tray make it very easy to clean. The best part is that you can fold and carry it with you when you travel. It also makes trips to the vet a complete breeze. The doors are quite small so it won't be possible to put any large accessories or toys inside.
Pros: It comes at a very affordable price and can be carried along easily.
Cons: The quality isn't that great and it doesn't come with a stand.
---
#4

Petmate 2 Door Travel Cage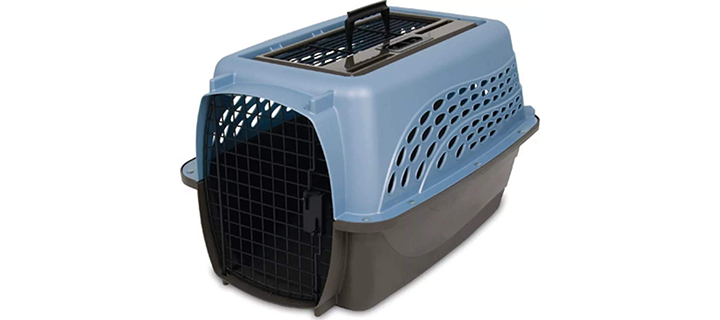 If you are looking for a travel cage to either take your beloved chinchillas with you when you travel or to take them to the vet, this one is a great choice. It comes in two different sizes of 19 inches and 24 inches. It has been designed to carry small dogs or puppies but it can also be used for chinchillas as well.
It comes with a top-loading door as well as a front entry point making it ideal for carrying both chinchillas and other pets such as a cat or a dog. It has been designed by keeping your pet's comfort in mind and helps in keeping them calm and happy especially when you are traveling long distances.
Pros: It's made up of heavy duty steel and plastic and is ideal for traveling.
Cons: It's quite heavy which is ironic as it is a travel cage.
---
#3

Yaheetech Metal Cage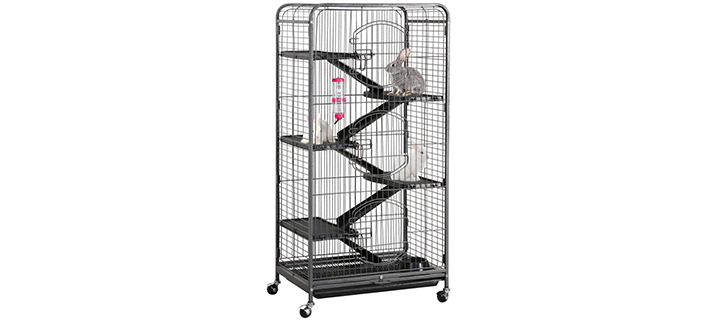 If you have 4-5 chinchillas and need a large cage to keep them safe and happy, then this one might do the trick. Since chinchillas love to climb, they would most certainly love the design of this cage. At 25.2 x 17.2 x 52 inches in dimensions, it's a dream come true for these furry little creatures.
The 3 arched doors come with secure latches which makes it easy for you to clean the cage whenever the requirement arises. Despite being big, it doesn't take much time to assemble which is a plus. You also get a complimentary wall mounted water bottle and a bowl giving it additional value.
Pros: It's very spacious and comes with 5 ramps and shelves allowing your chinchillas to have plenty of fun.
Cons: The ramps have to be secured properly or they may fall off.
---
#2

Midwest Playpen Cage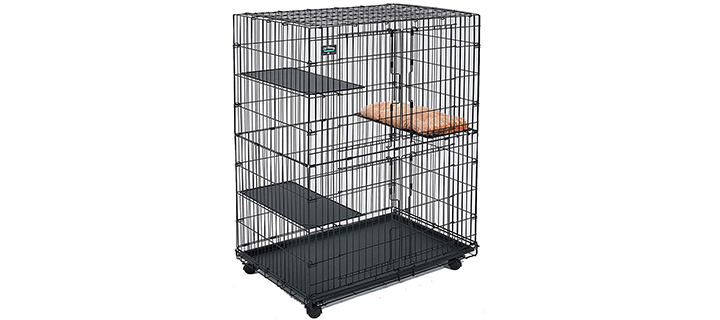 This cage is primarily designed for cats but it makes for an excellent home for your chinchilla as well. It comes with a luxurious chenille bed, durable bottom pan, 3 adjustable platforms, 4 roll and lock casters and a 1 year manufacturer's warranty. It's also adequately spacious at 36 x 23.5 x 50.50 inches in dimensions and ideal for 3-4 chinchillas.
It comes with 2 large cabinet doors with secure latches and plastic trays which you can slide out easily for cleaning purposes. The bottom pan is made up of leak proof ABS plastic and can be easily removed. It can also be folded down into a more compact form which makes it very portable and excellent to carry on long trips.
Pros: It's fully collapsible and quite luxurious as it comes with a plush durable bed.
Cons: It's quite heavy and will require you to add zip ties to make the frame sturdier.
---
#1

Kaytee Habitat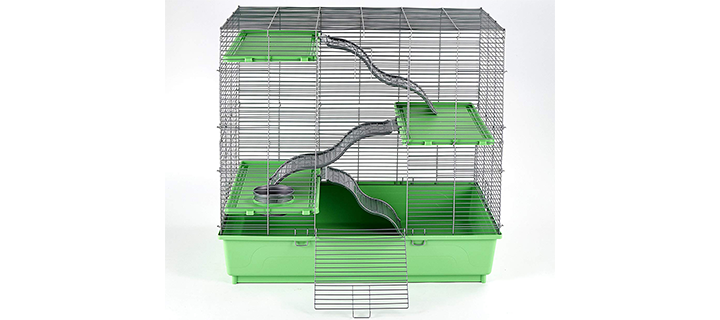 Easily one of the best small cages for chinchillas when it comes to pure fun, the Kaytee Habitats cage comes with multiple levels, chew proof locks, narrow wire spacing and is very easy to assemble too. It measures 30.5 x 8.5 x 18.5 inches and is perfect for housing a maximum of 2 chinchillas.
It's designed very well especially when it comes to its ramps and levels. Unlike straight ramps, it comes with a unique snake like ramp system that is sure to provide lots of fun and exercise for your chinchillas. For added safety, it would be wise to pad the bottom floor with something soft.
Pros: It comes with an amazing looking ramp system that is guaranteed to provide a ton of fun to both your chinchillas and yourself. The build quality is also very good.
Cons: It doesn't come with a feeder, water bottle or additional accessories.
---
Why You Should Get a Cage for Your Chinchilla?
Chinchillas are primarily wild animals. They can be very friendly pets but it takes time for them to get adjusted to human beings and the imprint has to be made when they are babies. Even if they get adjusted to your presence, they are still known to be vicious chewers and can wreak havoc on your home.
They also have plenty of predators that can hurt or kill them if you allow them to roam freely. So having a cage can help to keep your beloved pet safe and sound at all times.
Where Should You Keep the Cage?
In the wild, the thick fur helps chinchillas to keep warm but when kept inside, there is a good chance that it might become too hot for the little lovable rodent. So it's very important that you keep the cage in a cooler area of your house.
Important Tip for Keeping a Chinchilla
Chinchillas are social creatures and therefore it is important that you adopt at least two of them to make sure that they don't get lonely. Having a single chinchilla as your pet over the long term can cause depression and negative emotional consequences.
Importance of Size When Buying a Cage
Similar to hamsters, it's important that your pet chinchillas get their daily exercise. If your cage is too cramped, they won't be able to move around comfortably. The more chinchillas you have, the bigger the cage should be.
The height of the cage is important too, as they love to jump and climb almost as much as they love to snuggle. The most ideal cage would be one with multiple levels with perches, platforms and rams.
Safety and Chinchilla Cages
Chinchillas are known for being quite active. You have to make sure the cage is made up of sturdy, heavy duty materials. At the same time, air needs to flow freely through the cage to keep them comfortable too. This makes a wired cage the best option for your beloved pet but the base needs to be solid.
They also have a tendency to chew on anything they find so make sure you don't keep plastic parts or accessories inside the cages. It's also vital that the cage doesn't come with a galvanized coating or lead paint as they are extremely hazardous for Chinchillas.
The Importance of Wheels on Your Cage
Having wheels on your cage is important for one main reason. Chinchillas are notorious for pooping a lot throughout the day. This can make cleaning the cage quite frustrating especially since the small poop often end up falling through the bottom and landing on the floor under the cage.
If the cage has wheels you can easily move it and clean the floor whenever you want. Some cages come with unique ways in which you can get rid of the feces so it's not absolutely necessary to always get one with wheels but it can definitely help.