An igloo dog house would be a great option if you plan to keep your dog outdoors most of the time. Igloo dog houses can make your fur friend feel warm and comfortable, especially during harsh weather.
However, there are also dog houses that can be used indoors. They also give canines a space of their own. These igloo dog houses are available in different sizes to meet the requirements of various dog breeds. Here are some of these dog houses that we have picked for you.
Igloo Dog Houses, Reviews
---
#10

Armarkat Machine Washable Dog House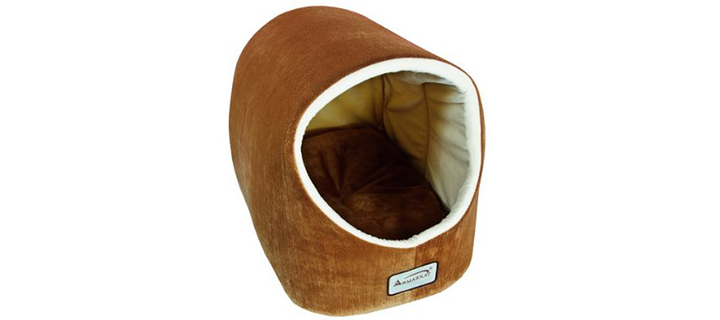 The Armarkat igloo dog house has a velvet exterior and a thick 100% poly fill on the inner side. The bottom is made of plastic that makes it easily cleanable. The dog house is waterproof and can be washed using either hand or a washing machine. It has a sturdy and skid-free base.
The dog house is made of a combination of faux suede and soft faux fur. It features a soft construction style but is capable of retaining its shape. The dog can easily curl up or stretch itself inside the igloo dog house and rest comfortably. The dog house is available in eight different sizes and multiple color and shape options to suit almost all types of dogs.
Pros: Keeps the pet comfortable, easy to maintain, has a stylish and classy look
Cons: May need an extra cushion or two for extra warmth
---
#9

Best Pet Supplies Dog House with Disassemble Feature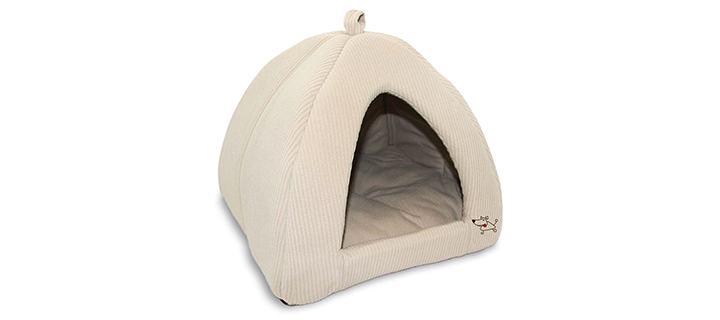 This dog house has a plush look and features easy maintenance. It can be washed in the washing machine without any fear of it getting stretched out and losing its shape. It keeps your canine warm and cozy during cold weather while giving it a sense of privacy at the same time.
The dog house is designed using faux suede, corduroy or linen. The base features a soft ply-foam lining. Its design and style match any interior space because of the choice of neutral colors. There is an additional plush pillow for canines that love to cuddle when they sleep. This soft bed dog house comes in three sizes and eight colors and/or patterns.
Pros: Can be disassembled for easy transport and/or storage & can be used like a crate during travel
Cons: Not suitable for large breed canines and there are chances of the base getting damaged if the dog likes digging
---
#8

Petmate Microban Based Dogloo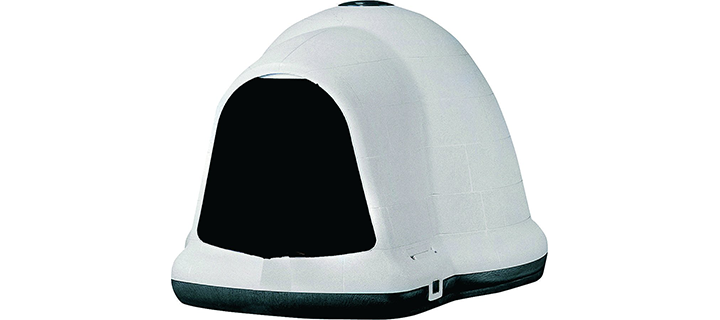 The Dogloo has a traditional igloo style with its white color and shape. The dog house is designed using a microban microbial material that makes it resistant to staining, mold, bacteria, mildew, odors and more. It features a snap-together assembly that helps in easy storage and/or cleaning. It is very roomy and spacious inside to enhance the comfort of your fur friend.
This dog house can be kept outdoors because of its ability to withstand harsh outdoor elements like rain, wind, snow and more. The dome shaped design ensures stability and prevents the accumulation of any debris on the top at the same time. There is a ventilation system on the roof top for air circulation.
Pros: Ideal for large sized dogs. It allows fresh air for the dog to breathe and easy to assemble.
Cons: May take up too much floor space if used indoors, difficult to transport because of igloo shape
---
#7

Milliard Dog House with Removable Cushion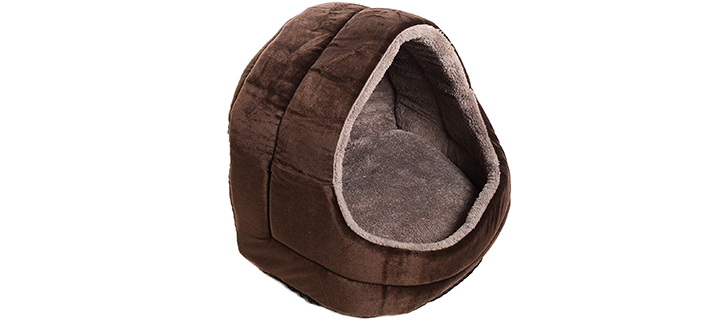 Milliard's premium comfort dog house has a soft velvety texture on its outer side and a matching floor. It is made of high-quality materials for maximum durability and long term use. This brown-colored dog house comes with a reversible and removable cushion that adds to the pet's comfort.
The removable feature makes it easy to clean the cushion when dirt and hair accumulate on it. The fuzzy and soft enclosure keeps the canine cozy with a soothing feel by insulating the pet's body heat with the woolly texture. It also supports the inclusion of the dog's training crate. The dog house can be washed in a washing machine on a gentle cycle.
Pros: Has a premium look and feel because of the velvet. Easily foldable when not in use or taking along during travel
Cons: May need to be supported against a wall to prevent tipping, recommended only for small size dogs
---
#6

IRIS Igloo Dog House with Durable Plastic Construction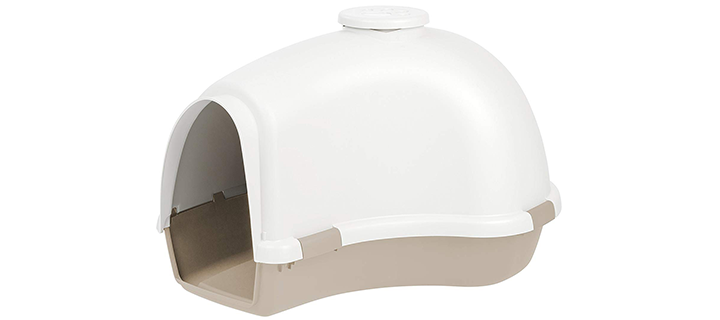 The IRIS igloo dog house features a two-piece construction and is made of durable plastic. The dog house is shaped like an igloo and supports easy cleaning as well as assembly. It features quick secure latches and buckles that hold the top firmly onto the base. The sturdy base prevents the dog house from accidentally tipping over.
The dog house comes with a ventilation cap that allows you to adjust the airflow to the back of the unit. The expanded interior keeps the pet cozy in its private space and also supports easy turnaround inside. The dog house has a size of 37 x 26.50 x 24 inches (L x W x H). It comes in a white and brown color combination.
Pros: Airflow circulation at the back, easy cleaning and assembly, good turnaround space. It is also suitable for mid-size dogs like beagles and corgis with a maximum weight of 50 pounds.
Cons: It's quite expensive and not weather-proof.
---
#5

The Refined Canine Cocoon Shaped Dog House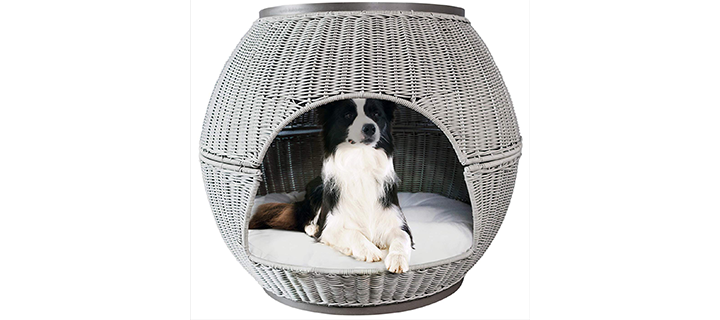 This dog house has a stylish appearance with its circular cocoon shape. It is quite durable that ensures it lasts for a long time. The opening has a diameter of 25 inches and a height of 20 inches. It is washable and can be cleaned easily. This avoids harmful bacteria from accumulating as well as causing bad odors and stains.
The dog house has a hand woven design and is made of faux rattan along with a sturdy and thick wood substrate top. It comes with a soft inner cushion that can be washed in the washing machine. The lightweight feature makes it easy to move it to whichever place you want. This dog house comes in two color variants of smoke and espresso.
Pros: Easily portable and can be washed easily, thereby making the maintenance process simple
Cons: Not suitable for use outdoors, cannot be folded or disassembled to save space
---
#4

Petmate Insulated Dog House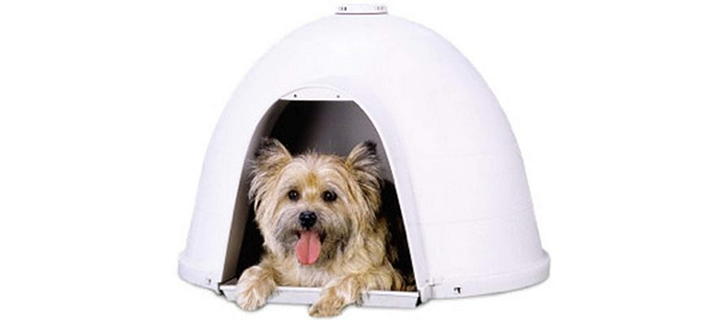 The Petmate igloo dog house has a compact size and does not take up too much space wherever you keep it. The dog house is soft at the bottom to enhance the comfort of your canine. It also has rounded edges that prevent the pet from getting hurt due to harmful points or accidental cutting.
This dog house is designed with high quality and strong grade plastic that does not crack or get subjected to wear and tear because of harsh outdoor elements. There are no pet harm causing chemicals used in the construction. The well insulated dog house has enough room for the small dog to turn around and stretch itself comfortably while resting without any disturbance from anyone.
Pros: Long lasting because of the choice of high quality material. It consumes less space and is ideal for outdoor use
Cons: Not suitable for big size canines. The bottom tends to pop off at times
---
#3

Tofern Warm and Non-Slipping Igloo Dog House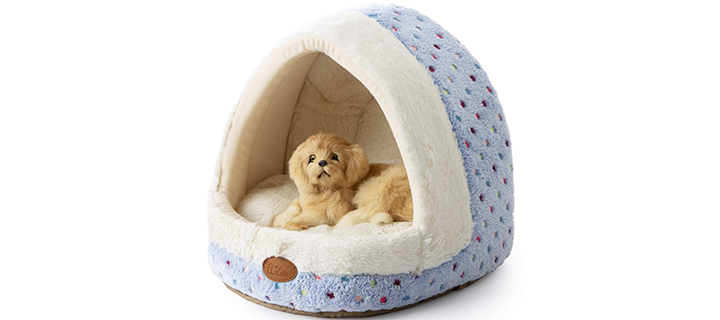 The Tofern dog house comes with a steel frame that is covered with PV fleece and high quality cotton fabric along with a 7D PP soft cotton padding. This keeps the dog warm and comfortable. The Oxford fabric at the base ensures that the eco-friendly dog house is waterproof and prevents slipping at the same time because of the anti-skid particles.
The outer shell of the dog house is skin-friendly soft and thick cotton velveteen while the inner lining is made of PV velvet. It comes with a cushion that can be removed and washed in the washing machine. One side of the cushion is best suited for long-haired dogs while the other side is ideal for short-haired breeds. The dog house is available in six colors and patterns.
Pros: Keeps the pet warm and comfortable. Has skin-friendly fabric and does not skid
Cons: Cannot be used indoors, suitable for only lightweight and small dogs
---
#2

Bedsure 2-in-1 Dog House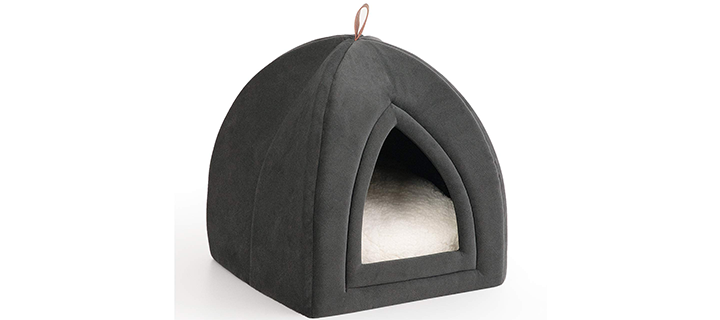 The Bedsure igloo dog house has a sturdy construction and an anti-slip bottom with rubber bits that keeps it in place when the dog moves around. The lightweight dog house has a cave-like design and a triangular entrance. It also features a textured leathered loop handle on the top for easy portability.
The dog house is designed using a combination of 100% microfiber and high density foam for the outer material. The soft cushion inside is filled with microfiber and can be removed to be used separately and/or for cleaning. The cushion can fit a heater pad. The dog house can be folded to serve as a bed for the fur baby. It is available in three color variants of washed blue, light gray and dark gray.
Pros: Can be hung out for drying after a wash using the loop. It's apt for small breeds.
Cons: Unfinished texture for inside cushion, not suitable for all dog sizes.
---
#1

ManxiVoo Dog House with Warm Bedding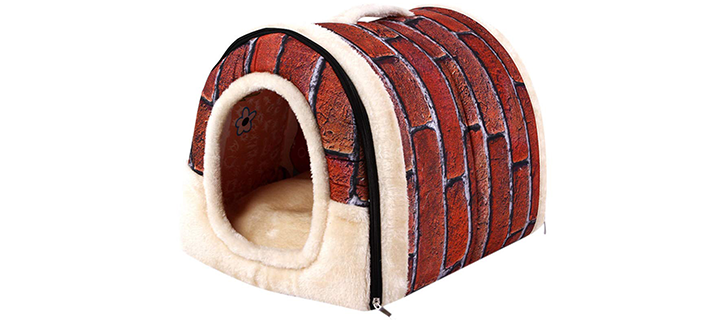 The Manxivoo igloo dog house is made of ultra-soft polyfoam and has a high quality fabric covering. The base is made of non-slip material. There is a zipper both at the back and the front of the dog house that helps it retain the original shape. It also helps you to put it up or flatten it when not in use.
The dog house comes with a removable cushion that can be washed and cleaned easily in a washing machine. The choice of the fabric ensures that the dog is warm and comfortable when it is inside it. The dog house is available in three sizes of small, medium and large to suit all dogs and is available in seven colors and patterns.
Pros: Different sizes available, easy to collapse and keep flat when not needed
Cons: May not be ideal for use outside the house, the opening may be narrow for some dogs
---
Outdoor or indoor use?
Some igloo dog houses can be used for both indoor and outdoor use. However, there are dog houses that are not recommended for outdoor use. These dog houses often have a fabric for their exterior.
On the other hand, there are igloo dog houses that are made of plastic and can safely be used outdoors. They can also be used inside but are usually of big size and take up space when kept inside the house.
Choosing the right size
The right size for your igloo dog bed depends on a few parameters. One key aspect that you must take into consideration is the size of your dog. While a dachshund might be comfortable with a small dog bed, a labrador would be more comfortable with a larger size. Keep in mind that the size you opt for should allow the canine to move around a little as well as turn around and lay comfortably.
The dog house must roughly be the size of its crate. To get the right size, you will have to take two measurements into consideration. The first measurement is the nose-to-rump length of your fur baby. The second measurement is the floor to head height when it is in the sitting posture. Add a couple of inches to both measurements to arrive at the acceptable minimum size for the igloo dog house you will need.
Advantages of igloo dog houses
Igloo or dome-style houses have certain noteworthy advantages over the canopy and classic counterparts. They have enhanced stability that keeps them intact during rough weather like heavy winds. Moreover, these dog houses help to ensure that the pet is warm during the cold season.
Igloo dog houses also have ventilation openings in the appropriate positions for fresh air circulations throughout the dog houses. Also, the dog houses designed for outdoor use have very good insulation to offer canines maximum protection.
Cleaning igloo dog houses
Igloo dog houses need to be cleaned regularly to prevent them from becoming dirty. The method used to clean an igloo dog house depends on the material used to make the same.
If you have a dog house that is made of rattan or public, you can use soap and water to clean it. It is advisable to look up the user manual to know if it is safe to use any other household cleaner. On the other hand, dog houses that are made of fabric can be hand washed or machine washed with a gentle and cool wash.
The user manual can guide you on the type of washing to be adopted. The cushion that comes along with the dog houses can often be safely washed in the washing machine in almost all instances.