An adventure with your pets is always a good thing. If you have a cat as a pet, then you might have thought about taking it out for a walk to the park. However, you must ensure the safety of your cat first.
Having a cat stroller is highly recommended and offers multiple benefits for both the cat and the cat owner. Here are the top 10 cat strollers for you to pick from.
Cat Strollers, Reviews
---
#10

ibiyaya 5 in 1 Pet Carrier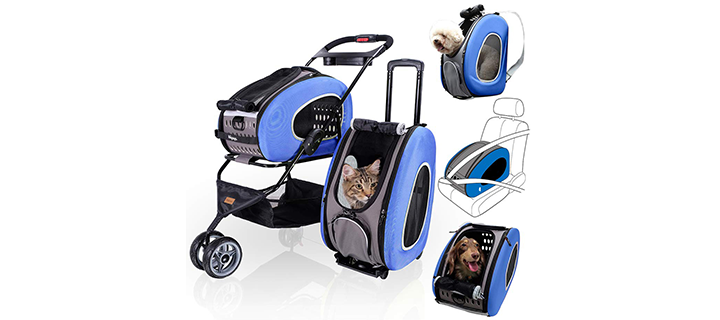 The Ibiyaya 5 in 1 pet stroller is a three-wheeler carriage that has sturdy wheels. It is not just a cat stroller but it can also be used as a backpack, car seat mount and a rolling carrier for your cat. It has a zip mechanism for your cat to get in.
The stroller is safe for your cat as it does not emit any toxic chemical smells. It also passes stress tests and SGS tests that are meant for baby stroller standards. This 5 in 1 multipurpose cat stroller makes the experience of walking with your cat a breeze.
Pros: The wheels are made from a sturdy material. The stroller is pretty easy to assemble.
Cons: The zipper entry mechanism could cause problems for your cat.
---
#9

TOGfit Luxury Cat Stroller with Several Features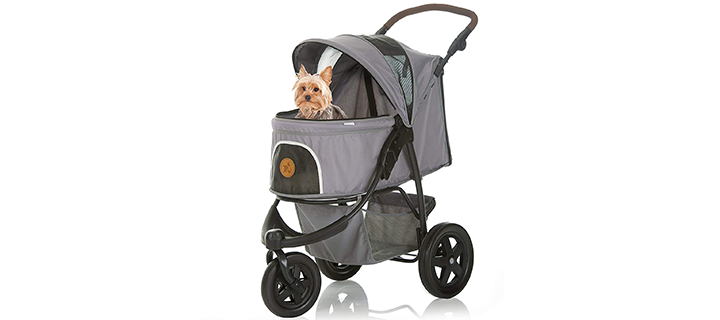 This is a fancy looking cat stroller made up of premium quality materials. With a soft mattress in it, the stroller offers more comfort to cats and is worth its high price tag. Your cat can easily get in and out of the stroller both from the front and backside, thanks to the zipper closure.
The presence of the mesh helps in airflow and your pet can easily watch the outside world by sitting comfortably inside the stroller.
The handle of this stroller is wrapped with soft foam and this makes it really comfortable for the pet owner to move around. The height can be adjusted based on your requirements.
Pros: Compact design helps in easy storage and this stroller can hold cats of any size.
Cons: It can tilt a bit on uneven terrains and it's also pretty expensive.
---
#8

Pet Gear Lightweight Travel Stroller for Cats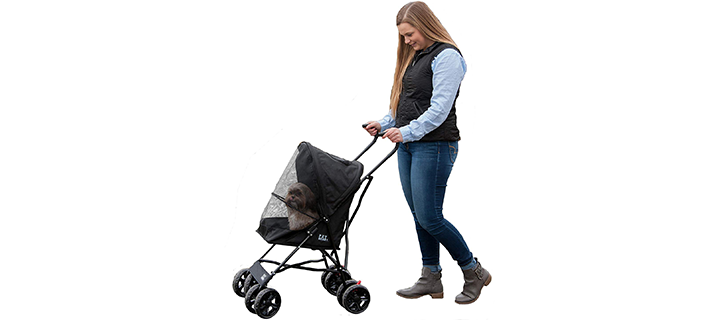 The Pet Gear Ultra Lite stroller is a lightweight and compact stroller. It comes with wide wheels that make it easier for you to take your cat for a ride. The stroller is designed for cats that weigh 15 pounds or less.
The lightweight stroller also features a no zip mechanism that makes it easier to secure your cat. You can get your cat in and out of the stroller without any hassles. It has a mesh front which makes for good ventilation and provides an uninterrupted view for your cat.
Pros: It is a compact and lightweight stroller which can be carried easily while traveling.
Cons: The stroller comes with short sized handles that may force you to hunch forward while walking.
---
#7

Flexzion 4-Wheel Carriage Cage Cat Stroller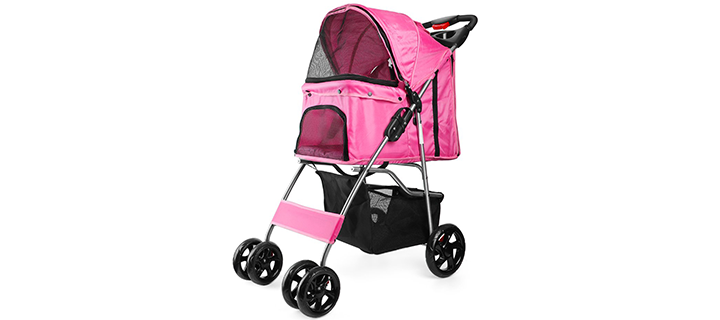 The Flexzion cat stroller is very easy to fold. All you have to do is press the button on the handle. The stroller has a durable denior nylon water-resistant mesh in the front to protect the cat from insects. The canopy protects your cat from sunlight and harsh weather like rain or snow.
The stroller has large 6-inch wheels which help in easy movement even on rough or bumpy terrain. It can hold cats that weigh up to 30 pounds.
Cats can enter the stroller both from the front and the back side. It has a cup holder as well as extra space at the bottom for storing things like toys, cups, water bottles, towels, etc. It comes in multiple color options.
Pros: Large wheels make it stable even on uneven terrain. It is lightweight and easy to fold with the touch of a button.
Cons: The stroller is not as durable as several other cat strollers.
---
#6

Pet Gear Happy Trails Stroller with No Zip Entry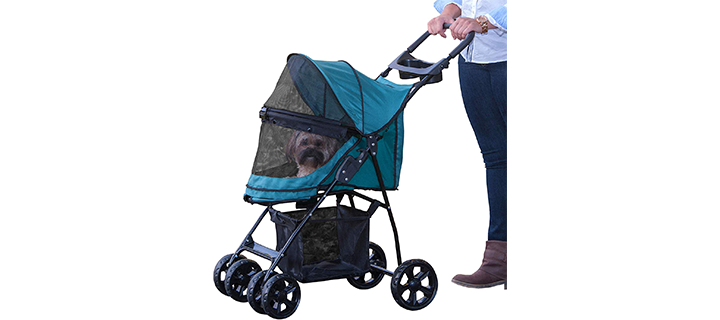 The Pet Gear happy trails lite cat stroller has a lightweight design and can be easily carried around while traveling. It has a zipper-less entry system where you won't have to hold your cat stable while you secure the zipper. You just have to fix an easy locking latch that secures your feline friend inside the stroller.
The stroller offers a nice experience for your cat as it can get a panoramic view window. The canopy can also be adjusted to three different positions. The stroller comes with large wheels as well as shock absorbers for the front and this can save your cat from a bumpy ride.
Pros: The stroller comes with windows on the back as well as top of the stroller. You can see your cat from these windows.
Cons: The stroller can be difficult to fold for some people.
---
#5

All Terrain Stroller from BestPet with 3 Wheels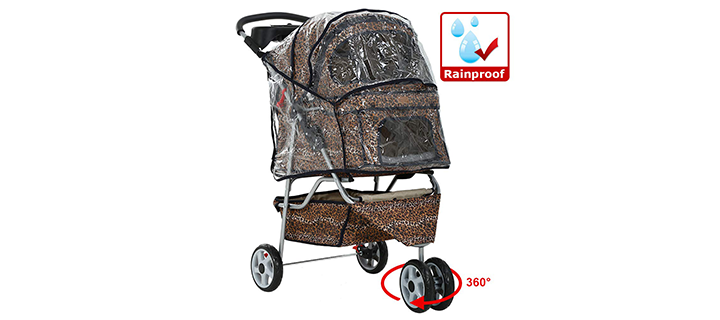 This stroller is meant for taking out your cat on an adventurous trail without worrying about its safety. The mesh of the stroller is made from a durable material that blocks out any insects while preserving airflow and visibility for your cat.
The stroller is made of Oxford cloth which is durable and provides water proofing. The wheels of the stroller are large and ensure a smooth ride. The wheels are also easily rotatable to a full 360 degrees which will prevent you from getting stuck in rough terrain.
Pros: The cat stroller has a top window for you to see your cat. It also comes with a cup holder for the owner and it can be folded and stored in a car.
Cons: The front wheel post may bend when used for a very long time.
---
#4

Bigacc Cat Stroller Cart with 3-Wheels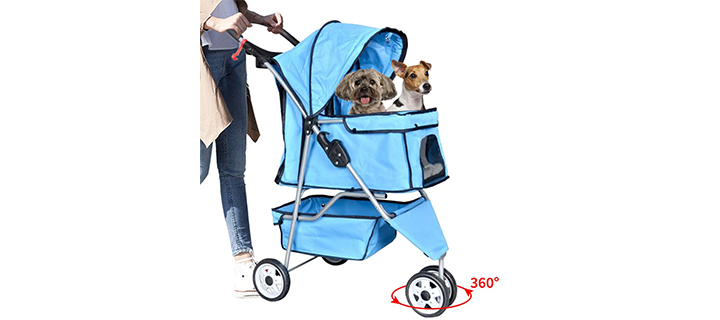 This Bigacc pet stroller comes with three wheels out of which the front wheel can rotate 360-degrees. The zipper present in the stroller is made up of highly durable material and would last pretty long. The stroller comes with rear safety brakes that keep the cart fixed in a position.
The canopy can be adjusted to 3 different positions according to the outdoor environment. The handle has a rubber covering which makes it really comfortable to hold the cat stroller. It can hold up to 3 small cats easily with a total weight of 35 pounds.
Pros: It has a large space to hold multiple cats inside. It is light weight as well as durable.
Cons: Opening the zipper might be challenging at times.
---
#3

Paws and Pals Cat Stroller and Elite Jogger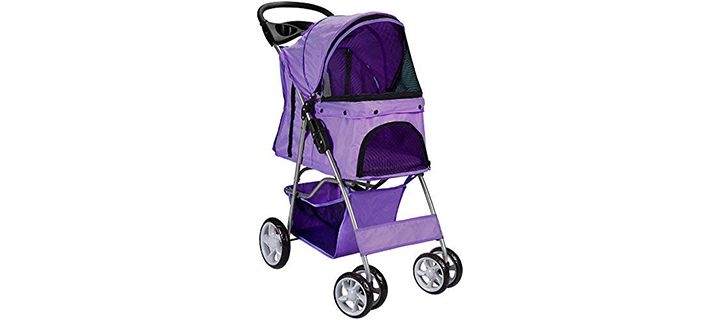 This cat stroller comes with many windows for your cat to breathe easily. A well-received feature is that it comes with a storage compartment that can be used to store treats, water bottles, towels and other useful supplies for your cat.
The stroller has brakes for the rear wheels in case of an emergency.
It has a seat belt leash feature to secure your cat for adventures. It can also be folded easily while traveling and it takes very little storage space. The stroller is safe for your cat as it meets the quality specifications prescribed in GB14748 stroller standards.
Pros: The stroller is good at keeping bugs and other insects out. The storage compartment can also be used to store first aid and medications in case of emergencies.
Cons: The canopy is less durable.
---
#2

BestPet 3-Wheel Cat Stroller with 360-degree Wheels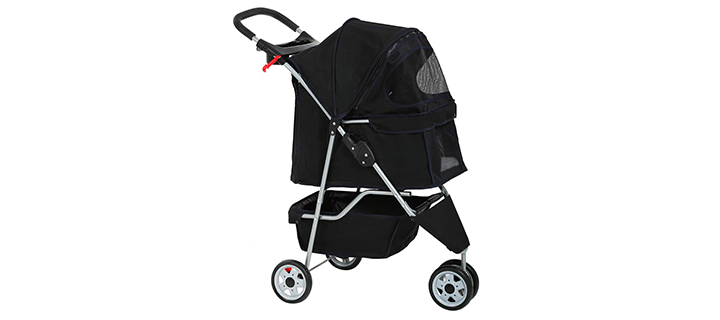 The BestPet 3-wheel cat stroller is durable as well as long lasting with a sturdy build. It has a mesh that is made up of waterproof material which helps in air circulation, visibility and prevents insects from harming your pet.
It is easy to set up as well as fold and you don't need any external tools for this. You can set it up within a couple of minutes.
The cat stroller weighs just 11 pounds and you can easily take your feline friend for a ride. This stroller also has a cup holder next to the handle and you can place extra accessories for your cat like water bottles or cups.
There is also some storage space at the bottom, which can help you keep more things like towels or emergency kits.
Pros: The stroller is lightweight, collapsible and portable and has extra storage space at the bottom.
Cons: Might not be the right one for uneven terrains.
---
#1

BestPet 4-Wheel Cage Stroller for Cats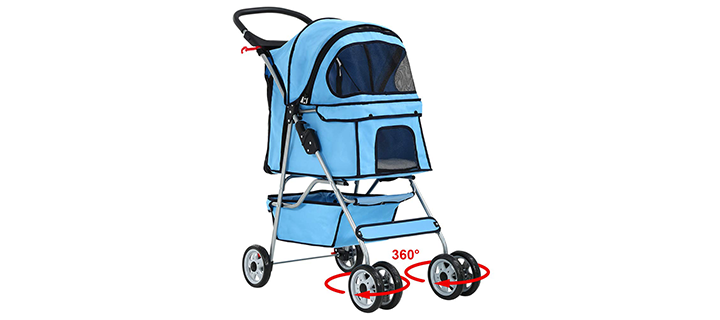 If you are looking for a pet stroller to walk around uneven surfaces, then this is the right one for you. The 4-wheel design adds to the stability of the stroller and prevents it from falling over. The two wheels at the front can rotate 360-degrees which help in easy movement.
The stroller also has safety brakes and a removable easy-to-clean pad for cushioning. It can even hold multiple cats with a maximum weight of 35 pounds. The frame is made up of sturdy aluminum alloy. The stroller also has additional storage space at the bottom.
Pros: Very stable on rough terrains and is large enough to hold up to 3 or 4 small cats.
Cons: The front wheels are not very smooth and zipper can't be opened or closed quickly.
---
Cat Stroller Buying Guide
How to ensure comfort for your cat?
Getting a cat stroller for your pet is not just to take it out for a walk. You have to make sure your cat feels comfortable while sitting inside the stroller and riding over uneven surfaces.
You can ensure this by picking cat strollers that come with an extra layer of bedding or cushion for cats as this will make them feel relaxed when they are out on a walk with you.
Size of the cat stroller
This is an important thing to consider before buying a pet stroller. If you have a young kitten, you have to estimate how big it can grow and how much it can weigh once it becomes an adult cat.
If you plan to use the stroller for a long time, you must make sure you don't end up buying a cart within which your cat won't fit when it increases in size. At the same time, if you have two or more cats, you might also buy a cat stroller that is big enough to hold multiple cats.
Wheel size of your pet stroller
While choosing a stroller for your feline friend, you have to decide whether you will be using it on uneven terrains or smooth surfaces. If you think you will be using it on bumpy roads, then go for a stroller that has a bigger wheel size. This will offer extra suspension and stability for your cart and your cat won't feel uncomfortable.
Washable pet strollers
You must be prepared for a day when your cat might have an accident in your stroller. In such a case, you should be able to clean the stroller easily. If you have not trained your cat to control itself, then you are better off buying a stroller that is waterproof and easy to clean. You might get a stroller with padding in it but you have to make sure it can be cleaned in a washing machine. The last thing you want is to scrub it using your hand.
Privacy for cats
Not all cats tend to enjoy the limelight while they are out for a stroll. Some cats prefer privacy and cat strollers provide just that. Cats that don't like being seen by people walking around can be taken in a stroller that has a mesh window.
This will prevent others from taking a quick glance at your cat and this will also help your cat feel secure inside the stroller.
Improve your cat's lifestyle
It is very important to take your cat outside for a walk or stroll through a park. Keeping the cats indoors can bore them out and make them restless.
They might engage in unwanted activities like scratching excessively. Taking your cat out for a ride will improve the mental health of the cat apart from physical wellbeing.