Flushable cat litter is handy when you have one or more pet kittens at home. Cats generally tend to dispose their waste in any place they are comfortable. Once they have found a place, they tend to use the same place.
However, some cats are not consistent and opt for a different place every time. You can place a litter box with some flushable cat litter in it and train your kitten to use it. Here are a few flushable cat litter options for you.
Flushable Cat Litters, Reviews
---
#10

sWheat Scoop Flushable Cat Litter with Noble Ion Technology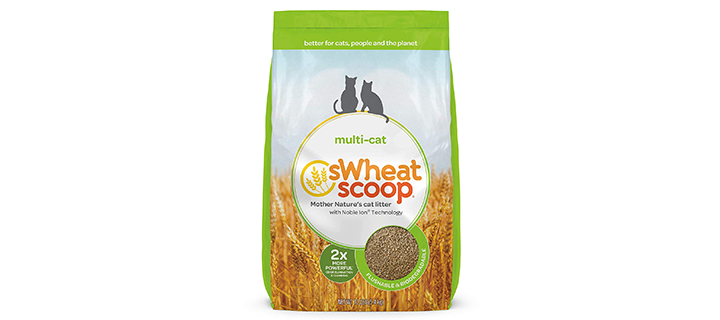 The sWheat Scoop flushable cat litter is absolutely natural with its wheat base. The litter is completely renewable and biodegradable without perfumes or dyes. It is capable of odor elimination and strong clumping at a fast rate.
The flushable cat litter incorporates noble ion technology that neutralizes the odors without making use of artificial fragrances to cover up the foul odor. It is lightweight with good absorption capability.
The cat litter is completely safe for city systems and septic tanks as it does not clog the water pipes. The easy clumping action makes the disposal process very easy. It absorbs most of the poop and pee smells of your cat while stirring up very little dust at the same time.
Pros: Made using renewable resources and no artificial fragrances that can irritate the cat have been used to mask the smell
Cons: Tends to resemble food that makes some kittens or cats eat the content
---
#9

World's Best Cat Litter Quick Clumping Flushable Cat Litter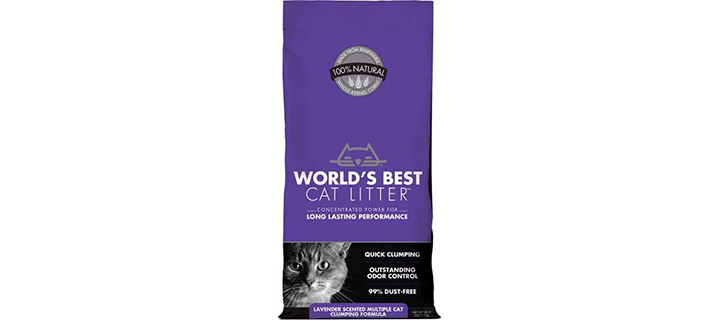 The World's Best Cat Litter flushable cat litter comes with naturally scented lavender oil that renders floral and fresh fragrance. The litter has absolutely no artificial perfumes or synthetic chemicals. It is made of whole kernel corn.
The flushable cat litter is free of silica and dust that makes it easy to scoop without leaving a mess. The long-lasting litter is lightweight, which makes it easy for you to move it from one place to another.
It has excellent odor control property that stops your feline's litter from stinking. The quick clumping ensures that there is no need for any chiseling or scraping. The cat litter can be safely flushed down sewer and septic systems because of its natural base.
Pros: Ideal if you have more than one cat, long lasting with one bag lasting over four months for a single cat
Cons: Tendency to vomit or have diarrhea because the lavender smell could be too strong for some cats
---
#8

Purina Yesterday's News Fresh & Clean Scent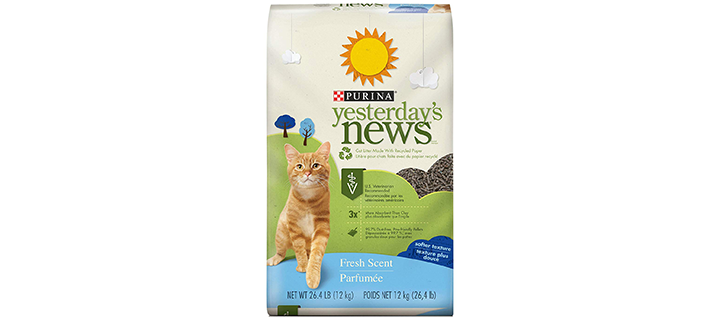 The Purina Yesterday's News flushable cat litter has a fresh scent with an effective odor control mechanism. The litter is made using recycled paper and comprises absorbent paper pellets. These pellets offer three times the moisture absorption of clay based litter.
The low tracking flushable cat litter is 99.9% dust free and completely non-toxic. If you are using this cat litter as a replacement for an old one, make the transition gradually by using one-third of the new product along with two-thirds of the old litter.
Increase the proportion the following week and make the switchover completely in the third week. The box should be filled with cat litter at a depth of two to three inches. The flushable cat litter is available in two sizes of 13.2lbs and 26.4lbs.
Pros: It's gentle on the cat's paws and is suitable for cats and kittens alike as well as declawed pets
Cons: Does not clump well at times and will have to be changed often in such a situation
---
#7

Next Gen Pet Green Tea Fresh Cat Litter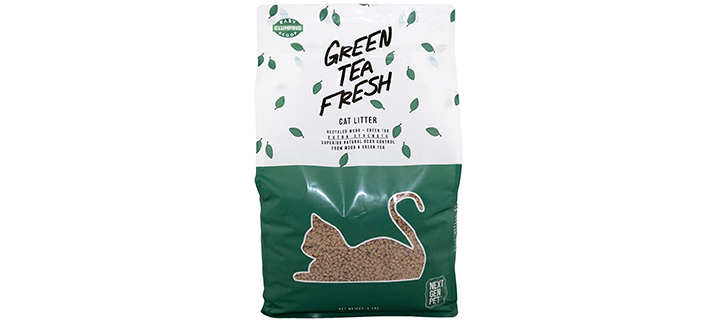 The Next Gen Pet flushable cat litter features a base made of recycled wood and green tea. The cat litter features a powerful odor control mechanism with its fresh scent. It is lightweight with just one-third the weight of the usual clay litter. It does not have any artificial chemicals or fragrances.
The flushable cat litter has excellent absorption and odor control properties. The litter features small clumps that help in minimizing wastage. The cat's litter box must be spread with the product to a height of two to three inches.
The waste material must be scooped out daily. If you decide to empty the waste into your garden, it can act as compost because of the green tea content.
Pros: Extremely lightweight, natural suppression of odors and bacteria growth
Cons: Becomes sticky when wet and makes the scooping process challenging, not suitable for digger cats
---
#6

Catfidence Organic Bamboo Cat Litter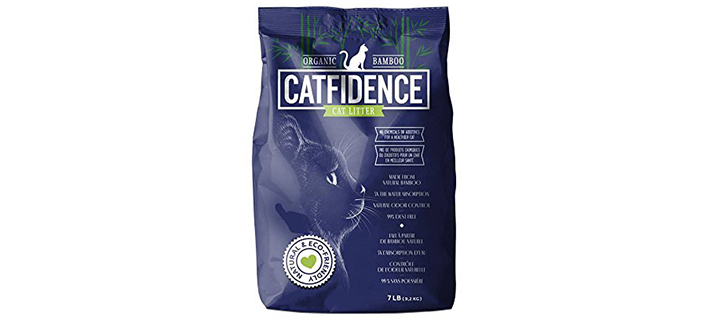 The OKOCAT flushable cat litter comes with a clean wood fiber base that includes unused lumber and reclaimed fallen timber. The fiber in the cat litter prevents the buildup of ammonia odor for a week. It has excellent clumping capability because of the complete and fast absorption.
The flushable cat litter does not have any airborne dust that hampers the breathing of your pet. The litter does not have any added scents or harmful chemicals and this makes it absolutely safe for the feline.
It has just half the weight of standard clay cat litters and comes in small, medium and large size variants in three styles. The cat litter can be disposed with a simple scooping action and flushing it down one clump at a time.
Pros: Comes in a mess-free pour and store box. The small granular texture is soft on sensitive paws.
Cons: Results in breaking of large clumps into small sizes that are difficult to sift with a scoop
---
#5

Rufus & Coco Ammonia-Free Flushable Cat Litter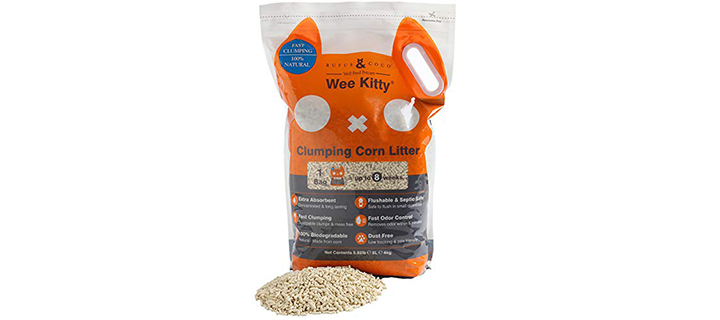 The Rufus & Coco flushable cat litter has a biodegradable corn base. The low tracking cat litter has superior absorption capability. The cat litter has four times the absorption capability of wood and six times that of paper without affecting the environment. The clumps break down when they get soaked in liquid.
The flushable cat litter does not have ammonia in its pellets. The dustless property helps in keeping the floor surrounding the litter tray clean and tidy. The fast clumping action ensures that there is less mess when the litter is formed. This makes the lightweight litter very easy to clean with a scooping mechanism. One bag of litter lasts over a month.
Pros: Available in two sizes, compatible with automatic litter boxes
Cons: Keeps some cats away from the litter box because of the citrus scent, forms large lumps with urine for a few felines
---
#4

Garfield Cat Litter Ultimate Clump, All Natural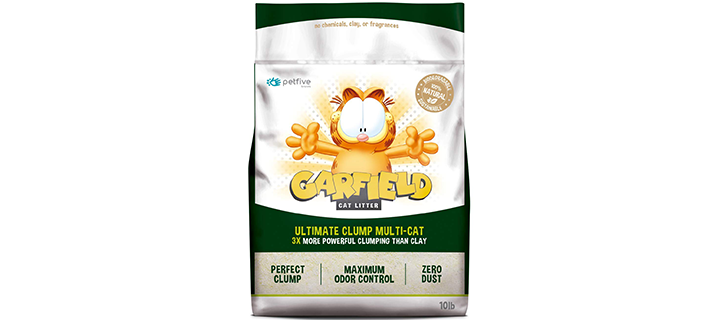 The Naturally Fresh flushable cat litter comprises a base made of corn and cassava. The cat litter grains are small in size with an extra-fine texture that is soft on the cat's paws.
It has a long-lasting odor removal property that prevents the smell of the waste from spreading all around your house. There is no need for separate artificial fragrances to put away the smell.
The flushable cat litter is dustless and prevents the chances of allergy. The white color helps to notice a change in the color of the feline's urine because of early health problems.
The pellets feature quick and hard clumping without breakage. It is advisable to not flush more than two to three clumps at a time or clumps that are half a day old.
Pros: Ideal for cats with respiratory problems, suitable for multi-feline homes, helps in monitoring urine color change.
Cons: Clogging of pipes because cassava tends to harden at times.
---
#3

Bolux Rod-Shaped Pellet Flushable Cat Litter
The Bolux flushable cat litter features clump lock and activated carbon adsorption technologies. The tofu cat litter consists of rod-shaped pellets. The clump lock technology ensures that the clumps are formed in compact sizes making the scooping and cleaning process easy.
It also helps in absorption of the urine. The activated carbon adsorption technology helps in controlling the odor for a week.
The flushable cat litter is low tracking, non-allergic and does not stick on to the sides of the pan.
The litter also does not contain any scent that could have an adverse effect on your pet. The vacuum compression packaging of the pellets helps in eliminating fine dust formation. The litter must be stored in a dry and cool place.
Pros: Less chance of allergy for the cat because of no dust formation; dissolves immediately in water.
Cons: Priced slightly on the expensive side, not enough quantity for a large litter box.
---
#2

ECO>ABSORB Hypoallergenic Coconut Cat Litter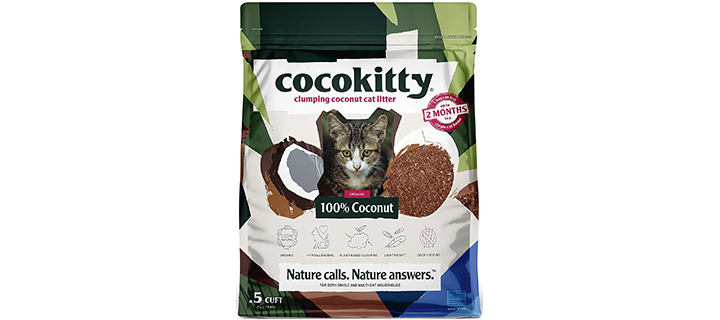 The ECO>ABSORB flushable cat litter uses cocopith as its base and contains coconut based activated carbon that helps to absorb odor and moisture effectively to avoid stinking of the litter box.
The hypoallergenic litter has a spongy texture with several capillaries and hollow tubes, which prevents hurting declawed cats or cats with sensitive paws.
The flushable cat litter has an anti-microbial property that prevents the growth of pungent odor triggering fungus, mold and bacteria.
The litter also acts as a natural soil conditioner and so the clumps or solid waste can be just emptied into the garden when it is time for a change. It can also be disposed by an easy flushing-down mechanism.
Pros: Eliminates possibilities of allergy in cats and kittens, ideal for asthmatic cats.
Cons: Difficult to scoop the litter because of its fluffy texture, dust level tends to be high.
---
#1

Earth's Finest Four Paws Earth's Finest Cat Litter

The Earth's Finest flushable cat litter is made using completely natural cane and yucca. The cat litter has a very good odor defense formula that helps in capturing ammonia odors and urine feces without any artificial scent.
It forms little clumps as soon as the litter comes in contact with the feces. The clumps do not break or crumble because of their ultra-tight nature.
The flushable cat litter is dust-free and lightweight for easy and clean handling. It is 50% lighter than regular corn litters and 60% lighter than usual clay litters.
The liquid absorption power is also five times and two and a half times more than clay and corn litters respectively. The litter comes in two sizes of 3.6lbs and 7.2lbs.
Pros: Easy to clean because of non-crumbling nature, long-lasting due to high absorption power.
Cons: Can be an expensive deal if you have many cats, clumps may stick to the side of the litter box.
---
Benefits of Buying a Flushable Cat Litter
One of the main advantages of flushable cat litter is that they are not harmful to the environment. They are made of completely natural sources and are biodegradable. You can flush this litter down the toilet or toss them to your garden as compost. In other words, you can treat flushable cat litter just like what you would do with human waste.
Flushable cat litter is a great choice for those who reside in apartments and find it difficult to take the cat to the compound every time for its business.
Choice of material for the cat litter
Flushable cat litters are available in a variety of options. The base of most of these litters is usually corn, wheat, recyclable paper, wood or cocopith to mention just a few. These materials have fast degradation capability and can be disposed easily without any harmful effect, unlike cat litters that have clay bases.
Scented and unscented options
You can buy flushable cat litter in scented and unscented variants. Scented cat litters make use of fragrances to control the odor from the felines' feces. However, this type of litter may not suit cats with respiratory problems. They can also trigger vomiting and/or diarrhea in some cats.
Unscented cat litter is generally safer because it does not have any scent. They have a natural odor control mechanism that prevents the smell from spreading to the surroundings.
Can be used for cats of all ages
You can use flushable cat litter for felines of all ages. They can be a good choice to train young kittens that need to dispose their waste very often.
On the other hand, you can also use cat litter to retrain older cats. However, it may take a longer time to train an adult cat when compared to a young kitten.
How to flush down the cat litter
As the name indicates, you can flush the litter safely down your toilet. However, if the clumps are very large or the cat litter expands as it absorbs moisture, it is advisable to flush them down one by one. This tends to prevent the pipes from clogging.
Risks of using a flushable cat litter
When you flush the cat litter down the toilet, there are high chances of any parasite present in the litter to enter the human body. This can have an adverse effect on your immune system and put you at a high risk of T. gondii infection or life-threatening toxoplasmosis.
Unfortunately, there are no noticeable or giveaway signs that indicate your cat is affected by this parasite. Cats that are always indoors and/or not fed with undercooked or raw meat are less prone to the parasite attack.