Dogs love to eat and will immediately start munching on anything given to them. Be it biscuits, pieces of chicken or bones, your dog will finish the food in a jiffy. They also have the habit of chewing anything that they find around them. This is all playful and good until the time your dog starts showing symptoms of stomach trouble.
Bloated stomach and gas, occasional vomiting, a distaste for food are some of the common symptoms of a sensitive stomach. There are many food items particularly designed for such a situation. Let's check out a few foods for dogs with sensitive stomachs.
Dog Foods for Sensitive Stomachs, Reviews
---
#10

Hill's Science Diet Sensitive Stomach & Skin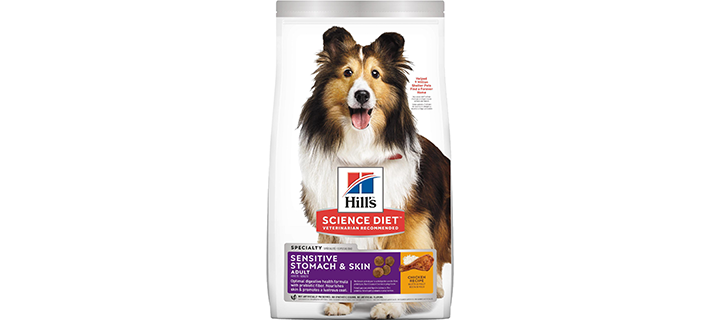 Hill's Science makes amazing formulas for dogs and covers a range of messy situations and ailments in them. This dog food has naturally obtained ingredients that are aimed to make your dog feel better.
It is rich in probiotics that help considerably with digestion. This food item also has ingredients that will help your dog in case of skin allergies and will help the pooch to develop a shiny coat.
Pros: The food has been formulated in such a way that it consists of nutritional elements that are easily absorbed by the dog's stomach without causing any problems. It also helps by improving the digestive capabilities of your dog.
Cons: Hill's Science Diet will burn a hole in your pocket as it is considerably more expensive than other dog food.
---
#9

CANIDAE Premium Dry Food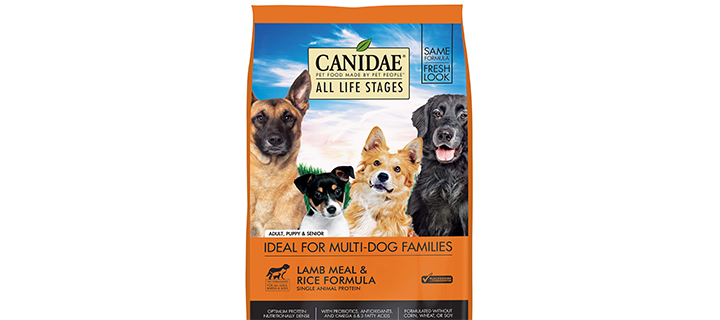 The CANIDAE dog food has a rich composition of nutrients mixed into a tasty dish. The principle element of this dog food is lamb meat which is the source of proteins for dogs.
It is mixed with grains such as rice and barley to allow a source of carbohydrates for your dog.
The food item is rich in probiotics to enable better digestion in dogs. It also has added fatty acids such as Omega 6 and 3 which help your dog to develop a good looking coat.
Pros: The CANIDAE dog food can be given to any dog breed irrespective of their size and shape. This is such a versatile food that even young ones can enjoy.
Cons: The bigger bag containing 30 lbs of dog food is only available in the chicken formula while the smaller bags are available in different flavors.
---
#8

AvoDerm Wet and Dry Dog Food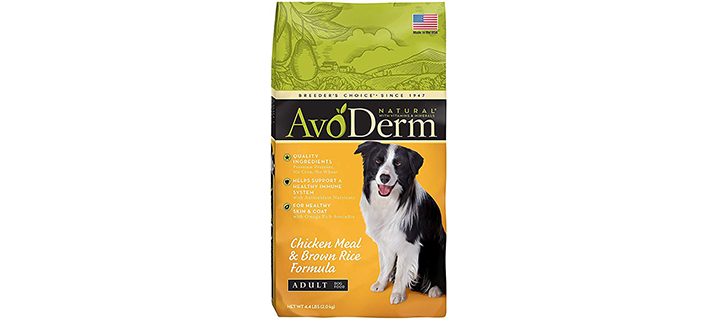 Rice and chicken blended with oatmeal and avocado have been used to formulate this wonderful dog food. It is a simple food that is not going to stress your pooch's stomach. Avocado is particularly an impressive fruit for dogs with a sensitive stomach.
This fruit has high fiber content and is a rich source of vitamins such as A, C, and B6. Folate niacin and traces of potassium are also available in the fruit along with fatty acids that enhance the coat growth in dogs.
Pros: Since this diet comprises essential minerals and nutrients, most of it is absorbed by a dog's body without much difficulty.
Cons: The wet dog food cannot be stored in the bag and needs to be used or stored safely immediately after opening.
---
#7

Natural Balance Limited Ingredient Dog Food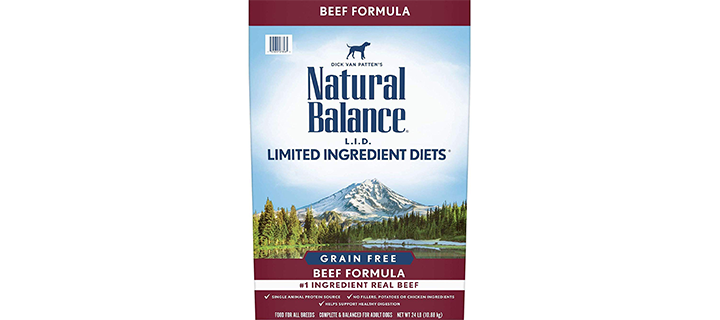 This Natural Balance dog food is a limited edition package crafted for the well-being of your dog. Chicken is known to cause allergies in some dogs and therefore no chicken has been used in preparing this dog food.
Filler grains such as wheat and soy have also not been used in the preparation of this food as they are known to cause stomach problems in dogs. Beef is the primary source of protein while chickpeas and peas make up for the carbohydrate content.
Pros: Any adult dog belonging to any breed or size can enjoy this food from Natural Balance.
Cons: The dog food has been developed for adult dogs and thus cannot be given to puppies under 1 year of age or older than 7 years.
---
#6

Blue Buffalo Basics Limited Ingredient Diet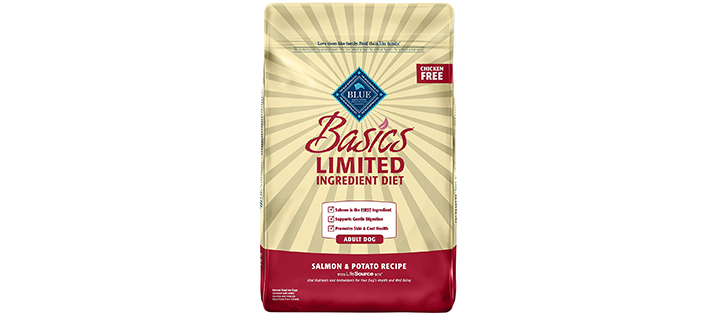 This Blue Buffalo dog food is made from salmon as its chief ingredient. It is a good source of protein and very easily digestible compared to lean meat sources. Other ingredients added to this dog food include easily digestible vegetables such as pumpkin, peas, and potato.
This formula has been adopted to cure the dog's stomach sensitivity in no time because of its simple ingredients. It is also loaded with lots of antioxidants and has enough vitamins to sustain the dog's mineral needs.
Pros: The dog food is rich in fatty acids, especially Omega 3 which is very helpful in the development of your pooch's fur. It is also helpful in avoiding skin conditions in your dog.
Cons: Since this dog food is made from salmon as the chief ingredient, some dogs may not like this food.
---
#5

Wellness Simple Natural Limited Ingredient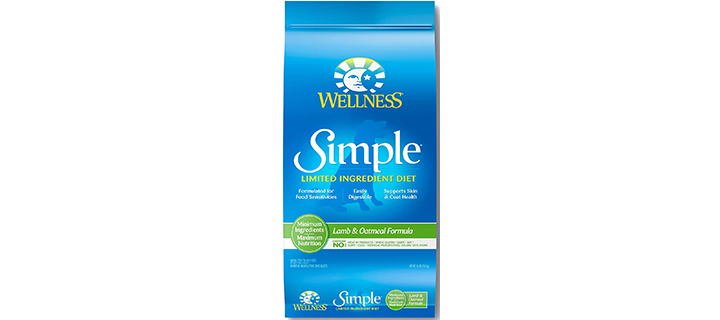 When you are looking for simple dog food as your dog has a sensitive stomach, Wellness cannot go unnoticed. This dog food has lamb meat as its main constituent. It is a lovely source of protein that helps in the development of your dog's muscles.
The carbohydrate-rich potato, oatmeal, and peas in this diet provide sufficient energy to carry out throughout the day.
Omega 3 and Omega 6 fatty acids in the ratio of 1:1.75 is ideal to help with your dog's hair growth. With twenty million units of bacteria that enhance digestion, this food is set to help with your dog's digestive issues.
Pros: If you want your dog to feel better in no time, the healthy bacteria units in this food will really help. It gives your dog well-balanced nourishment while ensuring that it is not too difficult to digest.
Cons: Wellness Natural diet is priced relatively quite higher than other similar dog foods.
---
#4

Purina Pro Plan FOCUS Sensitive Skin & Stomach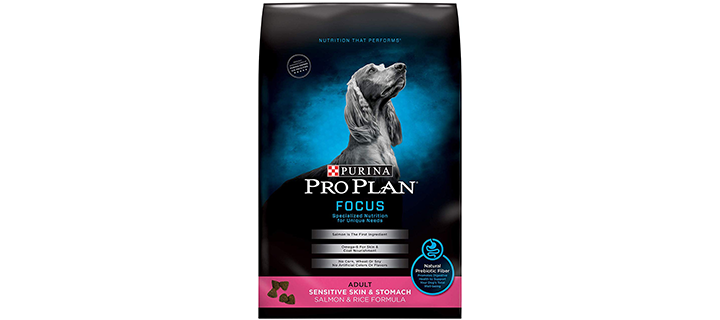 Purina Pro Plan is a reputed brand of dog food and this particular 30kg package is a lovely package. It is mainly prepared out of salmon as the primary ingredient. It is a rich source of protein while also being very easy to digest.
Grains and filler elements such as wheat and corn are known to cause problems in dogs and have been avoided in this food. It is also rich in prebiotics that aids your dog in easily digesting all the food. This dog food is also rich in antioxidants and contains no added color and flavors.
Pros: The high concentration of antioxidants gives your pooch's immune system a boost and keeps it healthy. Absence of poultry products, added colors and flavors ensure that your dog won't be allergic to this dog food.
Cons: This dog food is not entirely grain-free and contains barley and oat as secondary ingredients which may cause problems in some dogs.
---
#3

Merrick Whole Earth Farms – Dry, Grain Free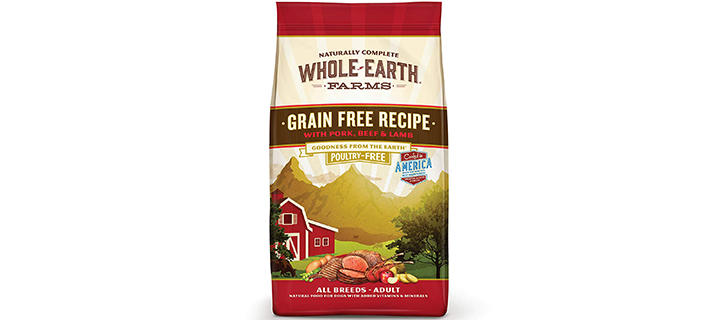 The Merrick dry food for dogs has been prepared to help dogs with a sensitive stomach. This dog food has no allergic ingredients in it. Poultry products have not been used in the preparation of this dog food.
Wheat and soy have also been excluded from the mix as they can cause allergies at times. Potatoes, sweet potatoes and peas contribute to rich carbohydrate content.
Overall, this is a very healthy meal for your dog. Prebiotics added to dog food helps your dog to easily digest the food it eats.
Pros: Storing this dog food once you have opened the package is not a problem at all. It is dry dog food and is not likely to create a mess even if you store it in the packet itself.
Cons: This dog food may not be suitable for dogs from all breeds or sizes.
---
#2

NUTRO Limited Ingredient Diet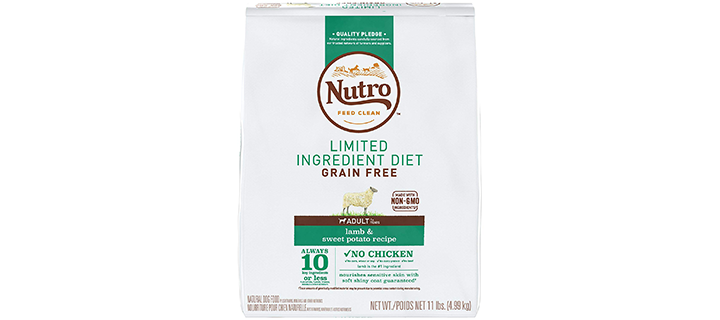 Nutro has crafted this limited ingredient dog food with very few ingredients, making it apt for the name. It contains easy to digest animal fibers obtained from lambs which are an extraordinary source of protein.
The dog food also contains sweet potato as another primary ingredient. It is a lovely source of carbohydrate while being easy to digest.
Minerals and vitamins are an essential part of a balanced diet and those have been added to this mix in required quantities. The flavor is entirely natural and no additives have been used in this dog food.
Pros: Different breeds and sizes of dogs have different needs and this dog food is available in various quantities.
Cons: This dog food is not suitable for dogs that are less than 1 year old and is likely to cause complications in them.
---
#1

Natural Balance Limited Ingredient Diets, Wet Dog Food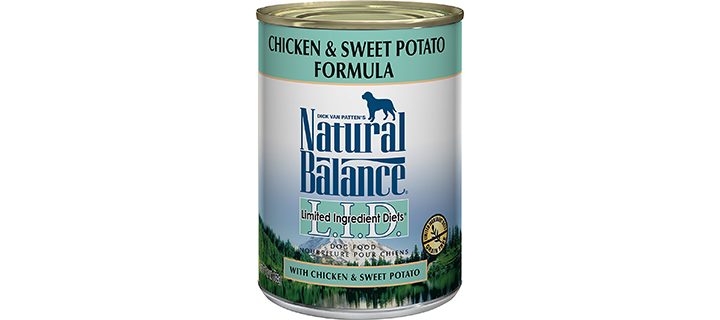 The Natural Balance limited ingredients diet is a great source of all nutrients required by your dog. This is particularly designed for dogs with sensitive stomachs. The primary protein source in this meal is chicken and liver.
The makers have capped the protein content at 5.5% to make this food easy to digest. A sufficient quantity of starch has also been added to this meal ensuring that your pooch remains energetic throughout the day. The unique formula is very easy to digest for your dog.
Pros: Simple and selected ingredients used in this dog food ensure that your dog gets all the essential nutrients, a balanced diet, and a tasty meal at the same time.
Cons: Being a wet dog food, you have to immediately shift it to another container once you have opened it. Serving this food could also be a messy affair.
---
How to identify a sensitive stomach in dogs?
Dogs are pretty similar to humans and show tendencies towards ill health just like humans do. There are certain symptoms to look for when you are trying to understand your dog's behavior. A sensitive stomach is a major concern for dogs as they always chew whatever they find.
The symptoms that indicate an upset stomach in dogs are quite similar to that of humans. Symptoms such as appetite loss, occurrences of vomiting, diarrhea and gas, pain in the abdomen and gurgling noises are a sure shot indication that your dog is suffering from some kind of stomach problem.
Limited ingredient dog foods
Dog foods that are made using very few ingredients are considered to be limited ingredient dog foods. Opting for limited ingredient dog foods is a wise option because you can provide different types of nutrients to your dog in the right proportion. Feeding your dog with such foods will help you narrow down on the probable causes and food items that are creating problems in your dog's stomach.
You may prepare such limited ingredient dog foods in your home or you can buy packed food for your dog. The limited ingredient food has to be rich in protein as it is a major component of a dog's diet. The food should also contain probiotics as they help with digestion.
When you decide to feed your dog with limited ingredient foods, you must make sure that certain types of foods are entirely avoided. Dogs are susceptible to grains, cereals and pulses like soybean, wheat, etc.
These are things you must avoid while preparing the dog food. If you are going for packaged food, make sure there are no artificial colorings or flavoring agents added to them. Preservatives are also a big NO when it comes to packaged dog foods as a lot of them are chemically harmful to dogs.
How Hypoallergenic dog foods help?
Some proteins are likely to cause problems in your dog's stomach and lead to complications. Hypoallergenic dog foods are specially designed to help ailing dogs. These foods are prepared in such a way that the protein units in them are broken down into the respective amino acids.
Amino acids are the building blocks of all proteinaceous fibers in animals and pose no threat to animals. Thus a dog gets its required share of amino acids without having to take the protein that was causing stomach sensitivity in the first place.
How to alter diet for dogs with a sensitive stomach?
You should not abruptly stop what you were giving your dog to eat when you see signs of an upset stomach. It should be a gradual process because the dog's body or taste buds may not respond well to a sudden change.
First, start by adding 20-25% of the new diet with about 75-80% of the old diet. This ratio needs to gradually change over 7 to 10 days by the end of which you should be serving 100% of the new diet to your dog.